Lennart Schiesswohl
Mercantile Rowing Club (Vic)
Lennart (Lenny) commenced his rowing as a nine year old at his rowing club in Hamburg, Ruder Club Favorite Hammonia (RCFH). He has done all his rowing at this club before his gap year in Australia.
He started junior rowing as a 13-14 year old. As a 16 year old, he raced at the National Championships in an under 17 straight four and also in an under 17 eight.
In 2015, he finished 3rd in the under 19 straight four and third in the under 19 eight. Unfortunately he missed out on the national junior team and was disappointed.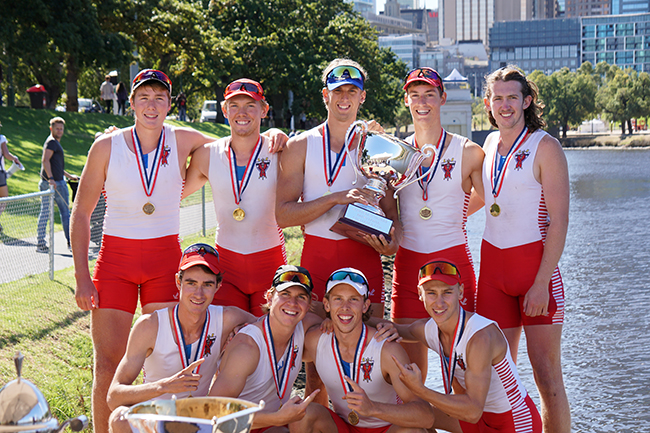 Above: Lenny back row second from right at 2016 Henley on Yarra
He met Paul McGann at the Lucerne World Cup who encouraged him to come to Australia on a gap year. He came to Australia with the sole aim of enjoying himself. Whilst coaching at Melbourne High School, club member Dylan Curnow encouraged him to row in the club youth eight. He started rowing and enjoyed it. Once he was back in training, he was hooked again. He has been a great success in the Club under 21 ranks and enjoyed many wins.
Lenny will race for the Club at the Nationals and we hope that he continues rowing once he returns to Germany. He has been an important member of our under 21 squad.
Above: 2016 State Championships – winning men's and women's under 21 eights. Lenny back row fourth from right
Why rowing? The team aspect and the team spirit. You get close to your mates and form lasting friendships. It is also the application of power, the endurance and the mental strength. It is cool when it goes well and you can apply even more power.
Andrew Guerin March 2016