John J Scanlon DSO and Bar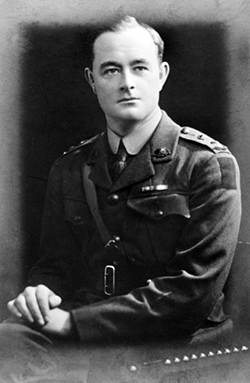 South Melbourne Rowing Club (VIC) now Albert Park South Melbourne Rowing Club (VIC)
John Joseph Scanlan was born in South Melbourne on 19th October, 1890 and lived at 270 Richardson St, Middle Park.
A member of the South Melbourne Club, he served as treasurer in 1913. He has no recorded wins.
'Jack' was a 24 year old shipping clerk with the Customs Department when he enlisted on 28th August, 1914 as a second lieutenant in the 7th Battalion, having already served in the volunteer forces for four years.
He landed at Gallipoli on 25th August 1915, and was wounded at Krithia with a bullet through the chest.
After recuperating in Australia, Jack returned to the front in 1916. Rising through the ranks, he was promoted to Lieutenant Colonel in 1918 and given command of the 59th Battalion.
He was also awarded the Distinguished Service Order and Bar that year, and had successes at Villers-Bretonneux and Mont St Quentin.
Jack returned to Australia in May 1919.
He served again in the Second World War, and was a prisoner of war in Rabaul and Japan. After that war, he became governor of Hobart Gaol. Jack died on 6th December, 1962. He was married with two children.
Grace Blake
July 2021
Sources:
http://www.apsmrc.com/Honour-Rolls
The Victorian Oarsman by John Lang, Massina & Co, 1919