Robert T Rush OBE
Mercantile Rowing Club (VIC)
A remarkable man who excelled in both Australian Rules Football as a player and administrator, and as a rower. The following obituary appeared in the Club's 1974-75 annual report.
Upon returing from League football after 10 years loyal service with Collingwood Football Club, Robert Thomas (Bob) Rush, then a noted athlete, joined Mercantile towards the end of the first decade of this century and commenced to learn to row. In those days many difficulties faced the novice, but with characteristic determination, Bob perserved and by 1913 had won a Maiden Eight which was followed by a Junior Eight at Henley, 1914. These races were forerunners of a number of victories which included senior eights and fours. Before retiring from active racing, Bob had developed into a very useful senior stroke.
During his rowing life, Bob maintained a keen interest in football and for many years held administrative positions with Collingwood Football Club and the Australian National Football Council. When the field of Birthday Honours was enlarged to cover sporting personnel, Bob was awarded an O.B.E.
He was a great Clubman and always interested in Club matters. He passed away at the advanced age of 93 years, but enjoyed regular week-end rowing until well after his 91st birthday, which is possibly a Victorian record. Mercantile members and sportsmen generally regret the passing of this noted athlete.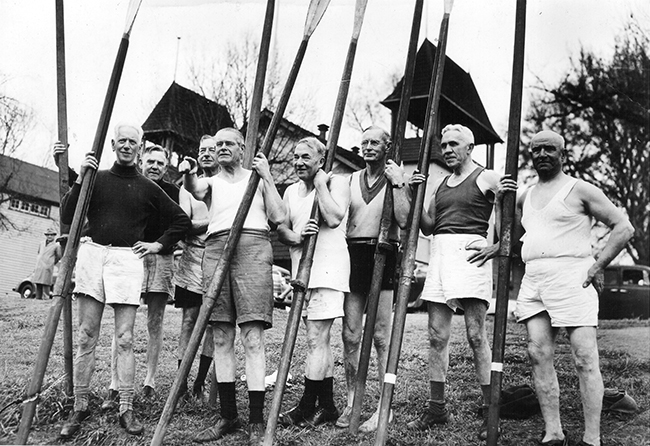 Mercantile masters 1950
From the left: Arch Dobbie, J Sutherland, C Burke, Ted Kenny, Jack Mounsey, Robert Rush, Stan Guinn, Alby Lindblade
Extracted by Andrew Guerin
February 2023