Sir Donald Rowlands, KNZM, AM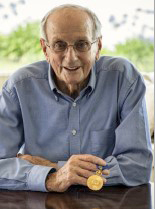 West End Rowing Club (New Zealand)
17 June 1926 - 18 March 2015
You may well ask why a New Zealander is provided an Australian rowing profile. Sir Donald Rowlands was a great friend of Australian rowing, was our Oceania representative on FISA for many years, advised on the establishment of rowing courses in Australia, fostered Australia's bid for the 1990 World Championships at Lake Barrington, mentored many Australian administrators and provided Australian rowing with significant other support as our representative on FISA.
For example, in Ian Winter's book Blades Down Under, the official record of the 1990 World Championships, he records: Following his visit Mr Don Rowlands [then FISA Oceania Representative] became a fervent supporter of Lake Barrington outside Australia which was to be invaluable when the Australian Rowing Council made its 1990 World Championship s bid in 1985. With the support and commitment came an enthusiasm which brought Mr Rowlands back to Tasmania four times in the years leading up to the 1990 World Championships to provide technical and planning advice.
Sir Don, Chris Davidge and Brian Roe unfurl the FISA flag presented to Australia at the end of 1989 World Championships
He was a true friend of Australian rowing.
We are indebted to Phillip Nolan for the following summary and extracts from documents submitted in 2013 to the New Zealand Government for a KNZM honour and the Australian Government for an Order of Australia. Thirty two people from five countries contributed to it. Phillip was the initiator.
One of New Zealand's great leaders
Leadership is common, but great leadership is rare. In the words of Robert Fagan, great leaders:
Care more about their missions than they do about themselves. They focus and are crystal clear on their purpose, which relates to unrelenting passion.
They 'walk their talk.' They don't so much have values as they are their values – not sometimes, but all the time. Their example becomes inspiring.
Their leadership comes from within – with clarity of purpose. With clarity comes focus. It does not emanate from fears, but of love – not from the need to impress, but the loving desire to build, improve, and create.
Leaders with exceptional qualities are identified from time to time, generally they focus in one area or task and lead or hold office for between 10 and 20 years. Only a great leader such as Don Rowlands is valued enough to remain at the highest level, in business for 33 years and sport for 50 years. His great leadership has led to a long list of achievements.
Most notable achievements
Fisher and Paykel Industries: the largest manufacturer in the country; Don was the CEO then a Director. From 1978 - 2001 (23 years).
Mainfreight Limited: the largest transport and logistics company; he was Chairman then a Director: From 1978 - 2011 (33 years).
Hamilton Jet: One of the great inventions and now one of our largest exporters; he was a Director. From 1990 - Current (23 years).
Rowing: Don more than anyone else is credited with developing rowing into this New Zealand's top Olympic sport. Started in 1963 and still involved (50 years).
High school rowing: 140 schools now compete at the annual Maadi Cup regatta. Over 2,500 students competed in 2013. From 1963 - 2013 (50 years).
World Rowing Championships: held at Lake Karapiro in 1978 and 2010. He was ultimately responsible for the success of these great events and was involved from 1974 - 1978 and 2006 - 2010.
Supporting this nomination
Seven distinguished persons have submitted letters supporting the nomination
Sir Peter Snell KNZM, OBE.
Sir Murray Halberg ONZ, MBE.
Sir Colin Maiden ONZ.
RT Hon James Bolger ONZ.
Dame Diana Ellis DBE - resident, British Rowing Federation
John Coates AC - Vice President, International Olympic Committee President, Australian Olympic Committee.
Denis Oswald - President, International Rowing Federation.
This is an excerpt from Peter Snell's letter. 'I first met Mr Rowlands in 1962 when we were both members of the New Zealand team at the British Commonwealth Games in Perth, Australia. Since then I have been impressed with his leadership skills, which have produced outstanding results not only for rowing, but in pioneering three internationally competitive businesses. In my opinion, he is peerless as an administrator and no other champion athlete has matched his successful business career. In this respect his long tenure as managing director and CEO of Fisher and Paykel, chairman of Mainfreight Limited and director with Hamilton Jet, had significant implications for New Zealand's export trade. Mr Rowlands' contributions to New Zealand may be greatly underestimated because of his low-profile leadership style, which is to empower others and not take credit for accomplishments under his management'.
Sir Peter Snell
New Zealand athlete of the century
26 October 2013
Mainfreight Limited
Don was Chairman from 1978 to 1996 and Director from 1978 to 2011. Mainfreight Limited began operations in 1978. Founded by Bruce Plested who started the company with a mate, $7,000 a 1969 Bedford Truck and in the background Don Rowlands as the mentor. Over 35 years later, Mainfreight employs over 5,560 people in eighteen different countries. The company offers a full supply chain solution from managed warehousing to international and domestic freight forwarding worldwide. Mainfreight listed on the Stock Exchange in 1996 and today is the 15th largest company in New Zealand, capitalised at $1.149 billion.
Bruce Plested writes: 'Forty-eight years ago in 1963 I joined perhaps New Zealand's premier company of the time, Fisher & Paykel. The company was run by Woolf Fisher and Maurice Paykel, but the most talked about man was their factory manager, Don Rowlands. He had the most enormous reputation for every skill known to man, including man management, getting things done, going incredibly fast, multi-tasking, meeting the Queen and Duke, having the most modern ideas, creating a great team etc etc. It was two years before I got to stand quite close to this extraordinary man and listen to him talk. His theme that first time I saw him was 'if you have a union problem you probably have a management problem'. From that day, although he didn't know it, he became my mentor.
Bruce Plested
Chairman and Managing Director, Mainfreight Limited
8 July 2011
Fisher and Paykel
Don was Managing Director from 1978 to 1989 and a Director from 1978 to 2000. Fisher & Paykel Industries Ltd was the largest manufacturer in New Zealand. In 2001 it was separated into Fisher & Paykel Appliances Ltd (FPA) and Fisher & Paykel Healthcare Ltd (FPH).
Sir Colin Maiden was Chairman for 23 years; he makes the following comments;
'I worked closely with Don from 1978 to 2001 while I was a Director and Chairman of Fisher and Paykel Industries Ltd. During this time he was Managing Director and then a Director of the company. His contribution to the success of Fisher and Paykel has been immense. During his time with the company it went public, developed unique manufacturing methods and products, entered the Australian market, grew massively and spawned Fisher and Paykel Healthcare. The above achievements of Fisher and Paykel have been due in no small measure to Don Rowland's leadership. He always got the best out of people and paid particular attention to the well-being of those on the factory floor. He was well respected and had a vision of the company that all could subscribe to.'
Sir Colin Maiden
Chairman and Director, Fisher and Paykel 1978 – 2001
11 October 2013
Hamilton Jet
Don was appointed a Director in 1990 and remains on the Board.
CWF Hamilton & Co Ltd is the parent company to Hamilton Jet, the designers and manufacturer of the world famous water jet propulsion system invented by Sir William Hamilton in 1939. The company employs over 350 people in all aspects of water jet design, production and service. Along with the marine jet units, the company also produces its own electronic and hydraulic control systems.
The Managing Director writes: 'I have undoubtedly benefited from his very extensive leadership experiences which he has generously conveyed to me through the many stories he has told. Don is someone who understands the place of leadership and has a unique ability to mentor leaders, not imposing his own views and ideas but looking to enhance existing capability. From Hamilton Jets perspective Don is a highly respected director and someone whose opinion is highly valued especially when significant decisions are on the table. He always has a word of wisdom in these situations. He has given the board the confidence to take the steps that have resulted in the success that Hamilton Jet is today.'
Keith Whiteley
Managing Director and CEO, CWF Hamilton & Co Ltd
7 October 2013
Rowing Australia
'There is no one from Australia or New Zealand who has contributed more for the development of rowing in our region and the international successes the rowers from both our countries have enjoyed over the last 50 years than Mr Rowlands. That he contributed all of this to rowing as an 'honorary' coach, selector and administrator, while at the same time having held most senior management then Board roles in some of New Zealand's largest and most successful companies is testament to his drive, vision and leadership. Mr Rowlands is a person of the highest integrity and character and most worthy of recognition with one of New Zealand's highest civilian honours.'
John Coates AC
Vice President, International Olympic Committee. President, Australian Olympic Committee
5 October 2013
Secondary school rowing
'Don's work developing youth rowing is well documented. In 1978, 39 high schools entered the national schools regatta. The 2013 national regatta was held at Lake Karapiro, 140 high schools attended. In excess of 2,550 students competed. Since receiving the CBE some 34 years ago, his service to the people of New Zealand through sport has been extraordinary. Rowing has become deeply entrenched in the psyche of New Zealand.'14 October 2013
'In almost every case, the students, teachers and Principals have bought into the sport of rowing for the life skills that evolve from being a rower. These skills of teamwork, goal setting, commitment, time planning, epitimise the skill set that Don emphasizes. During the last 30 years rowing has influenced over 100,000 plus students and parents. School students, who have been involved in school rowing, are now sought after employees and university students.'
Michael Hartley
President, New Zealand Rowing 2009 - 2011
15 Oct 2013
New Zealand Rowing at the Olympics
At the last four Olympics New Zealand won thirteen gold medals. Six of the thirteen were won in rowing. Over the last 40 years New Zealand has won 18 Rowing Medals. These are astounding results for a country with a population just over four million.
| | | | |
| --- | --- | --- | --- |
| Year | City | Medal | Event |
| 2012 | London | Gold | Double sculls (2x) Men |
| 2012 | | Gold | Single sculls (1x) Men |
| 2012 | | Gold | Pair (2-) Men |
| 2012 | | Bronze | Pair (2-) Women |
| 2012 | | Bronze | Lightweight double sculls (2x) Men |
| 2008 | Beijing | Gold | Double sculls (2x) Women |
| 2008 | | Bronze | Single sculls (1x) Men |
| 2008 | | Bronze | Pair (2-) Men |
| 2004 | Athens | Gold | Double sculls (2x) Women |
| 2000 | Sydney | Gold | Single sculls (1x) Men |
| 1988 | Seoul | Bronze | Single sculls (1x) Men |
| 1988 | | Bronze | Pair (2-) Women |
| 1988 | | Bronze | Four (4-) Men |
| 1984 | Los Angeles | Gold | Four (4-) Men |
| 1984 | | Bronze | Four (4+) Men |
| 1976 | Montreal | Bronze | Eight (8+) Men |
| 1972 | Munch | Gold | Eight (8+) Men |
| 1972 | | Silver | Four (4-) Men |
International Rowing Federation (FISA)
'In the eyes of FISA, Don Rowlands is the architect and driving force behind the growth and success of New Zealand Rowing. He has been one of the most influential figures in the world of rowing and is an honorary FISA Council Member and was awarded the FISA Distinguished Services Medal in 2009.'
Denis Oswald
President, FISA Member, IOC
14 October 2013
World Rowing Championships 2010
The 2010 World Rowing Championships were held at Lake Karapiro. They were the largest sporting event held in New Zealand since the Commonwealth Games. 46 countries competed. Don Rowlands was Vice Patron.
'FISA appointed New Zealand the right and responsibility of hosting the 2010 World Rowing Championships. Don's contribution and guidance in all the on water facilities was evident and again set a new benchmark for hosting and facilitating World Rowing Championships. He has worked unpaid in a wide range of key roles for New Zealand Rowing, FISA and the Olympic Federation. Don continues to be available offering advice, or to act as a visiting consultant, to help any Federation anywhere in the world.'
Denis Oswald
President, FISA, Member, IOC
4 October 2013
British Rowing Federation
'From a British perspective Don always went that extra mile in ensuring world rowing was a family whether at home or abroad his welcome was warm and our respect for him unstinting. In organising home events or his commitment to world events both in New Zealand or elsewhere in the world his expertise in course building was second to none and he is a role model for his resourcefulness and still cited as an exemplar for event organisation.'
Dame Diana Ellis
President, British Rowing Federation
The 'Don Rowlands Centre' Lake Karapiro
The new multi-purpose building was completed in 2005 at a cost of $4.4 million, is named 'The Don Rowlands Centre'. Used as a sporting, exhibition, function an conference centre. It seats 800 guests or delegates and has outdoor seating for 250 to view sporting events on the lake. A great honour for a great man.
Coralie Rowlands
Don's achievements over such a long period of time would not have been possible without the love and support of Coralie. In her words:
'We married in 1953 and I should have been forewarned, we delayed our wedding from 2 pm to 6 pm to accommodate Don rowing in a local regatta on the Tamaki River. Don kept me busy for years typing letters for rowing at odd hours of the day and night. It was certainly open all hours at our house. Don and I ran endless raffles which was the only source of finance available in the early years. The 1972 Gold medal 8 at the Munich Olympics was financed entirely by raffles.'
Books that document the Rowlands legacy
Five books published in the last ten years, document and pay tribute to Don's ex-traordinary contribution.
With Passion Anything is Possible (2003)
Defying Gravity the Fisher & Paykel Story (2004)
Listen - The Don Rowlands leadership guide (2010)
Reflections of Gold (2010)
Ready Fire Aim - The Mainfreight Story (2013)
Don's citations
International Olympic Committee (IOC)
Order Medal (Bronze) 1982
International Federation of Rowing (FISA)
Honorary Council Member 2006
Distinguished service to Rowing 2009
New Zealand
Member British Empire (MBE) 1973
Commander British Empire (CBE) 1979
Service to Sport Halberg Awards 1995
Life Member - West End Rowing Club 1979
Life Member - NZ Rowing Association 1982
SPARC Leadership Award - Halberg Award 2006
Postscript - July 2017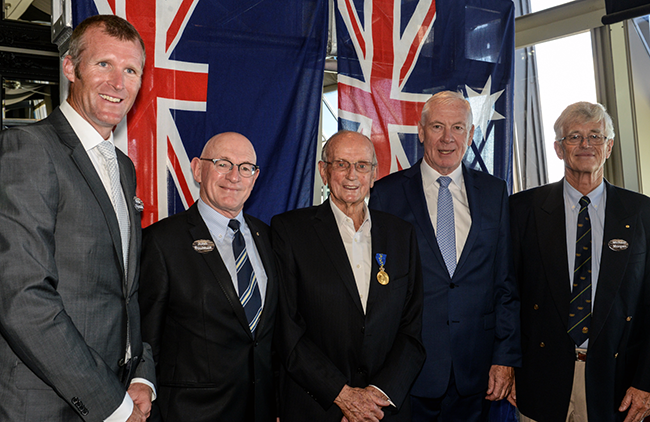 Order of Australia investiture in Auckland, January 2015
From the left: Mahe Drysdale, John Boultbee, Sir Don Rowland, Phillip Nolan, Michael Morgan
Phillip Nolan initiated the research and nominated Don for the respective honours, with the help of Don's friends and colleagues named above.
Phillip grew up down the road from Don in Auckland, worked at Fisher & Paykel in his school holidays and rowed for St George's Rowing Club from 1967 through to the early seventies. Don periodically dropped by the club to update the rowers as he lived just 700 metres along the road. To this day Phillip remembers well August 1971 listening to Don. New Zealand crews had just produced excellent results at the European championships in Copenhagen. He announced, if our crews performed well at the 1972 Olympics he would place a nomination to FISA for the world rowing champion-ships to be held at Karapiro in 1978. New Zealand won gold in the eight and silver in the straight four at the 1972 Olympics, an amazing result. Don and Fred Strachan were selectors and Rusty Robertson the coach.
The nomination was lodged with FISA and was successful. This would be the largest sporting event held in New Zealand other than the commonwealth games. There would be no financial support from the government. No one associated to Rowing would be remunerated and Rowing New Zealand had no money and the world rowing championships had never been held outside of Europe or North America. The 1978 world championships at Karapiro were an outstanding success.
In the mid 1970's Phillip moved to Sydney and continued to track the amazing leadership and successes of Don in business and sport. Around 2010 looking from a distance Phillip along with many friends could not understand why the New Zealand Government had not honoured Don since 1978, as he was one of the countries greatest sports administrators and businessmen. There was frustration. Phillip's night out with Fred Strachan in Sydney in 2011 fixed that. The push was on and the support group broadened. After considerable effort we had success.
In August 2014 Don was inducted into the Business Hall of Fame, in December 2014 honoured with the Order of Australia (One of only five New Zealanders to ever receive this honour). In January 2015 he was made a Knight Companion of the Order of Merit and in 2016 inducted into the Sporting Hall of Fame.
Fred Strachan
Fred Strachan and Don Rowlands were the architects of New Zealand Rowing's success. Fred pioneered psychological profiling in the 1960's and was the head national selector for 25 years. He achieved outstanding results as a coach over 50 years (ask Hamish Bond). Fred's profiling and selection process in the 1960's and 70's was ground breaking and far ahead of its time. He was a leader in world rowing in this area.
In the 1960's and 70's Rowing New Zealand worked with a limited pool of rowers compared to other countries, they were handicapped by distance from international regatta's and the money for overseas tours was raised by raffling washing machines and refrigerators.
New Zealand has been at or near the top of world Rowing since 1972 a period of 45 years. Without the contribution of Don Rowlands and Fred Strachan I doubt this extraordinary success would have been achieved. Phillip considers himself extremely fortunate to have known Don and Fred.
Phillip Nolan
2017
Once again, thank you to Phillip Nolan for his research and materials for this profile.
Compiled by Andrew Guerin
June 2021