Kathryn Ross
Kathryn took up rowing in 2006 and won the female single category in the national championships in 2007. She was partnered with the winner of the male singles championship, John Maclean, and went on to win silver medals with him at the 2007 Munich World Rowing Championships and the 2008 Beijing Paralympics in the TA2x events.
After Maclean's retirement, she partnered with Grant Bailey, winning a bronze medal with him at the 2010 New Zealand World Rowing Championships. When Maclean returned to the sport in 2011, she partnered with him to win a bronze medal at that year's World Rowing Championships in Bled, Slovenia and two gold medals in the 2011 International Adaptive Regatta in Italy.
Her partner at the 2012 London Paralympics was Gavin Bellis.
At the 2013 World Rowing Championships in Chungju, South Korea, she partnered with Bellis to win the gold medal in the Mixed Double Sculls TAMix2x. They were coached by Gordon Marcks. With Bellis, Ross won back to back gold medals by winning the Mixed Double Sculls TAMix2x at the 2014 World Rowing Championships in Amsterdam, Netherlands. This victory was ranked #39 in the International Paralympic Committee's list of moments of 2014.
Ross and Bellis won their third consecutive Mixed Double Sculls TAMix2x title at the 2015 World Championships in Aiguebelette, France. Ross and Bellis finished second in the Mixed Double Sculls TAMix2x B Final at 2016 Rio Paralympics.
2011 - Sport Achievement Award from the Australian Institute of Sport.
2013 - World Rowing Para-Crew of the Year with her partner Gavin Bellis
2014 - Rowing Australia Female Athlete of the Year
2015 World Championship double with Gavin Bellis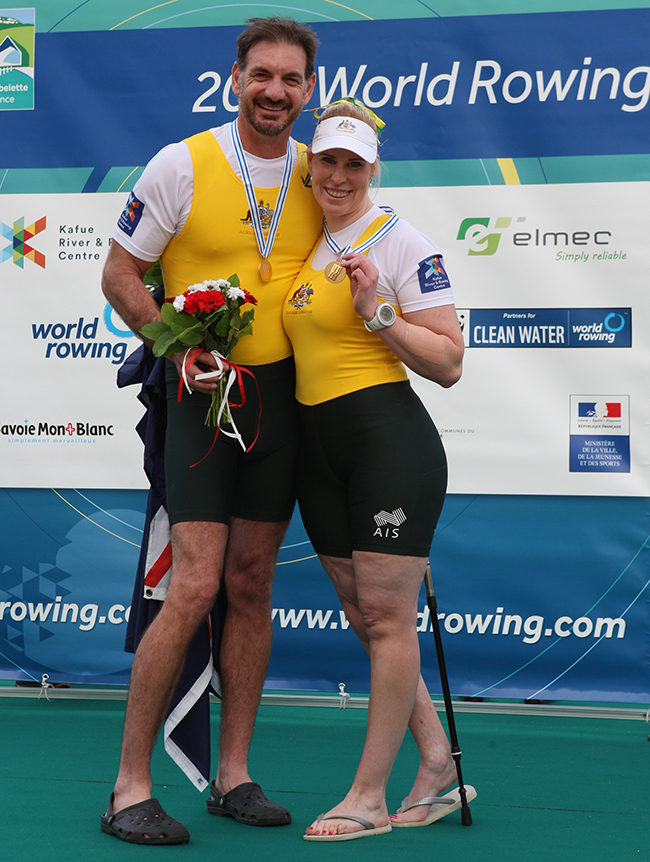 2015 - on the podium with Gavin
Source:
2018 Victorian Rowing Hall of Fame