James Rook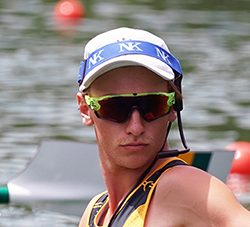 Mercantile Rowing Club (VIC)
James started his rowing at School at Scotch College Melbourne.
He then moved to Mercantile Rowing Club to cox the youth programme. He got his break in 2017 and raced in the Men's Eight and Men's Coxed Pair in the 2017 season. At the World Rowing Championships in 2017, Rook won a silver medal alongside Angus Widdicombe and Darcy Wruck in the Men's Coxed Pair.
He is currently studying teaching and won a silver medal at the 2017 Interstate Regatta, when coxing Victoria in the King's Cup final. In 2018, Rook was selected as the coxswain of the Women's Eight for the World Rowing Cups and the World Rowing Championships and in doing so became the first man to be selected to cox an Australian Women's Eight at a World Rowing Cup and World Rowing Championships. He also coxed the Georgina Hope Reinhart NTC Women's Eight to victory in the Remenham Challenge Cup at the 2018 Henley Royal Regatta. His favourite song to listen to before a race is Dire Straits' 'Money for Nothing'.
2015 - APS Head of the River, Third crew, cox - First
2016 - Interstate Championships, Wilkinson Cup, cox - Fourth
2017 - Interstate Championships, King's Cup, cox - Second
2017 - World Rowing Cup 3, Men's eight cox - Silver
2017 - World Rowing Cup 3 Men's Coxed Pair, cox - Silver
2017 - World Rowing Championships, Men's Coxed Pair, cox - Silver
2018 - Interstate Championships, King's Cup, cox - Second
2018 - World Rowing Cup 2, Linz, Women's Eight, cox - Bronze
2018 - Henley Royal Regatta - Remenham Challenge Cup, cox - First
2018 - World Rowing Championships, Women's Eight, cox - Bronze
2019 - Interstate Championships, King's Cup, cox - Second
2019 - World Rowing Cup 3, Women's Eight, cox - Silver
2019 - World Rowing Cup 2, Women's Eight, cox - Gold
2019 - World Rowing Championships, Women's Eight, cox - Silver
2021 - Interstate Championships, Queen's Cup, cox - First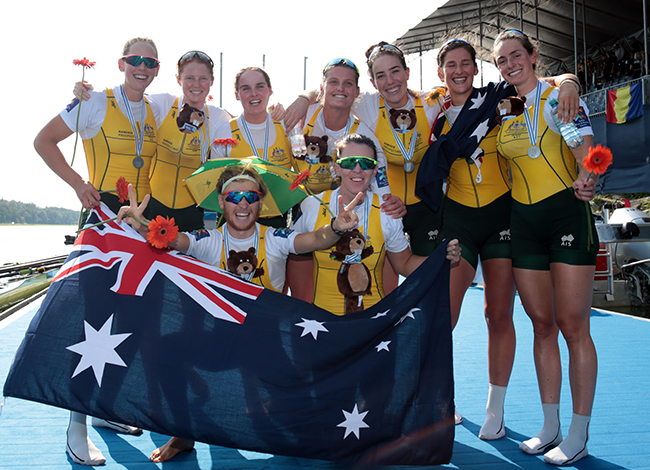 James enjoying the moment at the World Championships in 2019
Photo courtesy of Rowing Australia
Andrew Guerin
May 2021
Sources:
https://rowingaustralia.com.au/athleteprofile/james-rook/ - extracted 29 May 2021