Tom Rodda
Sandhurst Rowing Club now Bendigo Rowing Club (VIC) and then Mercantile Rowing Club (Vic)
Tom Rodda started his rowing career in Bendigo where he was a keen and successful oarsman with the Sandhurst (Bendigo) Rowing Club. When his racing days were over, he was appointed Secretary of the Club and at a later date conducted the 'Bendigo Henley' on Lake Weeroona. He became a life member of the Club in 1931.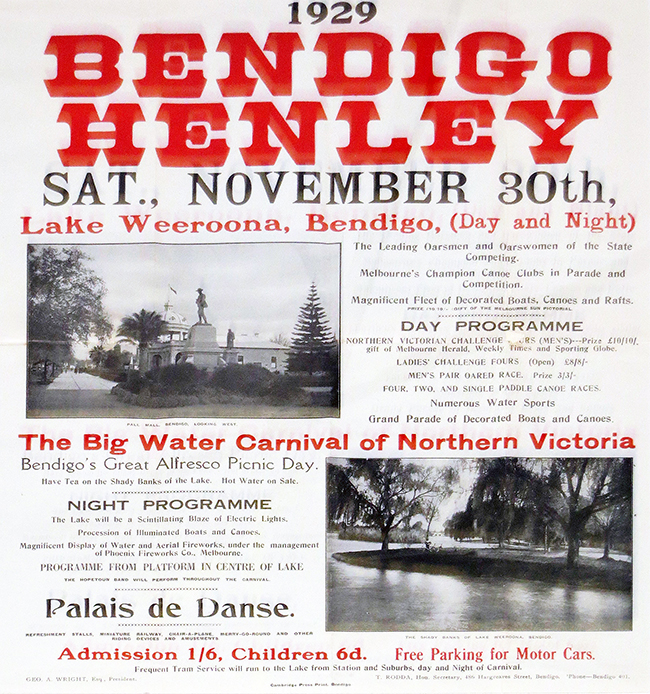 Above: A Bendigo Henley poster showing Tom as Secretary
In his early thirties, the economic recession began to take its toll in Bendigo and this necessitated a return to Melbourne, where he resumed his vocation as a surveyor with the Harbour Trust. Upon his return to Melbourne he joined Mercantile Rowing Club where he remained a member until his death in early 1981. His devotion to the well­being of his family left little time for rowing affairs, but he still maintained his links with Bendigo.
After the war years, he became the Bendigo representative on the Victorian Rowing Association, where his constructive and impartial views impressed all delegates, so much so that when a vacancy occurred on the Executive Committee Mercantile nominated him for the position. His experience as a surveyor and knowledge of the River and his willingness to assist in every way was of great benefit to the Association.
Prior to the 1956 Olympic Games he was a member of the panel to recommend an Olympic Rowing Course and in 1953 was appointed to the Australian Olympic Rowing Committee. During the Olympic Regatta, he was the Assistant Course Manager and in that capacity was accorded high praise by Gaston Mullegg, President of FISA.
He retired from the Executive Committee of the VRA with the view of making way for a younger representative. At the Annual Meeting he was elected as Vice-President of the Association, an office which he held with distinction, and was regular in his attendance at the monthly meetings.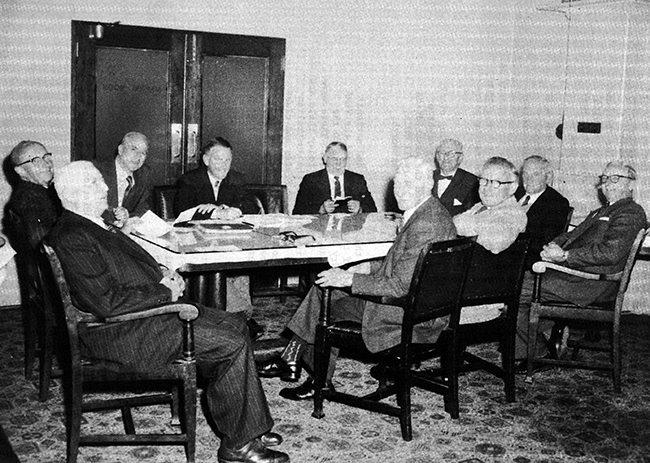 Above: A meeting of the Old Oarsmen's Association – Tom third from left leaning to the right
In 1950 he joined the Old Oarsmens' Association where his talents were soon put to use in being appointed as Secretary. During his tenure of office he initiated many new and far reaching ideas, one of which was organization of groups to support Victorian Representatives at King's Cup Regattas and furthermore to arrange functions whereby the members of all States could get together and recall memories of bygone years. After serving 18 years as Secretary he stepped down and was later Installed as President of the Association. Amongst his many other activities was the Secretary of the Federation of Old Oarsmen and Vice-President of Upper Yarra Regatta.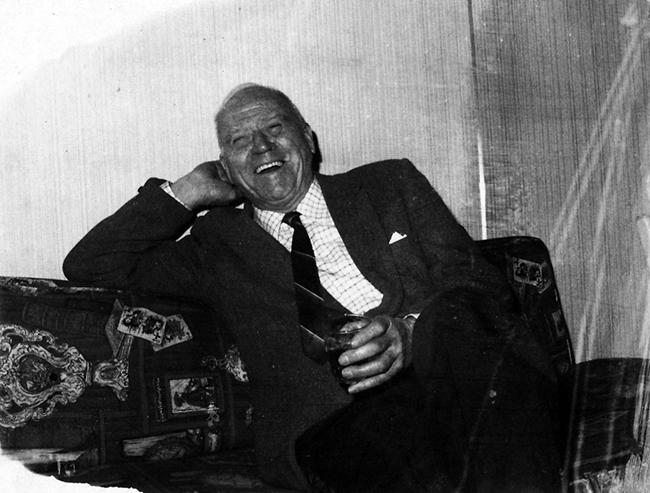 Above: A picture of Tom relaxing with friends
After his death, the Old Oarsmen's Association, now the Victorian Old Oarsmen and Women's Association created the Tom Rodda award to recognise a person in the rowing community who has done great service to the sport.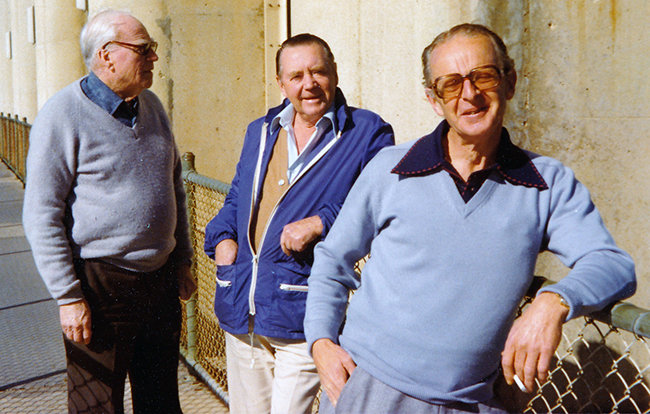 Above: Tom (left) with Mercs mates Deane Morgan and Bill Morrison en route to the 1979 National Championships
Tom was a humble man, but his sincerity of purpose made him always welcome wherever rowing men assembled.
(Based upon an obituary written for the 1980-81 Club annual report. Tom died in early 1981.)
Andrew Guerin
July 2016