John G Robinson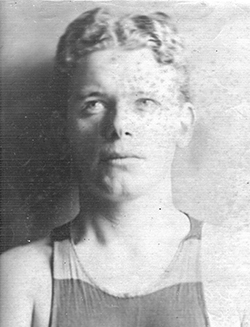 Balmain Rowing Club (NSW)
Born 1888 and died 1958.
Son of Robert Robinson and Eunice (Briggs) Robinson. Brother of Mary Ann Elizabeth (Robinson) Tyrell, Robert William Robinson and George Robinson. Father of John Robinson and Mavis (Robinson) Tucker
Geoff Raebel, husband of John's grand daughter, advised that he rowed at Balmain prior to WWI and after 1918, coached the NSW Ladies team. There is a J Robinson who raced in the bow seat of the NSW crew in 1912 and it is expected that this was John Robinson.
At time of marriage he was a Boilermaker, later in life he moved into yeast making and later formed a company called Adhesives Ltd, boiler attendant; artist; NSW Champion Rower 1911, 1912, 1913; Coach - NSW Ladies Rowing Team; joined Australian Army in 1914 but was deemed unfit two weeks later; proprietor Adhesives Ltd.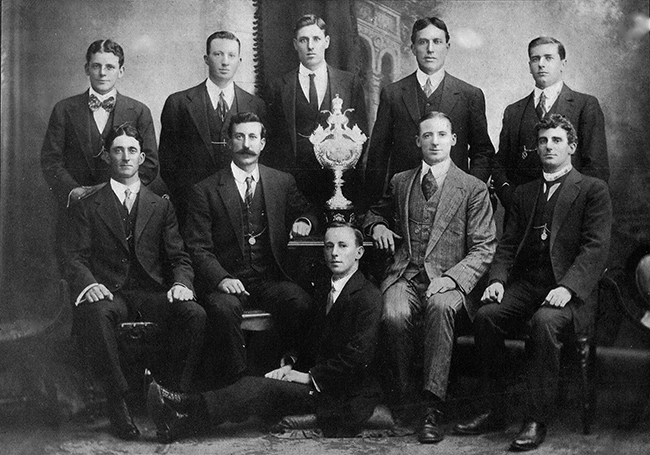 1912 Balmain Rowing Club Champion NSW eight. John Robinson is standing on the left hand side
Back row: J G Robinson (bow), E H Holburn (3), T C Parker (5), J Parkinson (6), S S Amess
Seated: M E Chapman (2), W G Furlong (Coach), H E Grandin (stroke), A J Good (4)
In front: O J Wood (cox)
Geoff Raebel and Andrew Guerin
April 2021