William T Robertson CBE OBE MC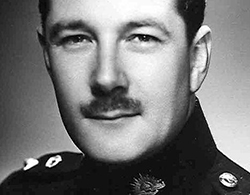 Oxford University Boat Club (UK) and London Rowing Club (UK)
1917 - 2011
William Robertson is a third generation rower and all having the same given name, William - refer William Robertson and William St L Roberston. Of note also is that his great grandfather of the same name was a pioneer and first settlor of Victoria and became a prominent pastoralist.
William commenced his rowing at Melbourne Grammar School where he raced in their first crews in both 1935 and 1936.
And like his father and grandfather, furthered his education at Wadham College Oxford.
1936 Melbourne Grammar First Crew
K.O. Nuendorf (2), K.J. Laycock (3), W.N. Ricketts Esq., W.T. Robertson (4), R.D. Meighan (Bow). Sitting: R.G. Allen (6), I.A. Scales (Stroke), B.F. Rose (7), T.W.L. Officer (5). In Front: J.E. Handbury (Cox)
Photo courtesy of Melbourne Grammar Archives
William was not as successful as his ancestors in representing Oxford in The Boat Race but was still a rower of repute being a members a winning Wyfold Cup crew at Henley Royal Regatta.
However his claim to great fame came not from rowing but from distinguished military and public service. The following obituary written by his descendent Malcolm Robertson is reproduced to explain.
Former secret service head and war veteran, William Thomas Robertson CBE OBE MC, was born in Melbourne in 1917 and died in Canberra in 2011.
For a man who conducted most of his career in the highest level of secrecy, it was appropriate that Bill Robertson's sacking by an increasingly angry and desperate Gough Whitlam should at the time have gone completely under the public radar.
Mr Robertson had helped establish the Australian Secret Intelligence Service in 1950, at the beginning of the Cold War, under instructions by the Menzies government.
The service was to be Australia's overseas secret intelligence collection agency.
Mr Robertson was involved in running it for the next 25 years, first as deputy and then as director until he faced Whitlam's wrath in the last few weeks before his own dismissal in 1975.
It is likely the Russians knew about ASIS from the start as Mr Robertson was sent to England to do his initial training with Britain's equivalent agency, MI6. There he met the Russian double agent Kim Philby, who it could reasonably be assumed passed on news of Australia's intentions to his Soviet masters.
Robertson's dismissal by Whitlam was almost as covert as his original recruitment and attracted no publicity until later but the nation's political change to the Fraser government after the 1975 election opened the way for his redemption.
He began by becoming closely involved as an adviser to a royal commission, set up earlier by Whitlam and headed by Justice Robert Hope, which was then inquiring into Australia's security and intelligence operations.
The commission vindicated Mr Robertson and he was made a Commander of the British Empire in 1976.
He returned to public service in 1978 when Fraser appointed him to head a new institution to co-ordinate anti-terrorism intelligence and training among federal and state authorities, the Protective Services Co-ordination Centre.
In a way, the appointment was the new government's way of saying sorry. Although his career as spymaster is perhaps the most intriguing, his service in the Australian Army during World War II was equally outstanding and earned him two mentions in dispatches, an Order of the British Empire, the Military Cross and the French Legion of Honour.
Before the war, he had managed to reach the pinnacle of sporting prowess by rowing at Oxford University and for the London Rowing Club. His crew won the Wyfold Challenge Cup, an achievement like winning the rowing world cup today.
His interest in intelligence and the military was sparked by his father, William St Leonard Robertson, who had served with the Australian Light Horse in the Boer War and went on to make a career of the military.
He encouraged his son to join the school cadets at Melbourne Grammar School, and by the time he left school he had received a full commission as a lieutenant in Australia's Citizens Military Forces.
He went on to attend Wadham College at Oxford University.
At the outbreak of World War II he returned to Australia to enlist and was commissioned as an infantry officer with the 6th Division.
Five months later his battalion disembarked in Egypt and Mr Robertson became deeply involved in the activities of the 2nd AIF, taking part in the early battles of the Western Desert. During the battle for Tobruk he was injured by an Italian shell and left for dead on the battlefield.
Patched up, he rejoined his battalion in time to embark for northern Greece just as the main German attack began in March 1941. The Australian forces withdrew back down through Greece to Kalamati.
Mr Robertson earned his Military Cross there during the battle of Veve Pass.
He was sent back to Australia but immediately dispatched to New Guinea Force Headquarters as General Staff Officer. In 1944, he was posted to the British Army, arriving for the Normandy landing.
In recent years, Mr Robertson found more time to devote to the history of his family and his love of art, though he never lost his interest in national and international affairs.
Mr Robertson married Jean King-Spark in London in October 1946 and is survived by their two children, Johnnie and Fiona, five grandchildren and eight great-grandchildren.
Known Rowing Record
1935 - APS Head of the River, Melbourne Grammar School, two seat - Second
1936 - APS Head of the River, Melbourne Grammar School, four seat - eliminated in heat
1938(?) - Henley Royal Regatta, Wyfold Cup with London Rowing Club - First
Andrew Guerin
August 2023
Sources
Obituary: William Thomas Robertson CBE OBE MC, written by Malcolm Robertson and published in The Courier Mail, 13th January 2011
Discussion with Fiona Turner August 2023