Geoffrey O Robertson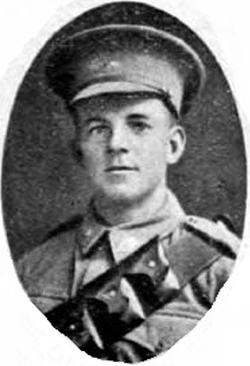 Mercantile Rowing Club (VIC)
Geoffrey Ochiltree Robertson was born on 7th May 1895 into a privileged family at Goroke Victoria, one of the sons of grazier Francis Gordon Robertson and his wife Emma, nee Ochiltree. The Robertson family had Mortat Station in the late 1800's, a station that comprised 15,000 acres when the farm size was mostly 320 acres or half square mile as per the Land Act of the day. Mortat is west of Goroke on the SA border.
Geoffrey had 4 siblings, James born 1888, probably in South Australia. Next was Frank 1889, Gordon 1892 and Geoffrey 1896, all born at Goroke. Youngest Jean was born in Ballarat in 1904 so family was probably moving towards Melbourne at that time. His brother Gordon also enlisted and served as a doctor reaching the rank of Captain. Gordon returned to Australia to practice medicine.
He was educated at Scotch College Melbourne and was a great sportsman and leader, being in the first crew in both 1912 and 1913, a school prefect and school cadet. His war record makes specific mention of his three years in the school cadets.
His school first crews were coached by Mercantile life member Alby Lindblade and the 1913 crew which he stroked were runners up. They would have trained from the Mercs boatshed.
He joined Mercantile in 1914 after leaving school but does not appear to have raced that season. This may have been because of his dominating military interests – he spent three years as a trainee before he enlisted at the age of 19.
He enlisted on 7th January 1915 into 9th Light Horse Regiment as a private with the specific written approval of his father. Most young men wanted to enlist before the war was over and often lied about their age or forged their parents' consent letters. One also suspects that he had been restrained by his father from enlisting during 1914 and he enlisted at the earliest possible time in 1915. He was noted as being 5' 10", above average height in those days, blue eyed, fair haired and fair skinned. He sounds like a slightly smaller version of David Browne who is remembered on the Club's men's eight.
He embarked from Melbourne on board HMAT Karroo just a month after enlistment without much further training.
As mounted troops, the Light Horse was considered to be unsuitable for work in Gallipoli. The mounted troops volunteered to operate as infantry and thus were sent to Gallipoli with the 9th Light Horse Regiment landing on 20 May 1915. The Regiment was deployed on primarily defensive activities at Russel's Top and Rhododendron Spur throughout the stay at Gallipoli. But the 9th Light Horse Regiment participated in the ill fated charge at Hill 60 on 27 August 1915 where most of the Regiment was either killed or wounded.
I summarise Charles Bean's description of this charge.
Into an uncertain and excessively complicated position, detachments of the 9th Light Horse led a night attack. The precise story of this night operation will never be known; but it appears that the main party, after lining out in the scrub in front of the original NZ trench, charged over… .A fierce fire opened upon the party and bombs were thrown. The troops reached a Turkish trench. It was afterwards reported that those who reached it were caught by a Turkish machine gun which had been emplaced so as to sweep the trench. … LT McDonald and four men managed to return along the trenches which they found crowded with the dead and dying.
The 9th Light Horse Regiment left the peninsula on 20 December 1915. Geoffrey was one of the survivors and was shipped out to Alexandria.
During this time at Gallipoli he was promoted in the field from private to lance corporal and finally to second lieutenant in November 1915. This was an extremely rapid rise which is indicative of his skills and leadership and may also have to do with the heavy losses suffered by his regiment at Gallipoli. He would have been a battle hardened and highly effective soldier within a year of enlistment.
As an aside to assist in the understanding of this period, Turkey entered the war in late 1914 and in February 1915 attacked the Suez Canal. The fighting against the Turks in Egypt, Palestine and surrounding areas continued throughout the rest of the war.
After the return to Egypt, the 9th Light Horse Regiment was reformed and re-equipped. The reorganisation of the Light Horse led to the formation of the ANZAC Mounted Division to which the 9th Light Horse Regiment became a foundation member. Geoffrey was promoted to full lieutenant in April 1916 and attending instruction courses, no doubt filling in the gaps of his military skills not learnt in battle.
On 28 February 1916, the 9th Light Horse Regiment moved to join its parent brigade, the 3rd Australian Light Horse Brigade, which was taking part in the defence of the Suez Canal. The work was hot and monotonous. They remained here until moved to the Romani region to bolster the defence of that area.
The 3rd Australian Light Horse Brigade played an important role in beating back the Turkish invasion of the Suez Canal zone at Romani. Now known as the Battle of Romani which lasted from 4-6 August 1916 and was quickly followed by the Battle of Katia and then Bir el Abd on 9 August, where Geoffrey was severely wounded. His records show that he received gun shot wounds to the abdomen and right thigh. The Scotch Collegian states that he was struck three times by machine gun fire on going to bring in some Turks who had raised a white flag. He was rescued by a Corporal Barrington. Geoff was reportedly 'full of life' during the 1½ mile ride to the 3rd Light Horse Field Ambulance. He was subsequently taken to two other Field Ambulances before reaching the 26th Casualty Clearing Station at Kantara. He died of his abdominal wounds on 13 August 1916.
The intelligence report on the fighting stated that: During this fighting, LT G O Roberston C Squadron who was doing splendid work was mortally wounded. All the actions in which the 9th Light Horse Regiment finally led to the defeat of the Ottoman Canal Expeditionary force and its retreat to Bir el Mazar. Had he lived, he would have been part of the legendary Charge of the Light Brigade.
Geoffrey was one of the two hundred and ten wounded who were carried out of Abd, but with the exception of a few New Zealanders their countrymen could not possibly reach, all the wounded were borne back safely. The standard 'ambulance' was a camel cacolets, or litter – a narrow, swaying pannier atop the beast that so tormented wounded men they came to be feared by the Anzacs, and led to the Australian innovation of sand carts. However, these could not be deployed to the front line and the men were taken out on horses; and their preference then was to ride them home.
The unwritten 'law' of the light horse about saving wounded men was dangerous and frowned on by anonymous high command mandarins, but the men went into action knowing that if it was humanly possible to be carried out, they would not be allowed to fall into the Turks' hands, or left to the murderous Bedouins who prowled around the edges of battlefields. As vindication, after two and a half years of constant fighting, only 73 Light Horsemen had been taken prisoner, most of them wounded, and not a single officer was captured. But they themselves captured between 40,000 and 50,000 Turks.
Geoffrey survived for four days before succumbing to his wounds on 13th August 1916. He was buried at Kantara Cemetery on the same day.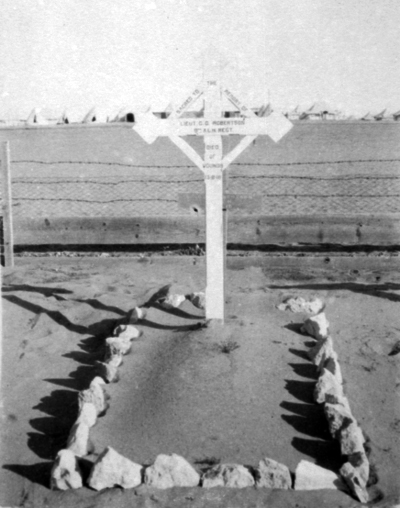 In death notices he was noted as a popular young man who had survived Gallipoli unscathed.
Again a Club member and a man of great talent was lost to us. The tragedy of war is great, but even more so when such promising people are taken.
Andrew Guerin
April 2019