Roland H (Ron) Richardson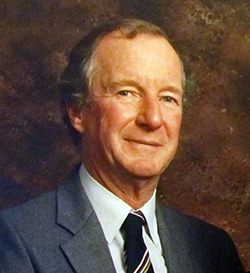 Mercantile Rowing Club (VIC)
Born 22 April 1926, died 27 January 2017.
Ron was born in Tasmania in 1926 and commenced his rowing at Melbourne Grammar after his family moved to Melbourne in 1932. In 1942 he joined Mercantile as a junior and was on active service in the Navy from 1944 to 1947. He then came back as a senior oarsman in 1947-48 season. Ron was the younger brother of another famous Mercs member, Graham Richardson.
When Bob Aiken was asked by a person outside the Club, how Ron was to be addressed, he responded:
He was born Roland Hugh
But we all call him Ron
However, if you wish to be formal, then call him Thrasher.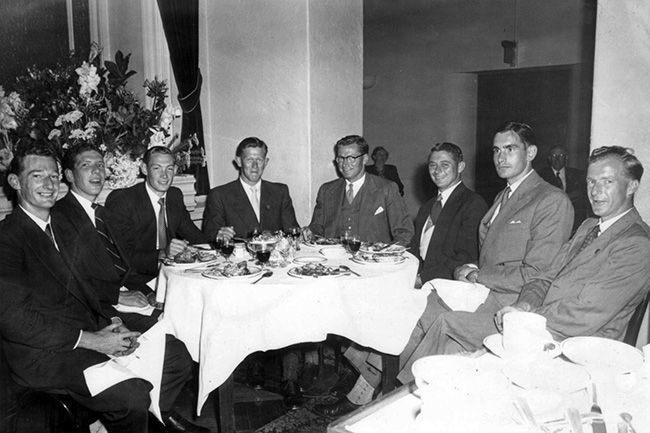 Above – 1955 juniors dinner with coach Bob Aitken. Ron is far right.
Ron served rowing for many years as:
Treasurer Mercantile
First time keeper of the Head of the Yarra and Hon Member of Hawthorn Rowing Club
Rowing Australia Umpire
Rowing Victoria Umpire
Head of the River Umpire
He and his wife Rosemary shared their interest in rowing, particularly in Australian Henley and were the prime movers in gaining and organising the 1993 FISA World Cup on the Yarra River- – the first in the Southern Hemisphere.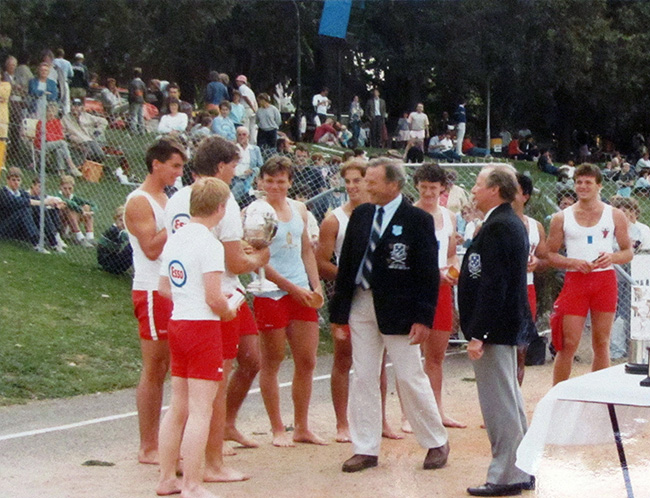 Above – Ron and Hubert Frederico presenting trophies to Mercantile at Australian Henley
Ron was a very successful rower and a highly respected stroke. He had a great feel for the boat movement was able to keep boats running smoothly without interruption. This was the key to the success of the crews in which he rowed. He was the technician.
Even as a lightweight, he was feared by all competitors, particularly open weight rowers.
At the time he raced, there was no lightweight racing at the interstate, national or international level. The peak races for him would have been Australian Henley Regatta where we won:
1948 – Maiden Four
1951 – Ladies Challenge Cup
1952 – Ladies Challenge Cup
1953 – Ladies Challenge Cup
1954 – Founders Challenge Cup
1955 – Founders Challenge Cup
Plus he won seven Victorian Championships including many open weight Championships. His last race was in 1956 where he won senior four championship with Hubert Frederico, John Hunt, Brian Dawes, coxed by Neil Hewitt, coached by Norm Cairnes and of course stroked by Ron.
In total he had 104 starts, wins 66, being 6 pairs 35 fours and 25 eights.
In later years, Ron was usually seen at Mercantile rowing in his double scull. He sculled regularly with Stan Jeffries, Bill Morrison, Tony Cordell, Reg McKay and John Foley. He also stroked the "Cock Robins" eight for some years.
He made many life long friends but alas at his age, most have pre-deceased him.
Rosemary Richardson and Andrew Guerin Sept 2015