J Maxwell Richardson
Torrens Rowing Club (SA)
1936 – Interstate Men's Eight Championship two seat - Second
1937 – Interstate Men's Eight Championship six seat - First
1945 - Henley Royal Regatta - RAAF crew A crew stroked by Max - Second
The 1945 Henley Regatta was held on 8th July 1945, only two months after the end of hostilities and before the end of the Pacific War. A full scale regatta was impossible and so racing was conducted on one day only, over a shortened distance of about one mile starting at the barrier, with three crews abreast. There were only three events, for specially presented trophies. The Open Eights race for the Danesfield Cup attracted 23 crews, including two RAAF crews. The A crew was stroked by Max Richardson and finished second. The B crew finished third in the sixth heat.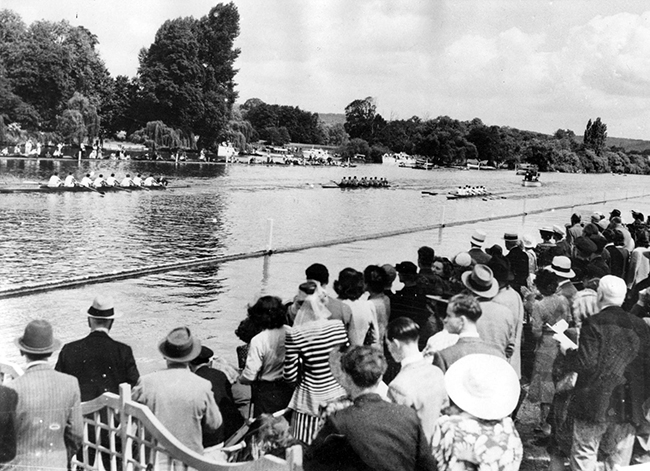 An unknown race at 1945 Henley regatta showing three crews abreast
In a semi final, the RAAF A crew stroked by Max defeated Magdelan College by only three feet, but lost the final to Imperial College in the final by one length with Jesus College Cambridge, one and a half lengths further back. Alas the 1919 King's Cup victory was not to be repeated in 1945. Such was the occasion that his Majesty's Welsh Guards band played Waltzing Matilda, probably the only time ever played at this event. It was a magnificent achievement on three weeks training with some members recovering from German prison camps.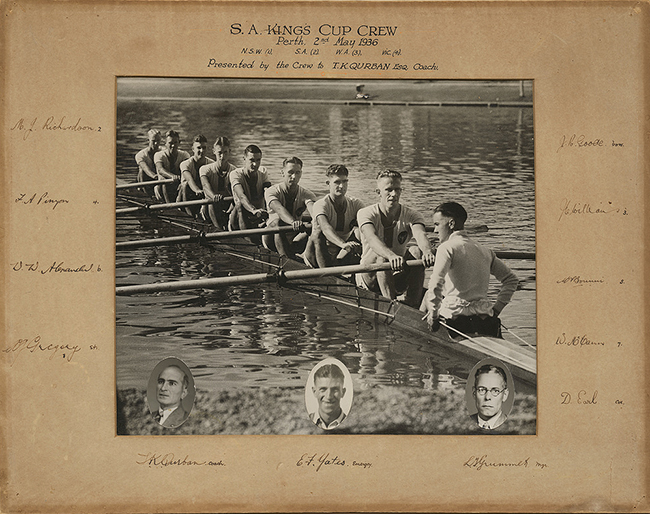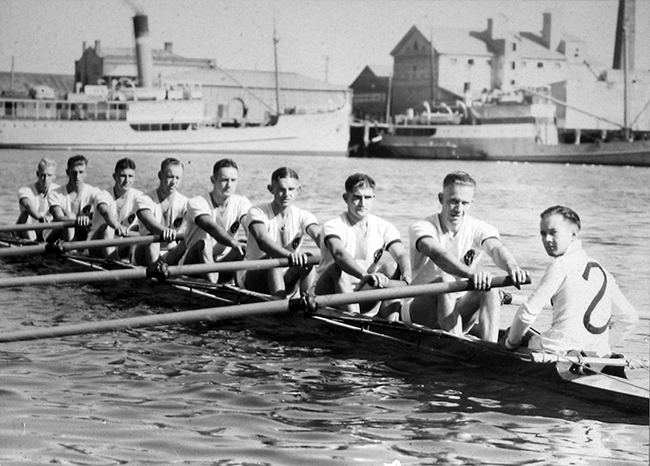 Winning 1937 crew with Max in the six seat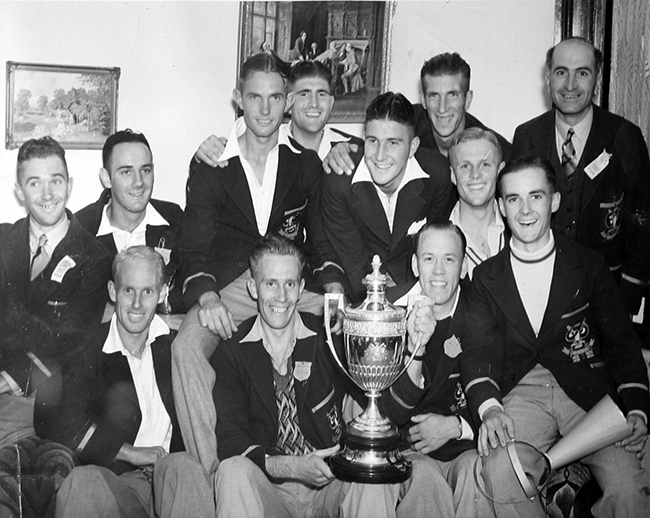 South Australians enjoying victory in 1937 - Max fourth from the left
Born 15 June 1911, John Maxwell Richardson was always known as Max. His son Brian commented that: he always went by the name Max Richardson as he evidently didn't like the name John.
In WWII he enlisted on 22 May 1943 into the Air Force. He was a navigator and flying officer spending his war in De Havilland Mosquitoes. These planes were light bombers which were fast with long distance capability and were highly accurate with low flying raids. Max was a member of the Pathfinders who used their aircraft for target-marking. They located and marked targets with flares, which a main bomber force could aim at, increasing the accuracy of their bombing. This was obviously difficult and dangerous work.
Max finished the war in 163 Squadron of the RAF which spent nearly all of 1945 as a unit of No 8 Group's Light Night Striking Force.
Max discharged on 29 November 1945.
Sadly he died a young man on 16th October 1954 leaving a wife and two children, including a young son Brian, who was to become a significant member of the sport of rowing as a competitor, coach and selector, Olympian and Australia 2 yachtsman.
Andrew Guerin, June 2020
Sources: