S Graham Richardson
Mercantile Rowing Club (VIC)
Born 16th November 1919 Federated States of Malaya, died 15th November 2003 Melbourne.
Graham was the eldest of five children, three younger sisters and the youngest, brother Roland ("Ron"), another famous Mercantile member.
In WWII, Graham enlisted 7th May 1940 at the age of 20 although he put his date of birth as 1918 for the army. He was discharged 30th November 1945 at the rank of Lance Sergeant. He was a surveyor in the Second Fourth Field Regiment and saw service in the desert at Tobruk and then in the humidity of the Pacific Islands and Borneo. Graham visited the Club in mid 1942 after service in the Middle East and did so every time he had an opportunity whilst on leave. This was the same regiment in which another well-known Mercantilian Norm Cairnes served. We do not know that Graham owned up to his fellow members of the Yarra River buoy laying committee of these surveying skills.
It was well known to Mercantile members that Graham never drove a car. It appears that one of his first duties in the army was as a dispatch rider. After three motorcycles were bent, it was decided that this was not the highest and best use of Graham in the defence of the realm.
Graeme went to Melbourne Grammar in 1933 and left school at the age of 16 with his intermediate certificate in 1935. It is interesting to note he was known as Sydney at school but as Graham outside school.
Graham worked for the accounting firm Nixons and specialised in trustee work.
He picked up his interest in rowing whilst at Melbourne Grammar and actively rowed rather than coxed despite his slight stature. He started as all Grammar boys did, at Albert Park before graduating to the Yarra in the senior crews. No doubt his enjoyable experiences rubbed off on his brother Ron as he also developed a love of rowing and the Mercantile Rowing Club.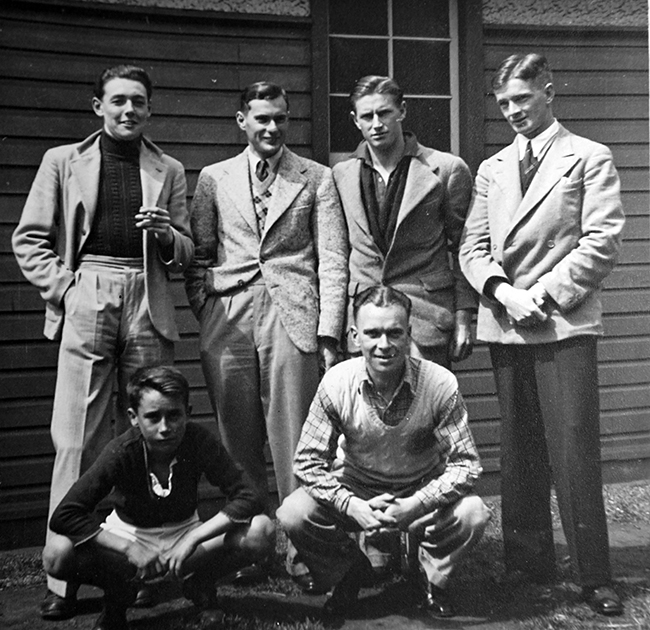 1937 Lightweight Novice Four - Graham on the right
Following school Graham joined Mercantile in the 1936-37 season and remained a member until his death, some 67 years. He rowed with and was coached by many well-known rowers of that time including Deane Morgan, David Stirling, Keith Bilney and David Palfreyman Senior. He was not perhaps the most successful rower in the Club but he had great success in his first two full seasons. His first recorded wins were the Upper Yarra and ANA Regatta double in January 1938 in the lightweight maiden eights. He then followed up with wins at the Bairnsdale and Sale regatta double racing in lightweight fours. His earlier attempts in the lightweight maiden fours proved unsuccessful. To top this off, he won the Dobbie Eights in a crew stroked by Alex Dobbie. This was a very active time for lightweight rowing at Mercantile. An extract from the Club's history sums up the mood of the lightweight rowers in which Graham would have participated:
"The lightweights were a closely knit group and were conscientiously devoted to training, with a general willingness to assist in the furtherance of the interests of Mercantile. Before a training row on a Saturday, they were often seen lunching in the Port Phillip Oyster Bar. After a regatta the dining room at Hosie's was the venue for the celebrations, where the toheroa soup, a mixed grill and several pints were all available for the princely sum of seven shillings per head."
Graham continued his success in the 1938-39 season winning the lightweight maiden eight double at the VRA and Henley regattas. He combined with David Palfreyman to then win the pairs at Nagambie, where he was coxed by Bill Morrison. Finally he won the lightweight fours at Shepparton and Bairnsdale. The 1939-40 season was not as successful as the previous two seasons but still brought a win at Mildura in the lightweight fours with David Palfreyman and Jack Shears. This was to be last race until after the war because he enlisted the next week.
Graham's active rowing career was cut short by the war and he did not have the time to fully develop his skills and success.
Graham enlisted on 7th May 1940 at the age of 20, although he lifted his age by a year for this purpose. He was discharged on 30th November 1945 from 2/4 Field Regiment with a final rank of Lance Sergeant. he was a surveyor and saw service in the desert at Tobruk and then in the humidity of the Pacific Islands and Borneo. Fellow Club member James Harvey noted that in civilian life he never drove a car but it appears one of his first duties in the army was as a dispatch rider. After three motocycles were bent, it was decided that this was not the highest and best use of Graham in the defence of the realm.
Following the war Graham did not race too much at all, although he raced a couple of regattas and club races every year through to 1950. He took up coaching crews in 1946 and was very good at this. His great pleasure was to row on a Sunday morning which he did for most of his life. He would undertake this exercise rain, hail or shine and afterwards then enjoy a beer with his mates. In more recent times when he could not manage the row, he still managed to partake of a beer with his fellow club members. He had outlived many of this Sunday morning team who included Mick Williams, Doug Brooke, Alex Dobbie, Norm Cairnes, Bert Spencer, Geoff Richardson and John Hill. It was fitting therefore that his eightieth birthday was celebrated at the Club house.
His love of the sport and the Club led him to undertake other activities within the sport. For example, he and Ron sponsored a time trial for the Club. They also sponsored the Scotch Mercantile Senior Eights for some time. He coached all novices at the Club for many years. He also was a member of the Victorian Rowing Association buoy laying committee which set up the rowing course on the Yarra River for longer than my [James Harvey's] memory. His fellow members included Garth Manton, James Harvey, Tom Rodda, Norm Cairnes, Bill Bradshaw and Bill Unwin. When time permitted, after laying the buoys in the morning he would retire to Queens Bridge Hotel for a counter meal. He would then umpire at the regatta, collect the buoys in the evening, have a beer at Mercantile before adjourning to the Amateur Sports Club – a productive day. He was a trustee for the Victorian Rowing Association for many years. He was also very active in the Old Oarsmen's Association, and at the time of his death was probably the oldest subscriber of the Melbourne Amateur Regatta Committee which organises the Australian Henley Regatta.
Above: Graham in the bow seat of his 1970s Sunday morning crew
He was a man capable of handling detail and maintaining accuracy in his work. This eye for detail is what enabled him to be a surveyor in the army and an accountant in his civilian life. His integrity and gentlemanly manner endeared him to all your knew him and led him to take on a position of respect within the sport.
Whilst he was a quiet and private person, his contribution to Mercantile and the sport of rowing was significant. He was intently interested in all matters Mercantile and rowing. He loved the sport.
Ron and Rosemary Richardson, James Harvey and Andrew Guerin 2003