J Alexander Reid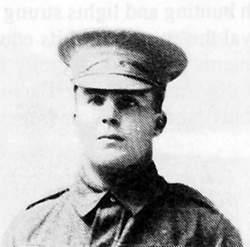 Barwon Rowing Club (VIC)
James Alexander Reid, known as Alex, was born in Geelong in 1894. He had attended the Gordon College where he trained as a butcher; his father James was the manager of a large butchery with eight delivery carts and three wagons in Malop Street, Geelong. Alex had joined Barwon Rowing Club by 1914 and was serving as Color Sergeant with the 70th Infantry.
When he enlisted he was 21 years old, 5' 7½', 12 st., with blue eyes and black hair. He enlisted on 7 April 1915 as a Sergeant in the 29th Battalion and embarked from Melbourne in November the same year. He arrived in France on 23 June 1916 and was killed in less than four weeks; on 19 July during the Battle of Fromelles, the same day as fellow member Ralph Barnfather.
Alex was killed in the trenches whilst leading his platoon in an attack on the German lines to the right of Dead Dog's Avenue by a severe wound to the leg. They took the German third line about 8.30 pm and held it until 11 o'clock, when the Germans made a counter attack and they were driven back to their own lines. They left all those who had been killed in the German trenches. Following the battle he was officially listed as missing.
Two months later his parents received letters from Alex's fellow soldiers: The stunt in which our battalion took part was one of the worst yet taken on, and we suffered terribly. The last I saw of Alex was fighting bravely against big odds, and it is my opinion, and the opinion of his boys that he is gone, and not a braver or a finer fellow has fallen in this war.
It is very hard for me to write and tell you that your son was killed, for I was with him at the time, and he and I are old school mates, having gone to the same school together in Geelong. We found him so brave and willing to do his bit. He came to me and said he was hit, so I offered to carry him back to our lines; then when I started out something came, and I knew no more until I came round in hospital. I trust that God will sustain you in the hour of your great loss.
The family continued to hope that there had been a mistake and that their son might actually be missing until a Court of Enquiry late in August 1917 confirmed him as killed in action. In providing details for the Australian War Memorial Roll of Honour his father wrote that He was simply a dear home lad who early answered the call and died in the cause of freedom.
James Alexander Reid's body was found and identified in 2010. He is now interred in the new Fromelles (Pheasant Wood) Military Cemetery, France.
On his tombstone is written - Finally at rest.
Karen O'Connor 2015