Sidney Raper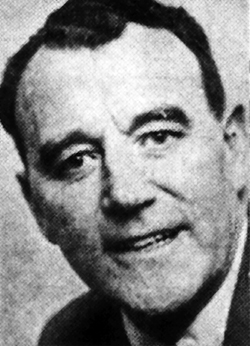 Mosman Rowing Club (NSW)
The following profile has been copied from the Mosman Rowing Club centenary history, Red and White Hoops - One Hundred Years of Mosman Rowing Club, published by Jacobson Publishing Pty Ltd in 2011 and is reproduced with permission of the publisher and the author, Judge Mark Williams SC, Past President and Life Member of Mosman Rowing Club. Thank you to both for access to this most interesting profile.
Born in 1906, Sid Raper was an influential figure at the club from the time he started rowing in 1923 until his untimely death in 1967. Young Sidney rowed at Riverview, and also represented the school in the GPS Rugby side in 1923.
It didn't take him long to achieve selection in the NSW King's Cup crew, initially in 1928. Selection issues dogged this crew which finished fifth. Sid was an emergency for the Famous Eight, the MRC crew that won the King's Cup un 1929.
A move to coaching brought quick success, and he moulded some very fine crews. The MRC eight won the Boone Memorial Cup in 1933and the Champion Eight in 1935. He also coached a number of Champion Fours.
By 1936, Sid Raper was the coach of the NSW crew, which won for the fourth year in succession. Other coaching experiences included working with Mervyn Wood, Olympic gold Medallist in the single sculls.
He was Honorary Secretary from 1926 to 1929, Club Captain from 1929 to 1933, and President from 1958 to 1967. He was influential in the MTC's acquisition of Killarney picnic grounds as well as the negotiation over the Pearl Bay boatshed site, and the development of the permanent facility opened in 1967, but unfortunately he died shortly before the opening.
Sid Raper kept meticulous scrapbooks from 1927 until 1951, which have provided a great source of material for this book [Red and White Hops - One hundred years of Mosman Rowing Club].
MRC eight at the 1930 Riverview Gold Cup
R Blundell (bow), H Hurley (2), E Bromley (3), W Bennett (4), T Mitchell (5), S Raper (6), G Kennedy (7), J Byrne (stroke), H Pearce (cox)
©Mosman Rowing Club - Red and White Hoops 2011
Jacobson Publishing Pty Ltd - jacobsonpublishing@ozemail.com.au
page 33