Ellen Randell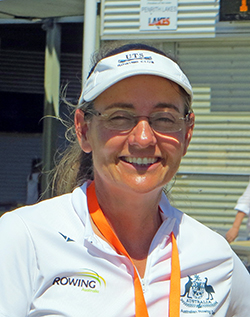 University of Technology Rowing Club (NSW)
In a sport dominated by male coaches, Ellen is the exception. Not only is she been an elite coach, but one who has been a national team coach on some 28 occasions. She is currently at the top of her game being a senior women's coach at the National Women's Training Centre in Sydney.
Whilst these numbers are impressive, the quality and nature of her work are equally compelling. Like all excellent coaches, she is continually learning and studying, developing and mentoring other coaches and follows a highly ethical coaching philosophy.
Some of her less public work includes the following.
Development work at the UTS Rowing Club which produced numerous Olympians and medallists from 1993 to 2016.
Initiation of the Women's Coaching Network - Women in Rowing (with Adi Fawcett)
Development work at PLC Sydney which grew the program and its success whilst mentoring and developing many coaches
Development and mentoring of numerous school, club, state and national coaches
Ellen also lives a full life outside the sport, raising a family and is currently pursuing further studies.
As you would expect her career details are impressive.
1985-88 - Volunteer coach at Canberra Rowing Club (ACT)
1987 - Trans Tasman Under 23 series - Australian coach of Women's Coxed Four, Women's Pair and Men's Double Scull
1988 - Apprentice coach at AIS Canberra
1988 - Trans Tasman Under 23 series - Australian coach of women's four and pair
Ellen partially obscured with one of her early successful crew at the 1988 Trans Tasman Under 23 Series
1989- World Junior Championships, Women's coxless four, coach - Gold
1989-91 - AIS Junior women's and talent identification coach. Three years of talent identification which resulted in one Junior World Championship Gold medal, two Junior world championship 4th places, a Junior world championship 5th place. Involving talent scouting through winter, commencement of training December, national selection March, world Championships August. Three consecutive years.
1990 - World Junior Championships, women's eight and pair, coach - Fourth and Fifth respectively
1990 - Australian Coaching Council - Young Coach of the Year Award
1991 - Junior World Championships, Women's coxless four, coach - Fourth
1991-92 - Rowing NSW Women's coach and women's development officer
1993 - World Championships Women's Lightweight Double Scull, coach - Eighth
1997-00 - Assistant Coach and Senior Women's Sculling Coach NSW Institute of Sport
1992-00 -Head Coach - Women - UTS Rowing Club
1994 - Interstate Championships - NSW State Coach Women's Four
1994 - World Junior Championships - Assistant Coach Women's Scull - Gold
1994 - World Championships - Coach Women's Quad Scull and Scull - Fourth and Fifth respectively
1995 - Interstate Championships - NSW State Coach Women's Lightweight Four and Women's Sculler and WA Sculler
1995 - World Championships - Coach Women's Lightweight Scull and Double Scull - Gold and Sixth respectively
1995 - Rowing NSW Elite Coach of the Year
1995 - NSW Sportswomen's Association NSW Coach of the Year
1996 - Interstate Championships - NSW State Coach Women's Lightweight Four and Women's Sculler and WA Sculler
1996 - Olympic Games - Coach Women's Double Scull and Quad Scull - Fourth and Eight respectively
1996 - NSW Sportswomen's Association Certificate of Excellence
1997 - Interstate Championships - NSW State Coach Women's Four and Women's Sculler
1997 - Rowing NSW Elite Coach of the Year
1998 - Interstate Championships - NSW State Coach Women's Eight and Women's Sculler and QLD Women's Sculler
1998 - World Championships - Coach Women's Lightweight Quad Scull - Fifth
1998 - Rowing NSW Elite Coach of the Year
1999 - Interstate Championships - NSW State Coach Women's Eight and Women's Sculler
1999 - World Championships -Coach Women's Double Scull - Sixth
1999 - Rowing NSW Elite Coach of the Year
2000 - Interstate Championships - NSW State Coach Women's Eight and Women's Sculler and QLD Women's Sculler
2000 - Olympic Games - Women's Double Scull - Sixth
2000 - Rowing NSW Elite Coach of the Year
2001-04 - Head Coach - Presbyterian Ladies College Sydney
2001 - Interstate Championships - NSW State Coach Women's Eight
2004-16 - Head Coach - Women - UTS Rowing Club
2004 - Coach and Official Development Scholarship – 2004 Women's Sport Leaders Scholarship Program
2007 - Interstate Championships - NSW State Coach Women's Eight
2007 - World Championships - Coach Women's Lightweight Quad Scull - Gold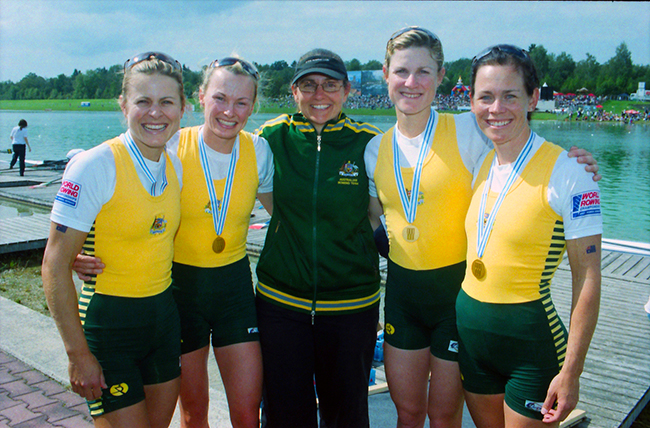 Ellen with her gold medal crew in 2007
2008 - Interstate Championships - NSW State Coach Women's Lightweight Four
2008 - World Championships - Coach Women's Lightweight Quad Scull and Men's Coxed Pair - Gold and Bronze respectively
2009 - World Championships - Coach Women's Lightweight Double Scull - Fifth
2009 - University of Technology Sydney Sports Recognition Award
2010 - World Under 23 Championships - Coach Lightweight Women's Quad Scull - Fourth
2011 - Interstate Championships - NSW State Coach Women's Eight
2011 - World Championships - Coach Lightweight Women's Quad Scull - Sixth
2012-16 - Interstate Championships - NSW State Team Coach Lightweight Women's Quad Scull (also in 2014 & 2015 Women's Scull)
2012 - World Championships - Coach Lightweight Women's Quad Scull - Sixth
2012 - Executive Deans List - Australian Catholic University
2013 - World Under 23 Championships - Coach Lightweight Women's Quad Scull - Silver
2013 - Executive Deans List - Australian Catholic University
2014 - World Championships - Coach Lightweight Women's Quad Scull - Silver
2015 - World Championships - Coach Women's Lightweight Quad Scull and Women's Scull - Fourth and Eighth respectively
2016 - World Cups - Coach Lightweight Double Scull and Women's Scull
2016-current - Senior Coach Women - National Training Centre Women
2017 - World Under 23 Championships - Coach Women's Quad Scull - Silver
2017 - World Championships (and World Cups) - Coach Women's Lightweight Double Scull - Bronze
Ellen in 2017 in Lucerne with her fellow coaches
2018 - World Championships - Coach Women's Quad, Single and Lightweight Single - Seventh, Seventh and Tenth respectively
2019 - World Championships - Coach Women's Double Scull and Lightweight Double Scull - Eleventh and Ninth respectively
2020 - World Championships were cancelled but appointed as women's coach
2021 - Olympic Games - Coach in Women's squad


Andrew Guerin
May 2021