Robert W Purnell
Corio Bay Rowing Club (VIC)
Robert William Purnell died on Sunday 26th September 2021, at 91 years of age.
Robert had a lifelong association with rowing, being the son of Norman Purnell. Norman returned to his home town of Geelong from the horrors of WW1, via hospitals in England and Heidelberg in Melbourne. He followed the recommendation of his local doctor to build himself up again by " getting back into the boat" at his Corio Bay Boat Club, then still located on Corio Bay at Geelong.
Robert learnt to row on Corio Bay in a tub pair, with either one of the Everist brothers Ian or Neil. They rowed bow side out and stroke side back.
He rowed at school at Geelong College and was in the 1st VIII in 1947 and 1948. Being 6' 7 1/2" his seat was always in the engine room seated 6 or 5. Yes stroke side one year and bow side the next.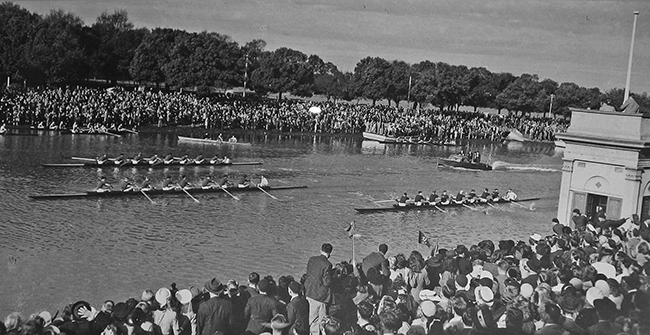 1947 Head of the River final on the Yarra River. Geelong College on north finishing second with Robert in the five seat
After school he continued rowing at Corio Bay and had a major victory in his maiden VIII at Lake Wendouree with 10 plus crews across the lake. I didn't believe this until recently when we found the regatta program.
A trip overseas in the early 50s interrupted his rowing.
His association with both Corio Bay and Geelong College continued through coaching through the 50s, 60s and 70s coaching the boys, and then during the 80s "teaching the girls to row".
He was instrumental in the formation of the Albert Bell Club for old rowers at the College in the mid 1970s.
All his 4 children rowed while at school at the College and beyond at University.
His wife Ann Purnell always had a boot full of food at regattas, and their home always had old rowers staying over the boat race weekend.
My earliest memories are of being dressed in our best, with our ironed College ribbons of green, white and navy firmly pinned on, while we would watch Dad's College crew take off from the staging heading down to the start on the Barwon.
His interest in rowing never waned.
Fiona Purnell (Robert's third daughter)
October 2021