William Potter
Mercantile Rowing Club (VIC)
Born in 1872 – Died September 1970
1898 – Intercolonial Men's Eight Championship – First
1901 – Interstate Men's Eight Championship six seat – First
1908 – Interstate Men's Eight Championship two seat – Second
1911 – Interstate Men's Eight Championship six seat – Second
1914 – Interstate Men's Eight Championship selector
1901 Championship Certificate – Bill Potter in the six seat
Billy Potter was born in Bairnsdale in 1872, and when a young man, moved to Melbourne. He joined Mercantile in the early 90's and won many Club and regatta races.
By 1897 he had established himself as a leading oarsman and rowed No. 2 in the Club Four that won the State Championship Title in 1897, 1900, 1902 and 1907, these crews being stroked by the Club Captain, A. B. Sloan.
His Championship wins at the Club were impressive.
1897 – Champion Eight
1898 – Champion Four
1900 – Champion Four
1901 – Champion Eight
1902 – Champion Four
1907 – Champion Four
1908 – Champion Eight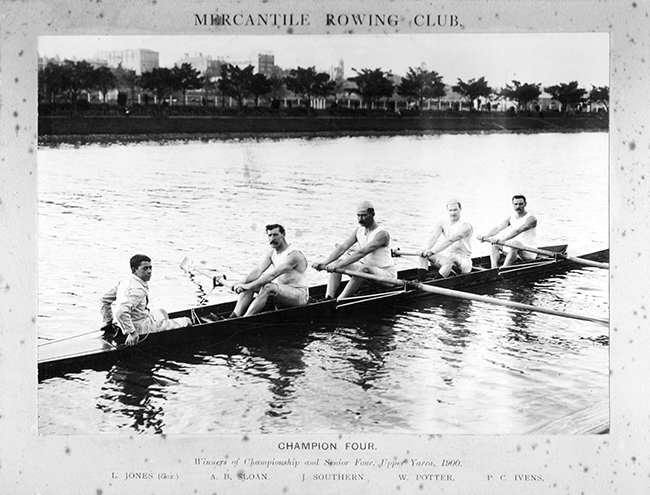 He was a member of the Club crew which won the State Eight-Oared Championship Title in 1897, 1901 and 1908, rowing No. 2 on the first occasion and No. 6 in the later races. He won many senior eight races, perhaps the most outstanding being when he rowed No. 6 to win the Grand Challenge Cup at Henley in 1907 and 1908, both these crews being stroked by P. C. Ivens.
On a number of occasions he represented Victoria in interstate rowing before the advent of the King's Cup Races, the most successful of these being in 1898 when Victoria won the Australian 'Eight-Oared Title in Brisbane and again on the Parramatta in 1901
This remarkable oarsman retained his form much longer than usual, and records show that he was still representing Victoria in 1908 and 1911, being on both occasions narrowly defeated.
His outstanding success as an oarsman was appreciated by members, who elected him a Life Member.
For several years during the late 1890's he was a playing member of the Fitzroy Football Club. Many club member played football including Alex B Sloan who captained Fitzroy.
On his retirement from active rowing he turned to bowls and became a noted player in this competitive sport.
During his sporting career, which lasted many years, he represented Victoria in rifle shooting, rowing, football and bowls.
Billy died in September, 1970, in his 99th year.
Andrew Guerin (based upon the obituary published in the 1970-71 annual report) December 2018