David Pincus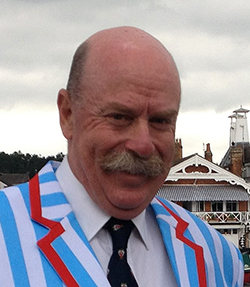 Mercantile Rowing Club (VIC)
David has made a significant contribution to the sport as a coach and an administrator.
His coaching record is impressive but his work on competition and events management has been outstanding. His formidable analysis skills mean that his decisions are factually based and sound. In the design of regatta programs and regattas, his conclusions are rarely open to challenge given their sound basis. Rowing Victoria in particular, has benefited from well structured events which addressed accurately the key issues of demand and event duration. His work was sought after not only at the State level, but also at the national level with the standard and structure of the National Championships benefiting from his work. David served on the Rowing Victoria Board for many years and also served on the Rowing Australia Board.
The same skills are evident in his coaching with his crews having a sound idea of their progress and their opposition crews accurately assessed.
David commenced his rowing at Wesley College in 1973. Whilst not an outstanding rower, he raced competitively in many good crews.
Rowed to senior level at Mercantile including winning a State Championship Junior Eight and a second placing at the National Championships. He raced at a time when Mercantile had many good athletes coming through the ranks and the intra-Club competition was good.
David commenced his coaching career at Wesley College whilst rowing in 1981 with good success. His school coaching career at the APS Head of River was long and very successful, coaching for 24 years, 14 of which were school first crews. He coached seven Wilkinson Cup crews winning on three occasions. His winning State and National Championship crews are numerous in the under 23 category (11 National Championship Under 23 medals). Needless to say, many of his rowers have raced for Australia.
Post race discussion at the 2016 National with his medal winning crew of Liam Donald and Angus Widdicombe
However despite careful planning, and after three attempts, he still has not won a Henley Royal Regatta event. One crew made the final and the other two went through to the third round. I suspect that there is some unfinished business at that regatta.
He has an impeccable record at one of his favourite events, the Head of the Yarra - nine wins from nine starts.
So why coach? Like most coaches, winning is not the main reason. It is the development of the individual into a better person - the maturing of individual through the sport of rowing.
David has transferred the skills developed in the work environment to better the administration of the sport, particularly in the competition aspects.
Some details.
1976 - APS Head of the River First crew four seat - Seventh
1977-83 - rowed to senior level at Mercantile
1980-87 - Mercantile Committee including one year as Secretary.
1981-2020 - Coached at Wesley College, Scotch College, Carey Grammar, Brighton Grammar, Banks, Mercantile and Rowing Victoria.
1987-91 - Club selector
1989 - Level 2 coaching accreditation
1989 -2012 - Rowing Victoria Board including seven years as Chairman and four as Finance Director
1992, 1998, 2002, 2004 & 2010 - Organising Committee member of these National Championships
1992 - Team manager of VIS development team to Henley Royal Regatta
1993 - Team manager of VIS development team to New Zealand
1993-00 and 2014-present - Rowing Victoria Youth Selector
1994 - Victorian team manager
1996-2002 - Rowing Victoria delegate to the Rowing Australia Council
1998-2008 - Rowing Victoria Vice-President
1999-2020 - Competition Commission member
1999, 2000 & 2008 - Team manager of Victorian under 18 team to New Zealand
2002 - Organising Committee World Masters Rowing Regatta
2003-present - Club Vice-President
2003-08 - Rowing Australia Board Member
2006, 2008 & 2012 - Organising Committee member of these Australian Masters Championships
2010 - Level 3 coaching accreditation
2012 - Life member Rowing Victoria
Andrew Guerin
November 2021