Simon Pennington OAM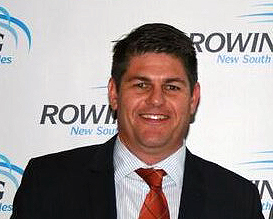 Sydney University Boat Club (NSW)
Simon was honoured in 2023 King's Birthday Honours list with a medal of the Order of Australia for his service to rowing. Simon is a significant contributor to the sport as a coach and selector at school, club, State and national levels. The following is the media list associated with his 2023 award.
Rowing Coach - New South Wales
Chairman, Rowing New South Wales Selection Panel, 2020-2022.
Team Selector, since 2019.
Coach, Youth Cup, 2009.
Co-Coach, Youth Olympics, 2007.
Coach, Penrith Cup, 1999.
Rowing Coach - Australia
Australian Under 23 Lightweight Four, 1997 and 1999.
Pymble Ladies' College
Coaching Development Director, 2020-2022.
Director of Rowing, 2015-2019.
Rowing Coaching - Other
• Director of Rowing and First VIII Coach, Newington College, 2003-2013.
First and Second VIII Coach, The King's School, 1997-2002.
Coach, Sydney Grammar School, 1994-1996.
Coach, Sydney University Boat Club, 1995-1999.
Rowing - Athlete
Sydney Grammar School, 1988-1993.
Sydney University Boat Club, 1994 - 1995.
New South Wales State Champion, Men's Elite Lightweight Four 1994.
Awards and Recognition include:
Schoolgirl Coach of the Year, Rowing New South Wales, 2019-2020 and 2017-2018.
Silver Medallist, Under 23 Nations Cup, 1997 and 1999
Andrew Guerin
June 2023
Sources:
King's Birthday 2023 Honours List | Governor-General of the Commonwealth of Australia (gg.gov.au) extracted 18th June 2023
Photo from the Rowing NSW website extracted 18th June 2023
Author's own records