Claude D Pender
Mercantile Rowing Club (VIC)
Born 6th May 1902 in Elsternwick Victoria, to David Galloway Pender and Grace Liuan Pender, nee Smith. He died in Burwood Victoria on 2nd May 1989.
Claude commenced his rowing with Mercantile in the 1919-20 regatta season. His first recorded win was in the Yarra Yarra Combination Eights on 7th February 1920 racing in the four seat alongside two other Mercantile rowers, Club Secretary W G Bannerman and H Nugent.
His family advised that he commenced work as a milliner in Flinders Lane. His choice of Mercantile as his rowing club was to be expected as Mercantile drew many of its members from the merchants and clothing manufacturers of Flinders Lane. He is later described as a salesman after his marriage.
He focussed on rowing in a maiden eight for most of the 1920-21, alas unsuccessfully. However late in the season he won four races at the Bairnsdale and Sale regattas in late March 1921. Alongside G Facius and coxed Eric Counihan, Claude won both the maiden pair and lightweight maiden pairs at both regattas. The annual report highlighted these successes as follows: In winning four events at this and the Bairnsdale Regattas, Messrs. Facius and Pender, for a lightweight crew, performed very creditably, and our congratulations are tendered to them for their fine efforts.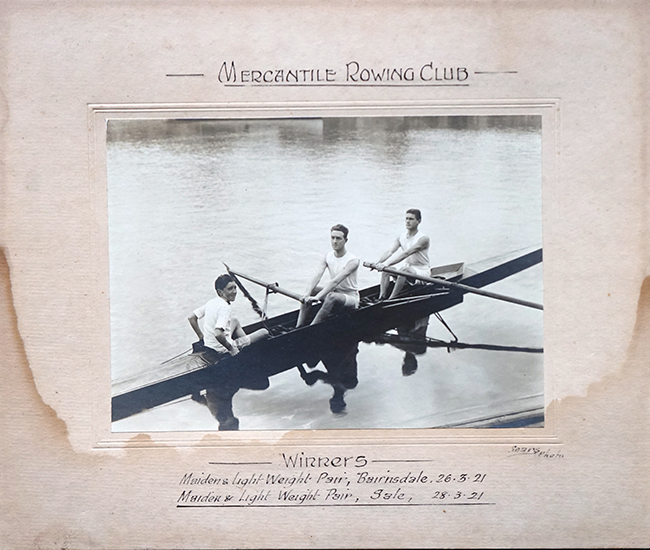 Claude stroking the winning pair
After a solid winter training program, Claude and his fellow maiden oarsmen fronted up to the opening regatta of the season, Henley, in fine form. The annual report recorded as follows: Your Club was represented by G Facius bow, L G Montgomery (2), T B McKay (3), E L Guinn (4), W J Pannell (5), A C Chappell (6), A W Staley (7), Claude D Pender (stroke, with Eric Counihan as cox and won the two heats and the final. The form of this crew, which was due to the coaching of your fellow member, J H Counihan, was greatly admired by enthusiasts, and the result of the race proved the value of the winter training which the crew had undergone.
Sadly Claude was unsuccessful for the rest of the season in both the maiden eight and four. His crews finished gallant seconds on many occasions. At the Sale Regatta, they won their heat, but had to scratch from the final in order to catch the train back to town that evening.
The 1922-23 season saw Claude compete in the junior ranks before Christmas but without success. Whilst Claude does not appear to have competed again for the Club, he obviously maintained his interest and membership in the Club until the 1928-29 season.
The end of his membership coincides with his marriage to Margaret M C F Ronan in 1928.
Claude was too young for WW1 and probably too old for WW2. However he joined the air force in the Second World War and was serving in Darwin when it was bombed by the Japanese.
Andrew Guerin
April 2021