Robert D Paver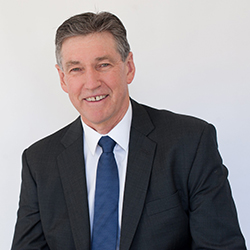 Sydney Rowing Club (NSW)
Born 11 August 1952
By profession, Rob is a dermatologist and Mohs surgeon. As a rower, he a dual Olympian, a four-time Australian champion and Australian representative.
Educated at The King's School, Rob commenced rowing after being mediocre at cricket and wanting a sport at which everyone started afresh. He found this in rowing and also found that he was good at it.
His 1969 school race stands out in his memory as Newington were the in-form crew and unbeaten. This remained the case until 100m to go in the Head of the River when his King's School crew rowed through them for a win.
After a gruelling school rowing career, Rob was not for continuing with the sport. Also he took on medicine at university and it was his priority. After knocking back Sydney Rowing Club on two occasions, he was persuaded to fill in for a race at Penrith. After the race at the Nepean Rowing Club bar, he was cornered by Michael Morgan and Alan Grover who wanted him to join their 1972 Olympic campaign. He gave into their entreaties. By 23rd January 1971, he had won his first senior eight race at the Mosman Regatta. The season finished racing for his university in the men's eight at the University Championships.
The 1971-72 season was full on with great success. Wins at the Victorian, NSW and Interstate Championships led to Olympic selection. It was not without some questioning. Early in the season, Rob raced in a senior eight stroked by Guy Horsley and with Kim Mackney in the seven seat. They were the little guys of the crew and led the crew down the course at over 38 strokes per minute. Rob recalls being semi-conscious with 400 metre to go and questioned whether this was healthy and the sport for him!
He also recalls that the 1972 four oared rowing with Rick and Brian Curtin and Chris Stevens was not a natural crew. Alan Grover eventually knocked them into shape with miles of training. As a 20 year old, it was all an eye opener.
The 1972 Games were both tragic and a disappointment with the loss of two of the selected crew members before the Games. Brian Denny died from electrocution and Ian McWhirter was diagnosed with terminal cancer. His 1976 Olympic experience was also not without incident with Mal Shaw having to withdraw with a stress fractures spine after the heat. The reformed crew finished in fifth place.
1972 Olympic Eight with Rob in the four seat
His rowing career was disjointed with black out periods for study. Some of these periods were in 1973 and 1974. This focus did not always work with Rob failing his studies in 1973. To make matters worse, the State crew in which he raced was poor and finished fourth. This jolted him into action finishing in 1974 he finished his academic year with distinctions. He only rowed the four in 1974 and kept clear of the eight.
The gun crew in 1974-75 NSW season came from SUBC and despite not rowing in the first part of the season, he was selected into the State eight which won. This led to him racing at the 1975 World Championships in the eight.
Rob's 1976 Olympic preparation was stellar - winning all before him in coxed fours and eights. His Club awarded him honorary life members at seasons end for such a superb career. All this was done whilst pursing his medical studies. What is not mentioned is that at one race that season at Ballarat, he resuscitated a heart attack victim on the staging for 20 minutes before going out for a race! He recalls that it was only half way through the race that his mind was able to return to matters rowing. They were excused for being late at the start.
The heat at the Olympic Games was one of his highlight races. "It was amazing as the crew just clicked into race rhythm and the race was easy." Sadly they lost Malcolm Shaw after this race due to a stress fractured spine. Whilst not suggesting the necessary crew change was the cause of their finals result, Rob laments that in those days there should have been more thought to the appointment of reserves. The selectors would have done better using someone who had rowed the same style as the NSW based crew. They realistically considered themselves a medal winning crew.
NSW King's Cup crew with Rob in the five seat
In 1979, he was enticed back to race in a number two Sydney Rowing Club eight at the NSW Championships. This crew was a mixture of rowers but they rowed well together. The State Championship result was a dead heat. He then retired again. In 1980, Rob had time to race at the Nationals in a coxed pair and coxless four, and his work was sufficient to gain a seat in the State Eight which finished second.
The joys of the rowing? The camaraderie of the sport is high on his list. He was a shy young man and the strong team element of the sport suited him. Further it was a sport which he was good at and he loves competition and winning. Rob added that he was always needing a first past the post sport which produced a clear winner - he was not a person to be subject to a points score.
Some details
1968 - GPS Head of the River, The King's School 4th Four - Second
1969 - GPS Head of the River, The King's School 1st Eight, five seat - First
1970 - GPS Head of the River, The King's School 1st Eight, six seat - First
1971 - Australian University Championships, UNSW Men's Eight, six seat - Sixth
1972 - Victorian Championships, Men's Eight, six seat - First
1972 - NSW Championships, Men's Coxed Four, two seat - First
1972 - NSW Championships, Men's Coxless Four, two seat - First
1972 - NSW Championships, Men's Eight - First
1972 – Interstate Men's Eight Championship four seat – First
1972 – Olympic Games – Men's Eight Four seat – Eighth
1973 - Victorian Championships, Men's Four, two seat - First
1973 - Australian University Championships, UNSW Men's Eight, six seat - Unplaced
1973 – Interstate Men's Eight Championship six seat - Fourth
1974 - National Championships, Men's Coxless Four, two seat - Fourth
1974 - National Championships, Men's Coxed Four, stroke - Fifth
1975 - NSW Championships, Men's Eight - Second
1975 – Interstate Men's Eight Championship four seat – First
1975 - National Championships, Men's Coxed Four, three seat - Third
1975 – World Championships – Men's Eight, Four seat - Sixth
1976 - NSW Championships, Men's Eight, six seat - First
1976 - NSW Championships, Men's Coxed Four, two seat - First
1976 - NSW Championships, Men's Coxless Four, two seat - First
1976 – Interstate Men's Eight Championship five seat - First
1976 - National Championships, Men's Coxed Four, bow - First
1976 - Olympic Games – Men's Eight five seat – Fifth
1976 - Honorary Life Membership of Sydney Rowing Club
1979 - NSW Championships, Men's Eight, bow - Equal First
1980 – Interstate Men's Eight Championship five seat – Second
Andrew Guerin
January 2022