Celia Patterson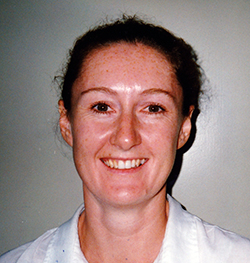 Mercantile Rowing Club (VIC)
Above: Celia in the stroke seat winning 1991 National Championship Under 23 Women's Pair
1986 – Head of The Lake, First Four Ballarat and Queens Grammar
1987 – Head of The Lake, First Four Ballarat and Queens Grammar bow – First
1987 – Captain of Boats, Ballarat and Queens Grammar
1988 – AIS scholarship holder
1988 – World Junior Championships, Women's coxed four, 2 seat – Bronze
1989 – Interstate Women's Youth Four Championship two seat – Race not conducted due to a cyclone.
1989 – Trans Tasman Under 23 Series Australian Women's sweep
1991 – National Championships, Under 23 Pair Champion, stroke seat
1996-98 – Club Captain
1997 – Final race, winning Victorian Championships Women's Open Four
Above: Presentation of her 1991 National Championship medal
Celia joined Mercantile after meeting the Australian Men's Olympic 8 which also trained at the AIS in 1988 – there were a number of Mercantilians in that boat who talked about Mercs being the best boat club in the world. The likes of James Tomkins, Sam Patten, Mike McKay and Andrew Cooper were very persuasive. She also started an Arts degree at Melbourne University in 1989, so she was looking to join a Melbourne club instead of a club in Ballarat.
Her most memorable race was of course the final at the junior worlds where she and her crew won bronze. However, her hardest race was in her last season of racing, at the state champs in 1997. Having only trained a few sessions a week, she was "just hanging on in the bow seat with Gina [Douglas] in stroke" rating about 36 down the course.
With respect to what Mercantile gave to her, Celia noted that being a member of Mercantile brought friendships. "I moved out of college with Mal Batten (and another) to 50 Stawell St, Richmond and we lived there for about three years together. Later on, other Mercs members including Sean O'Halloran, Andrew McNeil and Andrew Heath also lived at Stawell St. Other special people that I met through Mercs include Jason Kovacic (BJ), Jason Kerr and Janeen Collier."
She also noted that Mercantile gave her a job pulling beers when she was a broke uni student. Celia has many memories of Thursday night barrels where she served numerous glasses of beer from the south-west corner. On a good night, she may have earned $40.
With respect to what she learned at Mercantile, Celia mentioned the following: 'Mercs taught me that loyalty is not always helpful to success. Mercs opened my eyes to decision making…I watched men solicit support from key stakeholders at the barrel, then attend the committee meeting with the decision already made." This lesson has been useful in her professional career.
"It is what Mercs gave me as an active rower that makes me want to maintain my membership – which must be now some 30 years", Celia added.
Some Mercs memories?
"Mercs AGMs, where you got free beer in your Scotch Mercs winners cup were great fun. The Mercs raffle, (one of Andrew Cooper's I think) where I bought a ticket on the proviso that I'd win a prize – and being surprised when I did. Mercs showing the Grand Final between St Kilda and Adelaide, and my sister and I barracking for Adelaide, only to realise we were really upsetting Henry Edgar. Seeing the sauna for the first time. The possum strangled in the steering wires and Scotty stabbing it with a screwdriver. Heading to P.A.s in Richmond after the barrel. Parties. Painting the club house. Renovations."
Celia's rowing career demonstrates her leadership qualities from start to finish. Captain of Boats at school, first person from her school to be granted an AIS scholarship, through to first female Captain of the Club. Whilst she is quite self deprecating about her career, the facts and her work demonstrate otherwise.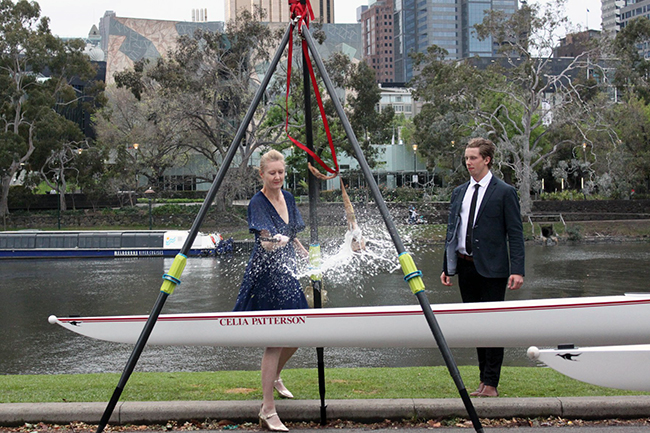 Above: 2018 boat naming
Celia is currently Head of history and geography at Bacchus Marsh Grammar, wife to engineer Rhys Lade and mother to twins Ned (Edward) and Eliza.
Andrew Guerin
September 2018