Dr Sam Patten
Mercantile Rowing Club (VIC)
1984 Olympic Eight with Sam in the three seat
1981 – Interstate Men's Youth Eight Championship emergency
1981 – World Junior Championships – Men's Coxed Four three seat – Fourth
1982 – Interstate Men's Eight Championship emergency
1983 – Interstate Men's Eight Championship seven seat – Second
1983 – World Championships – Men's Eight bow – Bronze
1984 – Interstate Men's Eight Championship stroke – Third
1984 – Olympic Games – Men's Eight three seat – Bronze
1987 – Interstate Men's Eight Championship seven seat – First
1987 – World Championships – Men's Eight bow – Fourth
1988 – Interstate Men's Eight Championship five seat – First
1988 – Olympic Games – Men's Coxless Pair stroke – eliminated in repechage
1989 – Interstate Men's Eight Championship three seat – Race not conducted due to a cyclone.
1989 – Interstate Men's Eight Challenge three seat – First
1990 –Interstate Men's Eight Championship seven seat – First
1990 – World Championships – Men's Four three seat – Gold
1992 – Interstate Men's Eight Championship – selected but withdrew due to injury
1992 – Olympic Games – Men's Eight six seat – Fifth
1993-96 – AOC Athletes Commission
1993-96 – Victorian selector
1996-97 – Board member of Rowing Australia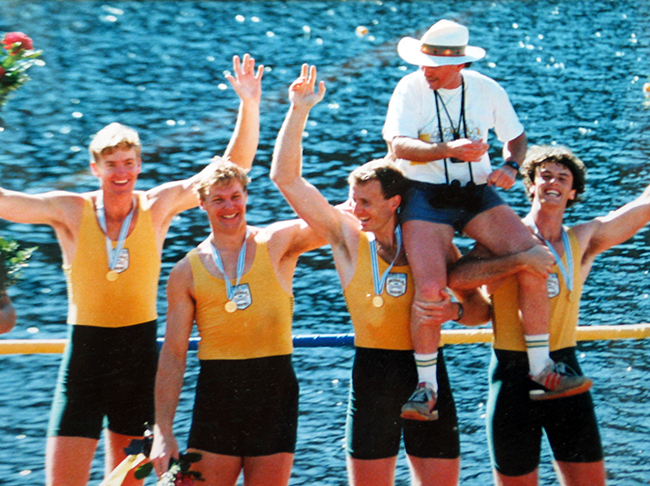 Above – 1990 World Champion Four – Sam third from left
Sam retired from rowing in 1991 to complete his medical studies. He returned for 1992 Olympic Games and is now an orthopaedic surgeon practising in Melbourne. He claims that the highlights of his rowing career were his victories in the 1987 & 1988 J G H Sprigg time trials! His other highlights were winning each of the two selection events in 1987 but over 10 seconds, the coxless pair and coxed four. The win in 1988 King's Cup by 11.6 seconds in a time of 5:25 – everyone was a gold medallist except one who had a silver Olympic medal. The 1990 Lucerne regatta win announcing the arrival of the Oarsome Foursome in the world fastest time and culminating in a gold medal at home at Lake Barrington. Finally in 1992 qualifying the young Olympic eight – four of the seven young guns went onto Olympic medals. He also noted that the biography sent to him for approval appeared a lot when all he was doing was have fun with my closest and best companions.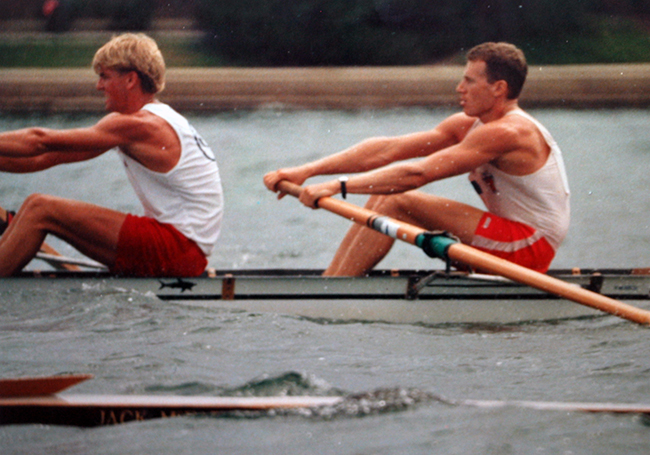 Above – Sam winning yet another race with James Tomkins in 1987
Andrew Guerin Sept 2010