George E Parlby OAM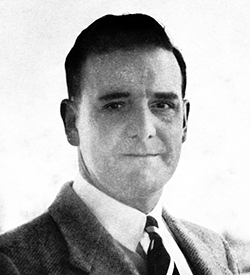 Sydney Rowing Club (NSW)
The following was extracted from the Sydney Rowing Club annual report for season 1953-54.
GEORGE PARLEY
''Our Club Captain."
Since 1954/55 Season .
A member of Thames Rowing Club since 1932, and coming to Australia in 1938, immediately joined the Sydney Rowing Club.
Following active participation in our club crews, he was elected to the Club Committee, Vice-Captain and finally Club Captain in 1945.
He represented Thames at Henley Royal Regatta in 1925 and managed on behalf of the N.S.W. Rowing Association their successful 1949 King's Cup Crew and Sculler at Murray Bridge. South Australia.
The 1964-65 Sydney Rowing Club annual reports on his elevation to President as follows.
Following the retirement of Mr. F. T. D. Meares as President last year, the Club was indeed fortunate in that Mr. G. E. Parlby accepted nomination and was elected to this most important position.
George Parlby certainly needs no introduction to Sydney mem­bers and rowing folk all over Australia. However, we do think it would be of interest to newer members to recount a little of his rowing background.
Mr. Parlby first rowed at King's School, Worcester, in England. After leaving school he joined the Thames Rowing Club in 1932, and he represented that Club in the Henley Royal Regatta in 1934.
He came to Australia in 1938 and immediately joined Sydney Rowing Club. Following active participation in our Club Crews, Mr. Parlby was elected to the Committee, and later Vice-Captain.
He was elected Captain in 1945 and remained in that position, apart from a break of one year, until retiring in 1961.
During this period he became an Honorary Life Member and was presented with the Honour Blazer in 1954. In 1949, Mr. Parlby was Manager of the successful New South Wales crew in the King's Cup at Murray Bridge, South Australia.
After retiring from the position of Club Captain, he was elected to the position of Senior Vice-President on two occasions before being elected President last year.
With such a fine record of Club service and devotion to the sport of rowing it is indeed fitting that George Parlby should become President.
In 1986, George was awarded the Medal of the Order of Australia for his services to rowing.
Extracted by Andrew Guerin
December 2020