Susie Palfreyman
University of Western Australia Boat Club (WA) then Melbourne University Ladies' Rowing Club (VIC) and Mercantile Rowing Club (VIC)
1973 - WA Women's Four cox - Fourth
1976 - Interstate Women's Four Championship cox WA - Third
1977 - Interstate Women's Four Championship cox WA - Second
1978 - Interstate Women's Four Championship cox VIC- First
1979 -Interstate Women's Four Championship cox VIC - First
1979 - World Championships - Women's Four cox - Fifth
1980 -Interstate Women's Four Championship cox VIC - First
1980 - Olympic Games - Women's Coxed Four cox - Fifth
1983 - Interstate Women's Four Championship cox VIC - First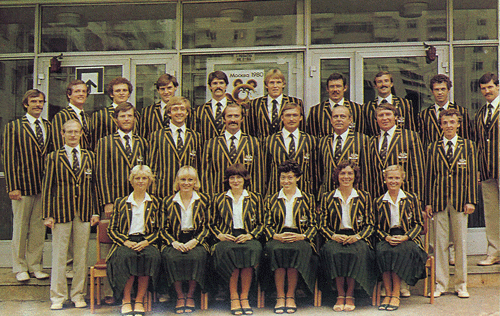 Inaugural President of the WA Women's Rowing Association (1972), past President of the University of Western Australia Ladies' Rowing Club (1973-74) and past President of Melbourne University Ladies' Rowing Club (1980). Susie married fellow rowing Olympic coach David Palfreyman and she operated a clothing merchandise business which specialises in rowing.
Susie is a person who done so much to develop the sport. She has also achieved the highest levels as a rower. She then became a superb coach and school administrator, clearly great communication skills with girls. She commenced the MLC (Victoria) program in 1980, coached many MLC crews to the highest Australia levels and established MLC as a dominant schoolgirl club. In 1985 she coached Mercantile's first ever winning women's crew, inaugurated the rowing programme at Firbank and established the Head of the Schoolgirls regatta. In 1984 MLC won the APS women's four and was not invited back - the new regatta was formed. Susie Palfreyman was a founder and also President of the regatta committee for over 20 years. She was the person who developed the regatta into a very important event. Her great input was her vision for the regatta, understanding what was possible and making that happen. She brought together the schools and made the regatta fun for all involved.
Susie's contribution to the sport of rowing over many years has been profound and has included national and Olympic representation and the expansion of women's rowing through you participation in competition, coaching and development of the Head of the Schoolgirls regatta into one of the largest schoolgirls regattas in the world.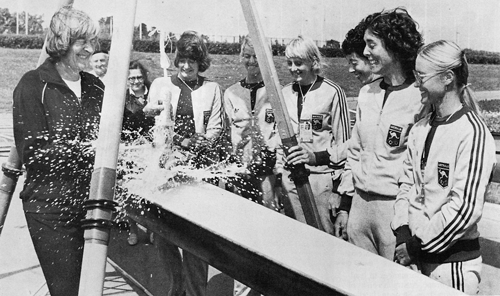 Andrew Guerin 2011