Martin F Owen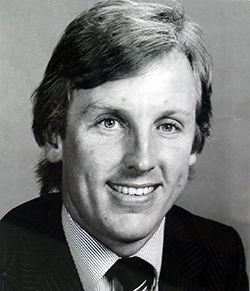 Mercantile Rowing Club (VIC)
7 October 1950 – 15th July 2019
Martin was one of the great life members of the Mercantile Rowing Club. This highly intelligent, enthusiastic, motivating, energetic and driven man kept the Club as a senior Club at a time of its greatest need, when it lost most of it's oarsmen through retirement and the boathouse through fire. We are indebted to his great work as Captain through this period.
Martin was also a successful oarsman as well as an Australian senior team coach.
This story of Martin's work starts is the 1960s when Club experienced a period of great success with many superb oarsmen in both the heavyweight and lightweight divisions. (The Club did not have women rowing at that time.) Sadly there was a lack of recruiting undertaken in the late 1960s and it was not until the early seventies when John Burford restored it, that new members started arriving.
In 1972 Martin Owen was elected Captain. In May 1973 the Clubhouse was burnt down by a fire lit by an arsonist. Martin had the unenviable task of leading the rebuilding a boathouse, recruiting many new rowers and doing so with a limited fleet of boats. For anyone else, these efforts would have been too much and limited success at one of these endeavours would have been expected. No so with Marty Owen, he led both activities well and both were successful.
Fortunately he was not alone in these endeavours. The Club rallied to Martin's, and his Vice-Captain Ian Duthie's, call and unbelievable work was undertaken by so many members.
Above: The boathouse after the fire – Warwick Hutchins inspecting the damage
With no clubhouse to evidence the Club, Marty recruited a National Championship winning junior eight and also a National Championship winning lightweight eight in 1974. These crews were the basis of the Clubs revival as a senior Club.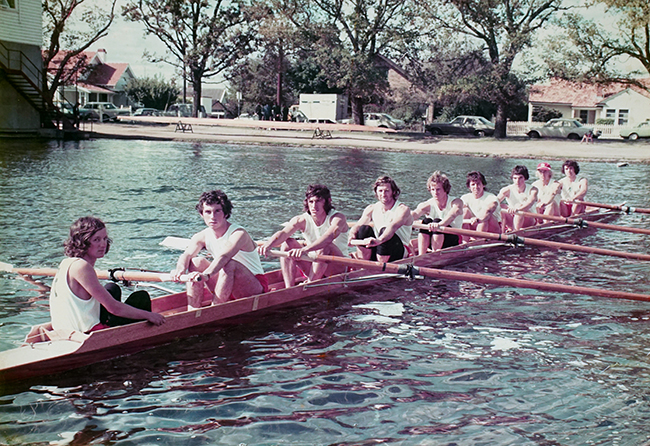 1974 National Championships crew, Martin in two seat
The Club history records:
It was a credit to the club's administration and particularly to the young captain of this time, Martin Owen, that the club was still able to achieve success on the water despite the considerable effort of active members in assisting in rebuilding the clubhouse. The intense club loyalty and spirit that was developed in the many working parties overcame several of the impediments to success created by the club's commitment to the new clubhouse.
So what is Martin Owen rowing story?
Martin commenced his rowing career as a coxswain in 1963 whilst at school when he steered John Bostock and Ted Johnston in a coxed pair. He was introduced to the Club by fellow coxswain and school mate Simon Tulloh. Martin could not get onto the MGS rowing list. He had an excellent first season coxing lightweight crews. Martin recalls getting a detention for rowing with Mercs instead of playing cricket.
Martin coxed the lightweight eight in 1964, stroked by Penry Green (it included the Mercantile captain at the time, Jeff Wylie, who was tragically killed in a motor vehicle accident one Saturday night). His mate Simon Tulloh coxed of John Thomas's maiden eights which had included notable Brighton Grammar luminaries of the time which included Roger Wilson, John Burford and Philippe Batters.
In the following season 1964-65, Martin coxed many successful junior crews. These crews contained some of the great Mercs members such as Warwick Hutchins, Barry Gross, John Burford, David Palfreymen and Dick Garrard. Martin had still not made the MGS rowing list.
In the 1965-66 season, Martin coxed many crews at the State Championships including a senior four which dead heated with Banks on the Lower Yarra. He also coxed the victorious National Champion Mercs junior eight. Yes, he had finally made the MGS rowing list after winning numerous Championships including the 1966 National Championship. He coxed the fourth crew at MGS for a win at the Head of the River regatta.
By 1968, his school years and coxing career were coming to an end and his rowing career was blossoming. At school he was give the choice of coxing the second crew or stroking the fourth crew. He took the latter finishing second. At Mercs he successfully raced a lightweight maiden pair at Henley with David Baxter with Mark Connolly as cox. He also honed his winning ways with a Morrell Eight win that year in the two seat.
Despite his retirement from coxing in 1968, he was brought back for one last race in 1969 for the Victorian Penrith Cup crew despite struggling to get down to weight.
After leaving school, Martin joined the coaching ranks of his school and then other schools, recruiting Mercs rowers as he went.
By 1971 Martin was elected to the Club Committee and he subsequently became the youngest Chairman of Selectors, youngest Captain (in 1972) and youngest VRA representative. The story of the Mercantile resurgence in 1974 under Martin's leadership is mentioned above. Martin credits his mentor John Burford with showing him how to recruit and motivate oarsmen.
The influence of lightweight rowing on Australian rowing from the early 1970s through to the mid 1980s cannot be understated. The lightweights set the world standard and so performed successfully at World Championships. Locally they competed against open weight crews and often beating them. They were responsible for lifting the standard of all rowing as a result. The lightweights were hungrier for success than their heavier counterparts – they trained hard, chased competition interstate and led the way in nutrition and out of boat training and were uncompromising on technical skill.
At the Mercantile level, Martin credits the lightweights with keeping the Club alive during the dark days of the rebuilding. The lightweights were the ones who trained without compromise then turned up for working bees to rebuild the Clubhouse.
Martin won National Championships in lightweight eights in (1974-77 inclusive), a remarkable effort. He had two selection disappointments in those years. The first was in 1976 when the Australian Rowing Council (now Rowing Australia) failed to approve the selection of the Mercs lightweight eight as the national eight. Despite great international lightweight success in 1974 and 1975 and considerable depth in Australian lightweight rowing, no lightweights were selected for the world Championships that year. Mercantile won the National lightweight eight and four that season and the all Mercantile Penrith Cup crew won their race by 8.5 seconds.
The next selection disappointment was in 1977 after performing well as a member of the winning lightweight eight. The Australian selectors preferred others in place of Martin for the Australian eight. Sadly the justification for that decision was weak.
In 1978, the Mercantile lightweight eight suffered a serious car crash at the National Championships in Tasmania which left Martin with a broken back and internal injuries. Fortunately he recovered and was able to race again in 1980 for his final season. He rowed as well as coached in 1980 taking the lead with the Club lightweights.
Coaching beckoned again and he coached Mercantile lightweights to great success in the period 1980-8. During this period he made some strategic decisions for the Club including the recruitment of Noel Donaldson and the pair of James Tomkins and Chris Gilford. This was the beginning of yet another great era of Mercantile in heavyweight rowing.
In 1989, Martin was appointed coach of the Australian lightweight four which race at the Bled World Championships. His crew made the final but finished sixth.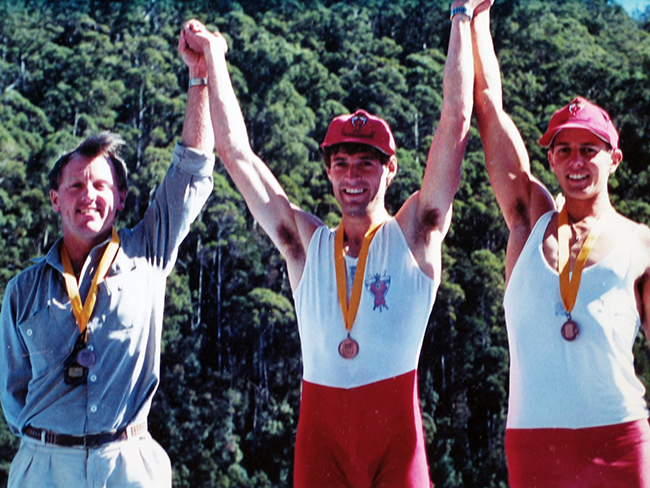 Above: Martin with another National Championships coaching win for Mercs in 1990 with a lightweight pair of Richard Wraith and Simon Morrison
Sadly words cannot describe the devotion, energy, drive, skill and motivation that Martin brought to the Club and the legacy he left behind. However just ask anyone who was around the Club during those years about Martin and the responses will give you give your an inkling of the influence he had on our Club. He had an enormous influence on the author.
Martin is now retired from his successful business career and continues to enjoy the company of those with whom he spent his youth at Mercs.
The following is an excerpt from his eulogy delivered by Andrew Guerin at his celebration of life.
Marty was a leader. Whilst a driven and controlling man, he inspired us. In rowing, he shared and sold to us a vision of what we could achieve, and then demonstrated how to do it.
In so doing, he taught us how to do the same – inspire others, work outside our comfort zone and engineer change. He would never see himself in this light, but he was a great teacher.
As a rower he was also the assistant coach undertaking the recruiting, awaking the passive, driving workloads and always leading by example.
As a coach, he tapped our inner motivations to drive success.
His sharp wit, formidable intellect and memory, lack of fear, ability to speak plainly, master of the double entendre, and his enjoyment of a drink – all remained with him until the end – even if the drinking part had the indignity of a straw.
He was one out of the box our Marty – a very special and much loved character.
Some stories.
As young rowers, he taught us to work hard and play hard. If the rest of the world did a certain level of training, we would do more. If we had to assess our progress against other crews, we would drive interstate to race them. Sometimes the play hard was a detriment. The look of some of us at Sunday morning training sessions left little to the imagination.
One Saturday morning after a particularly hard on-water session which made us feel like it was late afternoon, we were knocking on the door of the Riverside Inn at opening hour! Some who shall remain nameless, let us call one of them Martin as an example, stayed there all day.
Marty carried this through to his coaching and then work life. He believed in the old adage that success should be celebrated and failure learnt from. After some early wins at PNO, Peter Philp and Marty Owen had a long lunch. Marty had coaching duties that evening and drove down. After he failed to mount the coaching bike, we put him back in his car. He then drove home.
Marty had no time to waste on domestic matters and so was an untidy young man. The boot of his Volvo was a dumping ground for food, rowing tools and rowing clothes. His car and rowing clothes challenged us and so it is no surprise his nickname was Fly Blown.
Marty asked me to provide chapter and verse on his rowing past for the many people in the room who had no idea of it. Sorry mate but in 10 minutes, it is impossible.
Martin started his rowing at Melbourne Grammar School as a coxswain. Coxing at a young age is the best leadership training available. Understanding how to control, coach, inspire usually eight rowers, sets you up for life.
Whilst coxing at school, he also coxed Mercs crews initially at the invitation of his school mate Simon Tulloh.
Marty revelled in the mature world of Club life commanding and directing others more mature than himself and he became worldly beyond his years.
In his second season at the Club in 1964-65, he coxed so many winning crews, that he was the Club's Champion cox. He was only 14 years old.
In his third season at Mercs he won his first National Championship.
By 1967, his second last year at school, he was continuing to cox championship crews at Mercantile and also the fourth crew at Melbourne Grammar. He would have been frighteningly competent for such a school crew. As expected his school crew won.
Despite a coxing depth of experience and competence most school coaches would dream of for their first crew, the powers at Melbourne Grammar deemed another cox should take that crew in 1968. I suspect that Marty was too busy with his Mercantile duties and did not put in the time for his school responsibilities.
Marty had the choice of steering the second crew or stroking the fourth crew. As you would expect with Marty, there was no choice – he rowed and stroked his fourth crew to victory. His determination, and tenacity overcame his coxswain stature and lack of time rowing.
During that season he won another National Championship and was joint champion cox. He also won his first club race as an oarsman with fellow coxswain Mark Connolly.
In his first year out of school, he struggled with weight but still managed to cox the Victorian lightweight four stroked by Peter 'China' O'Brien and also row. He started his coaching career with a Melbourne Grammar crew.
He started his law course which only kept his imagination and interest for the first three years. With great ingenuity, he deferred the rest of his course for another 10 years until the university lost patience with him. Marty thought he was the longest serving undergraduate at Monash University.
Marty's serious rowing, as against coxing, career started in the 70-71 season as did his time as a sports administrator. He joined the Club's and the Victorian Rowing Association Committees and was on them continuously for the next 15 years.
He learnt Club administration from some of the best, Norm Cairnes, Bill Bradshaw and Bob Aitken and by the 1972-73 was Club Captain at an unusually young age.
Sadly in the following season, most of the senior oarsmen retired and the Club needed to recruit well from schools and laterally from other sources to remain a senior club. This dire situation was compounded when an arsonist burnt down the clubhouse.
His ability to succeed under pressure came through. Martin recruited the best of the school rowers and also persuaded open weight rowers such as Rod Stewart and Michael Kerin to row lightweight. The Club ended up that season with National Championships in lightweight and junior eights.
The annual report records:
None of these results would have been possible without the tireless energy and enthusiasm of our Captain, Martin Owen, who has carried the Club on his shoulders over the past two years. The past year of his reign has been conducted under the most difficult operational circumstances and the result achieved bear witness to his efforts and he has set a standard which his successor will find hard to match.
Marty organised and led Mercantile crews to National lightweight eight Championships for 4 years from 1974. He narrowly missed out on national selection in 1977. The Annual Report commented after noting six club members and their coach had been selected into national lightweight crews: This excellent result is the culmination of over four years determined effort and planning by our Club's lightweight oarsmen who overcame many obstancles. … A large amount of the foresight and direction involved can be attributed to one member, Martin Owen, and the Club is most grateful for his considerable work over this period.
At the National Championships in 1978, the Club boasted two lightweight eights. Marty was well in contention for national selection again. However a serious head on car accident after the regatta left Marty in hospital severely injured.
Marty was seated in the middle of the back seat with a lap seat belt. His internal injuries required urgent surgery and his back was broken above and below the seat belt. There was doubt as to whether he would walk, let alone row. Four months later he was back in the boat and at season's end, raced again at the National Championships – despite a significant loss of condition. His tenacity to overcome adversity was again tested and not found wanting.
I again revert to the annual report: ..for Marty it was the culmination of years of devoted training and service to Mercantile and rowing in general. As news of the accident spread, everyone who has anything to do with rowing felt for Marty, … .
As you might imagine during his time in hospital, Marty was controlling Club life, and very well too! None of us at the Club thought we were really in charge with Marty expending his boundless, and pent up, energies directing club affairs from his bed.
Marty coached, rowed and administered for the next 4 seasons. He eventually retired as a rower in 1981-82 season.
Marty was a natural coach.
Aside from his club coaching, he was given Australian team duties on three occasions with the under 23 team and was a senior Australian coach in 1989. Many of his rowers made Australian teams and the following are just some them:
Simon Cook, Derek Mollison, Joe Joyce, Richard Wraith, Lyall McCarthy who went onto being a leading Australian coach himself heading the national women's program and coaching Kim Brennan to her gold medal at the Rio Games, Greg Pechan, Tom Sanchez, Simon Morrison, Gavin Hall, Ian Rycroft and Malcolm Robertson. One of his under 23 crews is here today in full, Simon Langenbacher, Michael Mayne, David Belcher and Andrew Blum. His 1989 senior crew of Nick Weston, Tim Brew, Simon Pringle and David Belcher.
In 1988, Martin was awarded the Club's highest honour, life membership.
Hopefully the non-rowers here will have a sense of how Martin Owen devoted some 38 years of his life to the sport.
Before finishing some comments.
Thank you to the Owen family for supporting Marty in his rowing years, particularly during his school and university days. The sport is far better for your support of him. We were glad that you saw fit to hand down the family Volvo to him as we doubt whether he would have survived his youth in a less safe car.
Thank you also to the Wednesday luncheon group who in the last months of Marty's life enjoyed weekly lunches with Marty. We loved them and we know that Marty looked forward to them. I must highlight the superb work of fellow rower Steve Mollard in assisting Marty throughout his illness.
Thank you Susan for marrying Martin. You were able to bring out the best of him. We enjoyed seeing him become a far more relaxed person who enjoyed the finer things in life. Thank you.
I will leave you with the apt words of an early American President and Statesman John Quincy Adams: If your actions inspire others to dream more, learn more, do more and become more, you are a leader.
Well rowed Martin.
Andrew Guerin 2017 (updated 2019)