Anna C O'Hanlon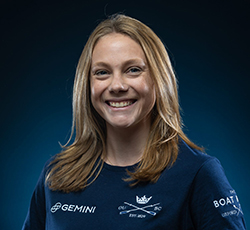 UTS Haberfield Rowing Club (NSW)
Given the family association with the sport, Anna was always likely to take up rowing. Both of her parents were rowers with her father competing at the national level and her mother at state level. She commenced her rowing at Loreto Normanhurst in Sydney in 2010 and finishing her school rowing in 2026 coxing her school's second eight. From there, she moved to UTS Haberfield Rowing Club. She enjoyed success at UTS Haberfield including racing at the Australian Championships coxing podium winning men's lightweight eights on two occasions, competing at Henley Royal Regatta in 2018, and interestingly coxing two crews on the same day at Melbourne's iconic Head of the Yarra regatta. She also coached at her old school with much success in the junior programs.
Anna studied at Sydney University before moving to Oxford University to undertake a Masters in Science in clinical embryology at Somerville College, Oxford.
At Oxford, Anna joined the rowing program resulting in her being the first Australian woman to cox the Oxford men's blue boat and by your authors calculation, only the second Australian coxswain to lead a Men's Boat Race crew in the 168 iterations of the event. In a race so dependent of an intimate knowledge of the Thames, this was quite an achievement. Sadly Cambridge won the 2023 race by a third of a length.
2018 - Henley Royal Regatta, Ladies Challenge Plate, cox
2023 - The Boat Race, Oxford University Men's Blue Boat, cox
Sources:
Flynn Snowden and Andrew Guerin
April 2023