Fiona O'Brien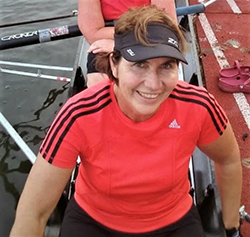 Essendon Rowing Club (VIC)
The following obituary appeared in the Rowing Victoria Enews on 22nd October 2020.
It is with great sadness we advise that Fiona O'Brien passed away after a courageous battle with illness.
Fiona joined Essendon Rowing Club (ERC) after completing the Learn to Row program in 2013. Fiona's rowing potential was soon recognised and she was encouraged by the Masters' Coach into joining the Female Masters 8. She then became a regular crew member of the 8 before it disbanded in 2017. Fiona was dedicated to training sessions or rarely missed a regatta during this time and became an integral and valuable member of the Masters and Senior squads. As a member of ERC, Fiona competed at State and National levels traveling to Lake Kawana, Penrith, and Lake Barrington, competing mainly in 4s, quads, and 8s and medalling in various crews at that level. Fiona also enjoyed competing in the Head of the Yarra from 2013 through to 2018. She loved to scull and was a regular competitor at the Saltwater Challenge and was training hard for competing in a double before she fell ill. Her final race would be a silver medal in the mixed 8 at the 2019 Vic torian State Masters Championships. A hard-fought battle full of courage, strength, excitement, and fun with her mates!
In 2016, Fiona joined the ERC committee and served as Secretary for 2 years. She was also a willing volunteer around the club. Her cheery, infectious smile was contagious and particularly evident when we had a "great row". She was a quiet achiever and incredibly competitive, even though she didn't let it show. Fiona had a warm and friendly nature and a strong determination to succeed.
We at the Essendon Rowing Club and the rowing community, particularly masters, have lost a great crew member and a kind and beautiful friend far too early.
Fiona was very proud of her family and we extend our sincere condolences to her husband Paul, their beautiful children Toby and Mel, and their extended family.
Extracted by Andrew Guerin
October 2020