Nick Newton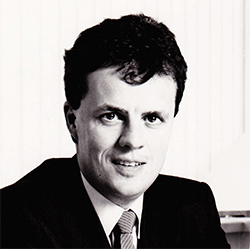 Mercantile Rowing Club
Nick commenced his rowing at Melbourne Grammar where he rowed from 1969 to 1972. He stroked the third crew in his final year.
He immediately joined Mercantile and enjoyed a long rowing a career from 1973 to about 1984. He enjoyed his rowing and was coached by some of the greats of that time including Phil Cayzer, Hubert Frederico and Martin Owen. He was an enthusiastic Club time trial participant.
He remembers those years with great pleasure and his life revolved around the Club. " It was so much fun, and such an important part of my life at that time." He loved the camaraderie and made many life long friends.
One of these was a rower he recruited to the Club, Marty O'Halloran. Marty had an excellent, albeit short, rowing career climaxing in rowing at the World Rowing Championships in the Australian eight. Nick then recruited him into DDB where he was then working. Marty has recently been promoted to Global CEO of that organisation.
Whilst Nick enjoyed his rowing, his greatest contribution to Mercantile was as an administrator. He served on the Committee for several years including time as Treasurer, Vice-Captain and then as Captain from 1984-87.
In a self deprecating manner, he comments on his Captaincy years as "enhancing and maintaining the momentum of past years". In fact he did much more. Yes the Club was achieving good growth and success when he took over as Captain, but Nick led the transition to consistent and sustainable success. Mercantile has maintained that success ever since.
He also recruited good people around him on the Committee including Noel Donaldson as his Chairman of Selectors, and maintained a good coaching team.
His post rowing career has been very successful and he is not showing signs of slowing down. He has a young family and a business to run.
His sport of choice these days is swimming and has successfully undertaken challenges such as the English Channel, three times!
An interesting and engaging man.
Andrew Guerin
August 2020