Simon Newcomb OAM
Mercantile Rowing Club (VIC) and Centenary Rowing Club (QLD)
There are many apt words to describe Simon, enthusiast, doer, visionary, persistent (and therefore in the eyes of certain Queensland politicians, a nuisance), unconventional, persuasive, complex and achiever. If Simon has the vision to make something happen, it will occur, regardless of the hurdles. He has the confidence in his own abilities and the patience to make things happen. And his visions are always about providing sporting opportunities for young people.
Simon takes a slightly different interpretation: "My second name is lucky! As I look back over my life, I seem to have always met the right people who have offered their help and advice, have gone out of their way to assist my visions and dreams and were just top people."
But let us dwell on the vision. His Youth Row Australia vision 'to develop children of all walks of life by encouraging positive attitudes towards commitment and leadership through rowing'. "My dream is to provide the sport of rowing to any child regardless of what school they attend or what socio economic area they live in, wherever they live in Australia." These are noble ambitions.
Outside sport, he is a devoted family man and was a successful small businessman.
So how did this giant personality come into the hands of the sport of rowing?
He was a bit of rebel at school, holding the caning record at Melbourne Grammar School. However he loved rowing and was good at it, despite only rowing in the second crew in his final year at school.
Simon then joined Mercantile and was immediately selected into junior crews. Military conscription was in place in Australia at this time and Simon was called up in 1957.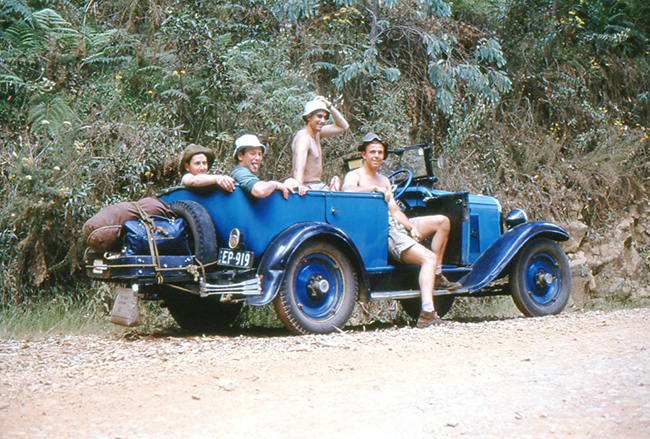 Simon driving his 1930 Chevrolet to regattas as a young man
Left to right: Terry Swanston, Geoff Grinblat, Chris de Guingand and Simon Newcomb
Upon discharge, he continued his rowing at Mercantile Rowing Club and was again immediately selected into junior then senior crews.
Simon's top rowing years commenced in 1961 when he won the Victorian Championship Senior eight and the King's Cup at the Interstate Championships. In the following year he raced at the Empire Games and was a reserve at the inaugural World Championships at Lucerne. This led to the pinnacle of his career racing in the coxless four at the Tokyo Olympics in 1964.
Sadly the Olympics were not kind to the four with an uncompetitive boat and other problems. Simon's disappointment was profound. He stated: "Looking back on my achievements and the fact, I had worked so hard, had won the right to compete at an Olympics' and we had blown the opportunity, was one of the biggest disappointments I have ever had in my life".
After the Olympics, the newly married man complete with mortgage and no income, had to get on with earning an income. His rower days were over.
However there was no gap from rowing as Simon continued to coach and administer the sport he loved. He also was the rowing correspondent for The Age newspaper and regular commentator at regattas.
He continued his Mercantile Rowing Club Committee duties whilst starting a long association with Brighton Grammar School coaching their first crew for seven years and also including a stint as Director of Rowing.
A desire for warmer weather saw the family move to Queensland in 1975, first to the Sunshine Coast, where he founded the Noosa Rowing Club.
Upon arrival, his vision to bring the sport of rowing to the those who had not experienced it, was rekindled. "I believe that rowing is one of the greatest teachers of life in general. The lessons of discipline, commitment, responsibility, punctuality and teamwork are invaluable." He started with one crew from Sunshine Beach State High School. It was not long before a second crew from the same school commenced and then enquiries from a second State High School (Noosa District High at Cooroy) asked if they could become involved. Competition between schools was born. He canvassed schools, parents, prospective coaches, businesses, Councils politicians and the vision and the club became a reality. It was formally founded on 18th August 1980 with Simon as President. The Club grew well.
He held onto that dream and when he retired in 2003, he started another club, Centenary Rowing Club to fulfil this dream - more on this later.
Simon then went to the Gold Coast where he coached rowing at The Southport School. In 1985, he accepted a non-teaching rowing role at BBC. "For the first few months, I lived in a small room in the clock tower at the college. It was difficult to sleep there, as the passing diesel trains would shake the whole tower."
Simon worked diligently to expand the base of the rowing program. "We introduced a sculling program, a boat replacement program, and a junior rowing program. Always look after the novice. My goal was to win the 1st VIII HOR within five years and that happened in 1990 with the arrival of Ian Luxford as coach in 1989." Simon's involvement at the college extended to the formation of the Interact Club and establishing the Collegian Newspaper. This led to a fulltime role as Director of Development and a member of the School Executive in 1989 with the arrival of Ian.
In 1992, Simon left the college, but he returned in 1998 for a successful stint as Director of Rowing, before retiring in 2001 after suffering the debilitating effects of Ross River Fever and the Barmah Forest virus. He briefly returned on an interim basis in 2002. Simon has been a great ambassador for BBC for many years. "I am forever grateful to have been given the opportunity to join BBC. I consider it to be the greatest rowing school in the world." In 2005, Simon was made an Honorary Life Member of the Old Collegians Association.
In 1997 Simon Newcomb approached Dr Steve Hinchy (President of Rowing Australia) and asked for permission to approach Buckingham Palace and the Queen's Private Secretary Sir Robert Fellowes as to whether Her Majesty Queen Elizabeth ll would be prepared to provide a trophy to be known as the Queen's Cup for an annual International Schoolboy Race. The first race should take place to coincide with the centenary of Brisbane Boy's College in 2002.
Simon Newcomb continued to correspond with the Queen's Private Secretary Sir Robert Fellowes, Buckingham Palace, Rowing Australia, Government House in Brisbane and also in Canberra. On 26th November 1999, the following response was received from Kevin Davidson, Senior Adviser to the Governor General:
Dear Dr Hinchy [then President of Rowing Australia],
I refer to your letter of 19th April 1999 to the official Secretary requesting Her Majesty The Queen's consent to donate a perpetual trophy for an annual International schoolboy rowing event to be held in Australia. The Official Secretary has recently received formal advice that her majesty has consented to a Royal trophy to be called 'The Queen Elizabeth Cup' to be raced for in Australia by schoolboy crews from all over the world on an annual basis. Her Majesty is content for the first event to be held in Brisbane to coincide with the centenary celebrations of the Brisbane Boys' College in 2002.
Rowing Australia subsequently determined that the trophy would be best allocated to the women's eight event to provide some equity of regal trophies for men's and women's interstate eight oared championships and thus provide synergy with the Kings Cup.
In discussions with Simon he described an interesting part of the process. "I think my only claim to notoriety is that I must be the only rower to ever be arrested within the grounds of Buckingham Palace when I was trying to obtain a Trophy for Australian Rowing from Queen Elizabeth. It all happened when I was trying to make an appointment to see Sir Robert Fellowes and realised going through the front gates of Buckingham Palace, I would have no chance so decided to walk around to the back of the Palace to find the Tradesmen's Entrance. I was able to get inside but then two of the biggest Policemen grabbed me, one on my left arm and the other on my right arm and within minutes I was on the outside again. My only accomplishment was that the Police gave me Sir Roberts Private Phone Number."
In the intervening years, Simon spent a couple as CEO of Rowing Queensland. President Dr Steve Hinchy noted that "Simon has been with Rowing Queensland for just under two years, during which he has achieved a great deal, including commencement of four new school rowing clubs on the North Coast and the Queensland Rowing Magazine which has gained huge support. The circulation of this magazine is now greater than that of the Australian Rowing Magazine." He also added "Simon's path with us was not an easy one. – in spite of his hard work and enthusiasm, he often lacked the support from the Management Committee for his ideas." A visionary up against administrators is not a marriage made in heaven but much was achieved. His disagreements with administrators of the sport were not isolated events.
Most recently, Simon has helped establish the Centenary Rowing Club. The Centenary Rowing Club was to be the conduit for his vision and dreams. The Club's vision was based around his Youth Row Australia vision "to develop children of all walks of life by encouraging positive attitudes towards commitment and leadership". One of the great differentiators of this work was that parents would become the focus of the organization that would share ideas as to how they could benefit their children, community and others. It was also a club which encouraged diversity, well before this became the expected state of affairs. The Club grew rapidly and had the enormous issues of building motivation, getting equipment, coaches, rowers and then a boathouse. These few words do not do justice to the enormity of the task.
Simon's plan was to start at the bottom and each year the Club would have two intakes, one at the beginning of 4th term where we would introduce both Grade 7 and Grade 8 children into the program. The second intake would be just Grade 8 children at the beginning of 1st term. He believed that for any successful youth sporting program to be built had to commence from the bottom and by starting children off at Grade 8 it potentially enabled them to have at least five years of opportunity to be part of rowing during their school years.
It worked. During this time he accumulated discarded boats from throughout Australia and used a local Scout Hall as his changing rooms.
By 2005, a boathouse was overdue. Through cunning marketing and fundraising, extensive local journalism and hounding of politicians, the boathouse became a reality. The Club became the largest and most successful Queensland Club. A great tribute to Simon. There are some superb stories around the gaining of government support. The whistle story is but one of many. When showing a local politician around the site, he would blow a whistle every few minutes. The politician of course asked what whistle sound signified? Simon responded that this was to signify when the boys or the girls could use the bushes to go to the toilet! Government support soon followed that visit. Good friend Roger Wilson adds that: "To kick off the Centenary Rowing Club Building, Simon in his close association with The Brisbane Lord Mayor, Campbell Newman, received $500,000 from the Brisbane Council with the rest basically funded with Simon's effort in the community, friends and schools".
The rebuilding did not all go smoothly with flood waters nearly wiping away the partially build shed. It survived but obviously needed much work to get back in order. The opening of the $3mil boatshed in 2010 was recorded in the newspapers as follows:
"Dozens of dignitaries and sporting glitterati descended on Riverhills last week when the Sports Minister Mr. Phil Reeves MP launched the opening stage of construction on Centenary Rowing Club's new shed. Mr Newcomb said the occasion was a milestone marking years of hard work for a lot of people" to create a rowing club for students from schools not normally involved in the sport. "It certainly was a very proud day and one which just shows, in my opinion, if the community, the government and the council all work together in a positive line, huge things can happen, he said. My vision is …I want to make it a facility that can be used by a number of different community groups. "We have encountered many potholes along the way to what will be the first public rowing shed built on the banks of the Brisbane River in nearly a century." Mr Newcomb dreams of developing a rowing competition to rival the GPS program with as many as 500 participants. In an earlier report in News, Marist College Ashgrove principal Peter McLoughlin said the 'Newcomb plan' "was a great way for students from non-rowing schools to get involved" but warned there was a significant cost. Of course this was followed in December 2010 when I received the news that the Government had agreed to the funding of the building of the Second Stage for the Club House. This was followed by the devastating flood at the beginning of 2011 that nearly destroyed everything we had worked for."
The Club grew to being the biggest in Queensland with some 250 active young rowers as members. An amazing feat.
Some years ago, Simon handed over the reins of the Centenary Rowing Club to others and has finally retired.
Roger Wilson also recalls that "Simon was instrumental in helping establish a much-needed rowing course at Wyaralong when Simon saw the potential when the valley was flooded after a dam was built. Again assisted in funding by the Queensland State Government in 2006, headed by Campbell Newman, who was Queensland State Premier by then, Wyaralong rowing curse was established.
Simon is no longer a young man and whilst the fire still burns brightly, age prevents him from his new vision of another community club in Ipswich.
In conclusion, the brief details below do not do justice to his many achievements nor do they tell the very interesting stories that link everything together. It would take a full book to include them all. Please take the time to talk with Simon. It is always rewarding.
Some details.
1955 - APS Head of the River, Second crew four seat - Fourth
1956 - Joined Mercantile Rowing Club
1958 - Victorian Championships, Junior four and junior eight - Second
1959 - Victorian Championships, Junior four and eight - First in the four and second in the eight
1959 - Appointed Assistant Treasurer Mercantile Rowing Club
1960 - Victorian Championships, Senior eight five seat and senior four three seat - First and Second respectively
1960 Mercantile rowing from Sydney Rowing Club for the Metropolitan Regatta - Simon Newcomb in the three seat
Left to right: Gary Morgan (cox), David Boykett (stroke), Simon Newcomb (3), David Oliver (2) and Tony Cordell (bow).
1960-61 - Appointed Vice-Captain Mercantile Rowing Club
1961 - Victorian Championships, senior eight three seat - First
1961 - Interstate Championships, King's Cup three seat - First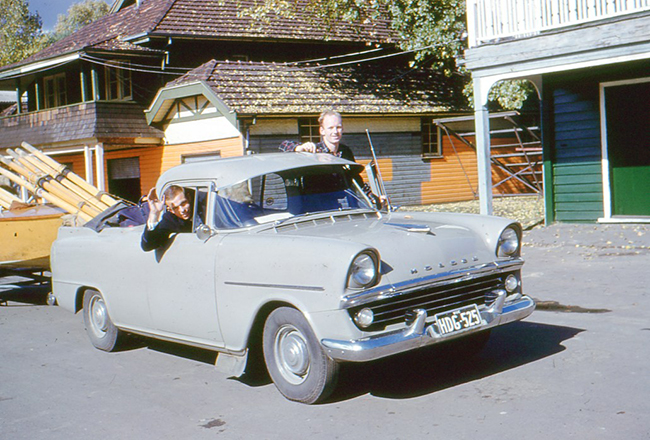 Simon Newcomb driving and David Boykett passenger leave Mercantile for the Interstate Championships in Adelaide
1961-62 - Elected Vice-Captain Mercantile Rowing Club
1962 - Interstate Championships King's Cup, emergency
1962 - Inaugural National Championships, Senior Four both coxed and coxless - Third (coxed) and Fourth (coxless)
1962 - Victorian Championships, senior eight three seat - Second
1962-63 - Elected Captain Mercantile Rowing Club
1962 - Inaugural World Championships, men's eight, emergency
1962 - Empire Games - Men's coxless four three seat - unplaced
1963 - Victorian Championships Senior eight three seat and Senior Four - First and second respectively
1963-64 - Elected Captain of Mercantile Rowing Club
1964 - Victorian Championships, senior eight and four - Second in both
1964 - National Championships, men's coxless four three seat - First
1964 - Olympic Games, men's coxless four three seat - eliminated in repechage
1964 Olympic Four
Left to right: Str: Peter Gillon, 3: Simon Newcomb, 2: Richard Garrard, Bow: Anthony Walker, inset coach Keith Bilney
1964-69 (incl) - Elected to Committee Mercantile Rowing Club
1965-71 (incl) - APS Head of the River, Brighton Grammar first crew coach and Director of Rowing for part of that period
1977-78 - Founder and inaugural President of Noosa Rowing Club
1981-85 - Coach at The Southport School
1986-96 - Director of Rowing Brisbane Boys College
1993-97 - CEO Rowing Queensland
1998-2002 - Director of Rowing Brisbane Boys College
2005 - Awarded Honorary Life Member of the Brisbane Boys College Old Collegians Association
2006-13 - President of Centenary Rowing Club
2007 - Brisbane Lord Mayor's Sporting Award
2008 - Awarded a Medal of the Order of Australia for "Service to the sport of rowing in Queensland through administrative and coaching roles."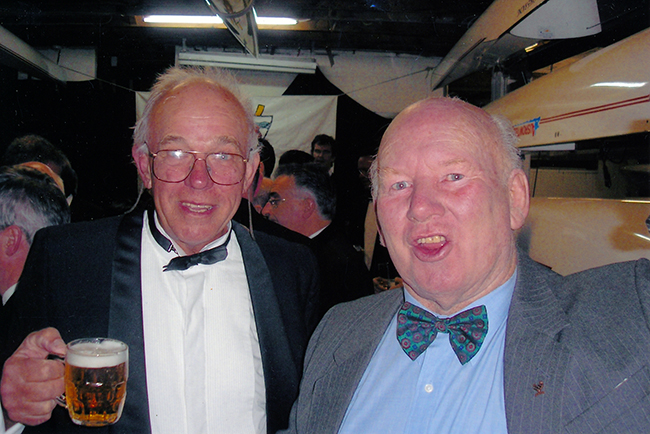 Simon Newcomb and David Boykett enjoy getting together again in 2005 - two visionaries
Andrew Guerin
May 2021