Jack J Mulcahy
Melbourne Rowing Club (VIC)
Jack was a larger than life character in Victorian rowing in both the pre and the post WWII eras. He had a very long active rowing career spanning some 25 (or perhaps more) years.
His first recorded race was in 1921 when he competed in the Head of the River in the three seat of the Xavier first crew. His last race was in the 1946 King's Cup crew in 1946.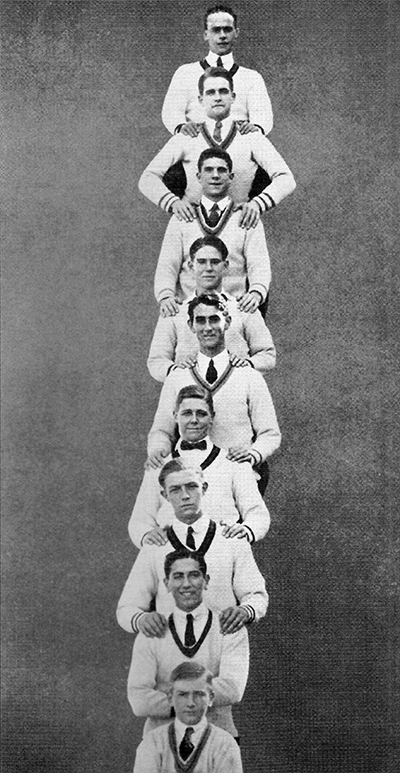 1921 Xavier crew with Jack in the three seat
He rowed and coached at the senior level being a member of the 1946 Victorian King's Cup crew and coaching it in 1949.
1946 Victorian crew with Jack in the six seat
However, he was best known as a school coach at Xavier College. His 1948 crew broke a 20 year drought for Xavier to take out the Head of the River with a crew stroked by Brian Doyle. The next time that Xavier would win was to be 1999. He coached the first crew on three occasions and the seconds on one occasion (1961) and the thirds on another (1947).
His rowing career was patchy and appears to have included a time at Shepparton in the late 1920s and into 1930s.
By the late 1930s, he was winning junior races and notably the junior fours at the Upper Yarra Regatta.
His senior wins seem to have been in or around WWII and led into his post war selection in the Victorian eight.
Jack was a notable and important part of Victorian rowing.
Brian Smith and Andrew Guerin
March 2022
Sources:
Trophies in the Estate of the Late Michael Mulcahy, son of Jack
Authors' own records
Lift her home to Victory, Lads - A Centennial History of Xavier College Rowing 1906-2005 by Michael Lefebvre, published by the John Tutton Trust 2006
1948 image from the Xavier College boatshed