Ernest D Morshead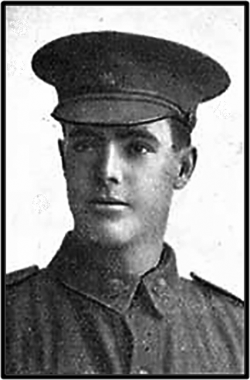 Ballarat City Rowing Club (VIC)
One of the first members of the Ballarat City Rowing Club to pay the supreme sacrifice was Ernest Morshead. He joined the club as a schoolboy in 1912 and raced with success for two years. He enlisted in July 1915 and was killed at the Battle of Fromelles in July 1916. He was just 23.
Ernest Davey Morshead was born in Mt. Pleasant, Ballarat. He attended the Mt. Pleasant Primary School and the Ballarat Agricultural High School from 1908 to 1912. He joined Ballarat City Rowing Club in 1912. The High School rowed at the Ballarat City shed from their start in 1912 until they built their own shed after the war.
In 1913 he won his Novice fours at BRA Novice Regatta with J. O'Shea, M. Spencer and J.F. Gear, who were also a High School students. In 1914 he won the Maiden four at Barwon Regatta with M. Spencer, J. Blaikie and R. Allen. The crew won in the re-row after a dead-heat with Hawthorn and were coached by William Commons. This entire crew of young men would later enlist for World War 1. In 1914 he was listed as stroke of one of the 12 club fours for Trial fours races.
Ernest Morshead (1319) enlisted on 27 July 1915 during at which time he was a 22 year old High School Master. He was working in Stawell by then. His mother, Mary Elizabeth Morshead was his next of kin, as his father had died previously. He was the youngest of the four Morshead brothers, three of whom enlisted. His eldest brother was Lieutenant General Sir Leslie Morshead who served at Gallipoli and later with distinction in the Middle East. Another brother Harry Morshead enlisted as a Chaplain.
Ernest was injured and died of wounds in the field in France, on 20 July 1916.This day is remembered at the Battle of Fromelles. During this battle the 5th Australian Division suffered 5,533 casualties, the 61st British Division suffered 1,547. The German casualties were little more than 1,000. The attack was a complete failure and had no impact whatsoever upon the progress of the Somme offensive. The Australians suffered what is believed to be the greatest loss by a single division in 24 hours during the entire First World War.
On 01 August 1916 Ernest Morshead, a member of the 29th Battalion, was buried at Eaton Hall Military Cemetery, 4 miles from Armentieres.
One of his teachers from High School said of him "While full of life and spirits, he was yet attentive and diligent, and was always popular with his comrades and esteemed by his teachers, to whom he was ever most respectful and courteous." Mr. Refshauge, the principal stated that he was reliable, thorough and skilful. Even though he rowed for such a short time he was well known amongst the rowing community. His loss highlights the loss to the club and the Ballarat community of young men who had so much to contribute but never got the chance.
Lest we forget.
Kate Elliott
September 2021