William T Morrison
Mercantile Rowing Club (VIC)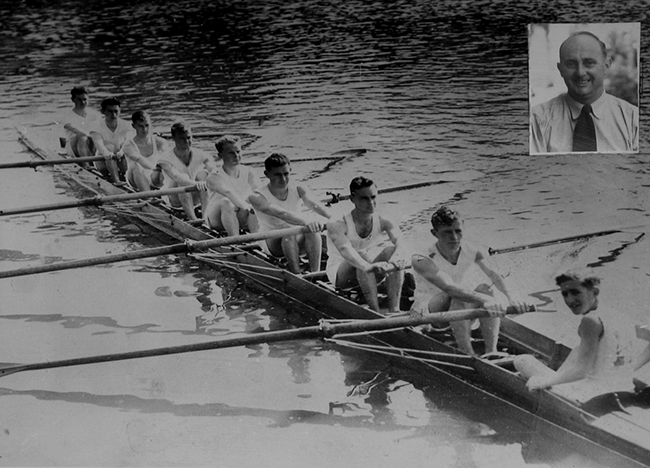 Above: 1948 Champion Lightweight Eight – Bill in the bow seat
Extract from 2003-04 Club's Annual Report
The Club lost one of it's most long standing and revered Vice-Presidents during the year. Bill joined the Club after the War in 1946 and first raced in the five seat of the Mercantile maiden eight No 3 at the Melbourne Regatta on 16th November 1946 where they won the heat but were defeated in the semi-final. His first win that season came at the Rutherglen regatta in the lightweight maiden pairs. Victorian Championships followed both in 1947 & 1948 in the Championship Lightweight Junior Eights. The successes in Club races also kept the trophy cabinet full with wins in the President's Fours and the Picken-Williams Eights. Bill continued to compete until the 1949-50 season when he retired to coaching.
Above: 1974 rebuilding where Bill Morrison provide wise counsel
Bill was very active off the water also. He became Assistant Secretary in the 1947-48 season and in the following two seasons, Secretary. Bill was again appointed Secretary in 1950-51 and 1952-53 seasons and was a committeeman through to 1955. The first boat named in his honour was christened in 1952. Bill kept in touch with the Club during the years in which his children were reared and was proud when his son became an active member. Bill also returned to the Club and gave great service during the 1960's and 1970's. His was appointed a Vice-President in 1971. His counsel was always sought on key matters and his work during periods of stress such as the loss of the Clubhouse in 1973 was important to the Club's recovery. Bill suffered a stroke in the 1980s and thus was unable to join us at the Clubhouse much after that date.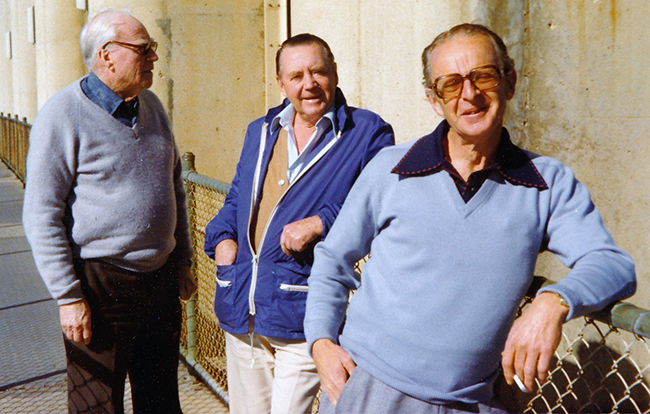 Above: Bill Morrison in front with travelling companions Tom Rodda left and Deane Morgan centre to see the new Westlakes course in Adelaide
2003-4 Mercantile Rowing Club Annual Report, photos Andrew Guerin