Sir Stephen Morell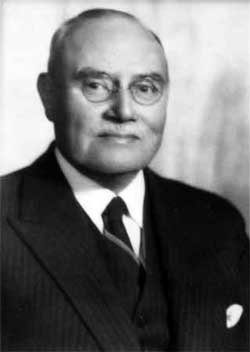 Mercantile Rowing Club (VIC)
Sir Stephen Morell was born in Carlton in 1869 and was educated at Scotch College. He became a champion rower, was president of the Mercantile Rowing Club for 28 years, and was a founder of the Metropolitan Football Association. He owned considerable property in Melbourne, was a director of breweries and insurance companies and had pastoral interests in Queensland.
In 1901 he became representative for Gipps Ward in the Melbourne City Council and served for 38 years. Elected Lord Mayor in 1926 he entertained the Duke and Duchess of York during their 1927 visit and was knighted in that year.
Above – Sir Stephen as a member of 1897 Champion Eight standing far left
His rowing highlights would have included the following matters:
1896 – Victorian Champion Four bow – First
1896-7 – Victorian Champion Eight bow – First
1891-97 – Coach Scotch College first crew except 1893
1905-33 – President Mercantile Rowing Club
1936-44 – President Victorian Rowing Association
A man held in great affection, and whose advice was sought by many, Sir Stephen died on 6th July 1944 aged 74. The next annual report of the Victorian Rowing Association after his death recorded:
One of Melbourne's most successful business men, a distinguished member of the Melbourne City Council for many years and a former Lord Mayor of Melbourne, Sir Stephen Morell never lost his keen interest in the sport of rowing. In his younger days he was an active oarsman, winning champion four-oared and eight oared events, in addition to sculling races. When he retired from racing he took a very keen interest in the administrative side of the sport, and despite his many business and civic activities, he was almost a daily visitor at the river bank, where he took the keenest personal interest in all oarsmen, novice and senior alike.
The Mercantile Rowing Club obituary in the 1943-44 annual report was far more detailed.
The name of Sir Stephen Morell, who passed away on 6th July, 1944, will always be linked with the Mercantile Rowing Club because of the splendid services which he rendered it from the time of joining in 1891 until his death.
He was one of those who, in association with the late Mr. A. B. Sloan, caused the name of Mercantile to be regarded as one of the leading clubs in Victorian rowing, and, at the same time, laid its foundations in such a way that it has ever since been prominent in any movement for the advancement of the sport.
After a number of years as Vice-President, he was elected President of our Club in 1905, on the death of his predecessor, the late Mr. A. R. Blackwood. He filled this office with great distinction for 28 years. His long term was marked by untiring efforts in the Club's interest, and saw a steady increase in its strength, which necessitated extensions to the Boat-house and fleet, until to-day the Club possesses premises and equipment second to none in Victoria. His, retirement in 1933 was consequently a matter for great regret.
Fortunately, however, it did not interfere with the continuance of his interest in the Club's welfare, of which he gave many tangible proofs up to the time of his death.
His activities were not confined to the Mercantile Club, and it is questionable if any other man has done so much for Victorian rowing. In 1936 his fine work, being fully appreciated throughout the State, was recognised by his election as President of the Victorian Rowing Association, an office which he filled with great benefit to all Victorian oarsmen until his death.
His name was perpetuated on the river in 1933 by the renaming of the Anderson Street Bridge as the Morell Bridge.
Sir Stephen was prominent in the Club's crews, and amongst other races was "bow" in the successful Championship Four in 1896, and the Championship Eights in 1896 and 1897. He also won a number of sculling races.
For many years he donated the trophies for the Morell Combination Eights. This event attracted large entries, twenty-two crews on one occasion, and did much to make members of the various clubs known to one another. The Morell Cup, presented by him for competition by Senior Eights at the Rowing Association Regatta, was yet another of his benefactions to rowing.
He was a member of the City Council for thirty-eight years, and· Lord Mayor from 1926 to 192'8, but these civic honours in no way lessened his interest in the sport which he loved so well. A feature which endeared Sir Stephen to all was the keen personal interest which he took in every member, including beginners. He was always ready to tender advice to them, not only in regard to rowing, but also in their business life. Many owe much to him in this direction.
Thus his death removes from this Club, and the rowing world, an outstanding personality, and one beloved by all.
Our sincere sympathy is extended to Lady Morell and his family, one of whom, Major Rod Morell, has been a member of the Club for many years.
In May 1936 the Council resolved "that as a mark of appreciation of the long service to the City of Melbourne of Alderman Sir Stephen Morell, and of his active service in promoting and fostering rowing on the River Yarra, the bridge over the River at Anderson Street, be named and known as Morell Bridge". This bridge was built by Sir John Monash.
He not only brought great fame to the sport, but was instrumental behind the scenes assisting and developing the rowing precinct in Melbourne.
Andrew Guerin Sept 2015