Angus Moore
Canberra Rowing Club and Sydney Rowing Club
The following profile was written by Rowing Australia upon the announcement of his retirement in August 2020.
Canberra-local to focus on study after winning medals at Junior, Under 23 and Senior World Rowing Championships
World Rowing Championship medallist, Angus Moore, has today formally announced his retirement from rowing. Moore represented Australia at Junior, Under 23 and Senior World Rowing Championships as well as multiple World Rowing Cups.
The 27-year-old most recently represented Australia at the 2019 World Rowing Championships, racing in the Men's Eight that finished fourth, qualifying the boat a berth at the Tokyo 2020 Olympic Games.
The Canberra-born rower began rowing at Canberra Boys Grammar School before transitioning to Canberra Rowing Club and later Sydney Rowing Club. He went on to hold rowing scholarships at the Australian Institute of Sport, ACT Academy of Sport and NSW Institute of Sport and from 2017 has been a member of the Reinhold Batschi Men's National Training Centre in Canberra.
Moore was part of Australia's record-breaking Men's Eight crew that won the Grand Challenge Cup at the 2018 Henley Royal Regatta.
"I have been representing Australia for many years, racing at my first World Rowing Junior Championships back in 2009. With some time away from training and the postponement of the Tokyo Games due to the COVID-19 pandemic, I felt the time was right to retire.
"The sport, and its community, have been a huge part of my life. It wasn't an easy decision to make, but I now want to focus on completing my university degree and looking beyond the sport."
Moore represented Australia in the Junior Men's Coxed Four at the World Rowing Junior Championships in 2009 and 2010, winning silver and bronze medals respectively. He then went on to race in the Under 23 Men's Eight at the 2012 World Rowing U23 Championships in Lithuania, winning a bronze medal, while the following year he joined Alex Hill in the U23 Men's Pair, with the duo winning a silver medal at the 2013 event in Austria.
He made his debut for the Senior Australian Rowing Team later in 2013 when he was selected into Australian Men's Eight that competed in South Korea that year. He went on to represent Australia in a total of 10 World Rowing Cups and five Senior World Rowing Championships.

Angus shows the agony of the race in the three seat at his first senior World Championships in 2013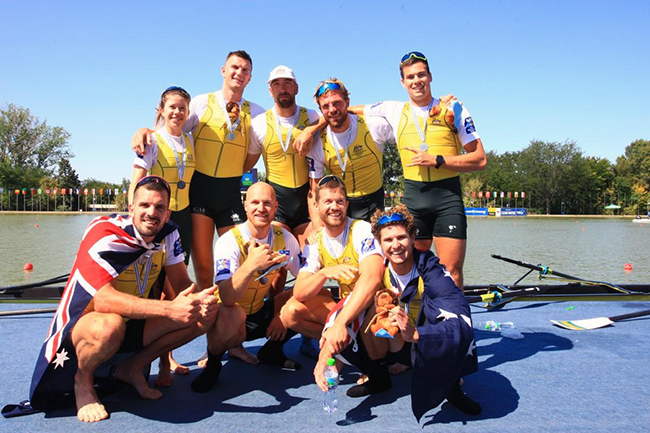 In 2018, taking in the podium feeling with a silver medal - centre back
"I would like to thank everyone who has supported my rowing career – particularly my parents, who, without their unwavering support of me, I would not have achieved what I did representing Australia," said Moore.
Rowing Australia Performance Director, Bernard Savage said, "Angus has been a big part of Australian Rowing Team for a number of years, and you would be hard pushed to find a more passionate member of the Men's National Training Centre. His pride in representing his country on a global stage is second to none and his achievements speak for themselves – winning medals at all ages of our sport.
"We wish him the best with his future endeavours, and are eager for Angus to still be involved in rowing and hopefully he can contribute to our current and future athletes in a mentoring role when the time is right for him."
Rowing Australia announcement
4th August 2020