Charles D Monteath MC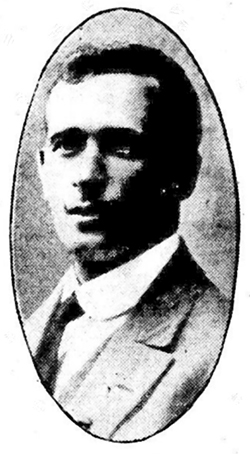 Albert Park Rowing Club, now Albert Park South Melbourne Rowing Club (VIC)
Charles Duncan Monteath was born in South Melbourne on 3rd September, 1888, the son of the Albert Park Rowing Club's president. He followed his brother and father into the club, serving as its Treasurer for two years.
'Chappie' competed in maiden races from 1910 to 1912, winning a pair, four and eight. The following season, he progressed to junior races, winning a pair and a four.
'Chappie' was 26 when he enlisted on 21st May, 1915 as a second lieutenant in the 25th Battalion. He embarked in Brisbane, where he had been working as an accountant for two years. 'Chappie' was awarded the Military Cross 19th August, 1916 for "Conspicuous ability in leadership and personal gallantry at Pozieres".
In June 1917 he qualified as an instructor in musketry at Tidworth, and was promoted to Captain. He returned to his battalion in September, and one year later was wounded in action and invalided to England.
'Chappie' returned to Australia on 6th November, 1918, after receiving a gunshot wound to the chest.
Some racing details:
1910 - Bairnsdale Regatta, Men's Maiden Four, two seat - First
1911 - Colac Regatta, Men's Maiden Eight, stroke - First
1912 - Albert Park Lake Regatta, Men's Maiden Pair, stroke - First
1912 - Upper Yarra Regatta, Men's Maiden Pair, stroke - First
Grace Blake and Andrew Guerin
July 2021
Sources:
The Victorian Oarsman by John Lang, Massina & Co, 1919
Image from Winner, 27th September 1916, page 8