Alexander S (Sandy) Mitchell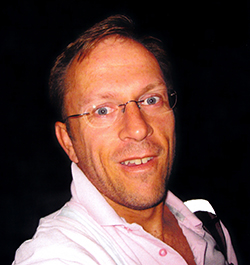 Mercantile Rowing Club (VIC) and Argonauts Rowing Club (VIC)
Sandy died in November 2019.
Sandy was a man of great intellect and will, who has left a considerable mark on the sport of rowing. Despite his abilities, his academic life was not outstanding, although his Scotch College education provided him with two lasting loves, rowing and music.
Sandy started his rowing at school and coxed the first crew for three consecutive years, being Captain of Boats in his final year. Following school, and before he went to university in Queensland, he coxed at Mercantile.
He then went onto a superb career in music. He was assistant manager of an orchestra in Brisbane, then assistant manager of the Melbourne Symphony orchestra and then manager and sometime conductor of the Tasmanian Symphony orchestra: all at a very young age.
His experiences at a young age taught many things, including management and standing firm to his convictions: traits that he held throughout his life.
He then suffered significant illness and his life was in peril. Medical science intervened to give him a second life. He devoted it to his family, friends and rowing. His vision for an inclusive rowing club for the LGBTI community was realised through the establishment of the Argonauts Rowing Club in Melbourne. He established this club with three others who shared his vision. He enjoyed coaching crews and was very good at it.
He then become a talent identification coach at Mercantile and a coach of national significance in that area. He spent much time at the Australian Institute of Sport and at the Club coaching many great rowers: rowers who went onto international success.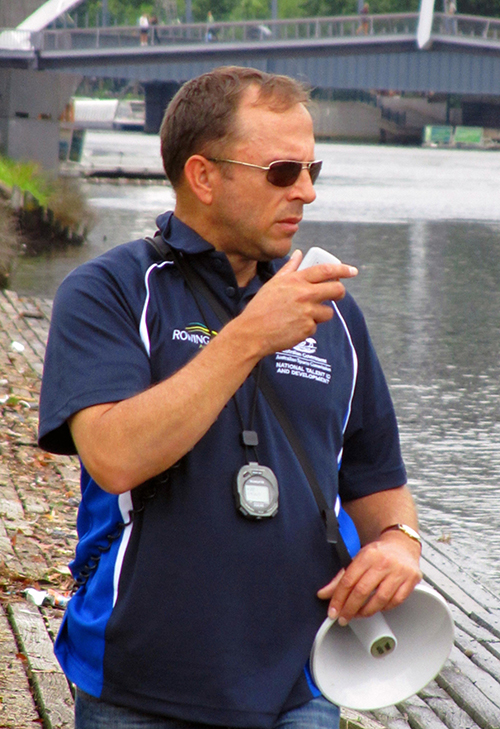 Sandy as a talent ID coach
He developed many great rowers such as our own Katrina Bateman who moved from surf lifesaving to international rower.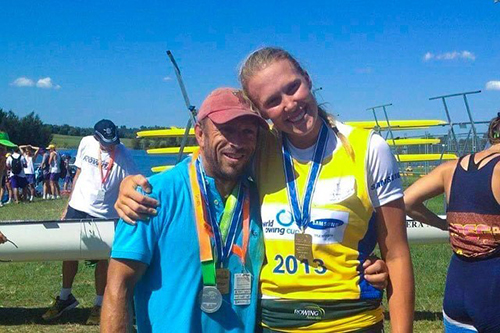 Sandy with Katrina Bateman after she won a medal at the World Cup in Sydney
Brighton Grammar recognised his talent and he spent many years coaching successfully and being a superb mentor.
He was also a rowing administrator, primarily at the Argonauts, but also at Rowing Victoria. He was a Board Member, and for a time between CEOs, the CEO of that body. He was key supporter and designer of the grade rowing system which has been used and in Victoria for many years, and subsequently copied in other States. He was a analytical and deep thinker, who took the time to make the correct decisions. He was firm in his commitments during implementation once the decision was made.
He will be missed by rowers throughout Victoria and at the Club. A guard of honour of Mercantile, Brighton Grammar and Argonauts rowers guided his casket on its final journey.
Andrew Guerin
Nov 2019