Major Sydney A Middleton DSO OBE
Sydney Rowing Club (NSW)
Sydney Albert 'Syd' Middleton DSO, OBE (24 February 1884 – 2 September 1945)
In summary, Syd was a distinguished athlete, excelling in both rugby and rowing and representing his country at the Olympics in both sports. He was also a distinguished soldier who service in WWI brought great praise for leadership and bravery. During the war he was promoted to the rank of Major. From a sporting perspective, his most notable war time activity was the management and success of the AIF Sports Control Board following the cessation of fighting. Put quite simply, it took four years to get the soldiers to Europe and it took two years to return them. His task was to keep the soldiers busy with sport.
One of the most interesting facts regarding Sydney Middleton is that he competed in the Australian Olympic Rugby Union team in 1908 that won a gold medal. He remains the only Australian to compete in both sports at the Olympic Games. He captained Australia in rugby in its three Tests against New Zealand in Australia. He also played in a Test against England but probably missed selection against Wales due to an outburst (he swung a blow against an opposing forward) against Oxford resulting in him being sent off.
Syd Middleton was also a distinguished soldier. He served in some of the worst battles of WWI after enlisting in May 1915 as a second lieutenant and serving in both the 17th and 19th Battalions. These included: Gallipoli, Pozieres, Flers, Lagnicourt, 2ndBullecourt, Menin Road, Poelcappelle, Amiens and Mont St Quentin.
He was promoted to Major, 17th Battalion in May 1917. He was mentioned in despatches in 1918, was awarded the Distinguished Service Order in 1919 for bravery in action and in 1920 he was awarded the Order of the British Empire. His recommendation for the DSO recorded:
The battalion owes much of its success to the splendid example set by this very fine type of officer. He was in command of the 17th Bttn. on the 14th May 1918 east of Heilly, near Amiens when the enemy made a very determined attack on the front held by the 17th Bttn and the manner in which he handled the situation and quickly restored the line showed great initiative and leadership.
When the war finished, he was summoned to Corps Headquarters and told on arrival and I quote: to get busy and entertain several hundred thousand soldiers. It took Australia two years to repatriate its soldiers back home. He was appointed Secretary and Organiser of the AIF Sports Council. Various competitions were conducted from inter-platoon through to inter-army throughout the winter on 1918-19.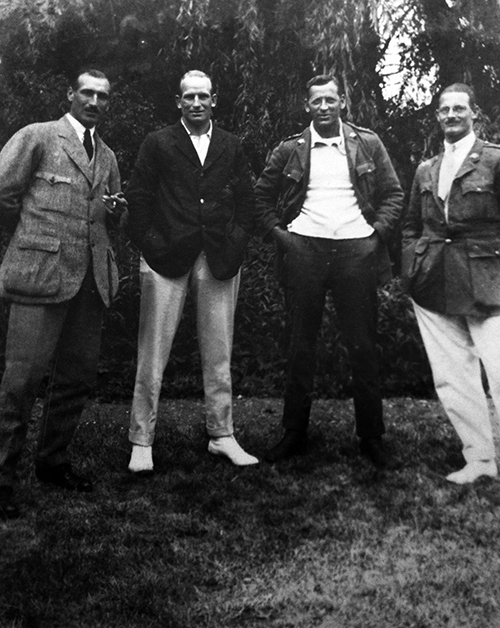 Known rowing record
1903 - Sydney Regatta, Men's Maiden Four - First
1904 - Riverview Gold Cup for Men's Senior Eights - First
1904 - NSW Men's Eight Championship- First
1904 - NSW Men's Four Championship- First
1904 - Interstate Men's Eight Championship six seat - Fourth
1904 - Interstate Men's Eight Championship four seat - Third
1904 - Interstate Men's Eight Championship four seat - Fourth
1905 - Riverview Gold Cup for Men's Senior Eights - First
1905 - NSW Men's Four Championship - First
1906 - Riverview Gold Cup for Men's Senior Eights - First
1906 - NSW Men's Eight Championship - First
1906 - NSW Men's Four Championship - First
1906 - Interstate Men's Eight Championship, four seat - Third
1907 - NSW Men's Eight Championship - First
1907 - NSW Men's Four Championship - First
1907 - Interstate Men's Eight Championship, four seat - Third
1908 - NSW Men's Eight Championship, six seat - First
1908 - Olympic Games Australian rugby union team - Gold
1910 - Interstate Men's Eight Championship Four seat - First
1911 - Interstate Men's Eight Championship six seat - First
1912 - NSW Men's Eight Championship, six seat - Second
1912 - Olympic Games Men's Eight six seat - Eliminated in semi-final
1912 - Henley Royal Regatta - Grand Challenge Cup six seat - First
1919 Peace Regatta for the Kings Cup six seat - First
Andrew Guerin
March 2018 (updated in 2021 with materials from Steve Roll)
Sources include Sydney Rows by Alan May published in 1970 by Sydney Rowing Club