Andrew G Michelmore AO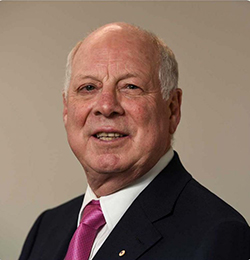 Melbourne University Boat Club (VIC)
Andrew has been a leader in many fields from on-water rowing to rowing administration, from academia to an international captain of business and from industry bodies to charitable and not for profits.
In recognition of the benefits he received through his life from the contributions and benefactions of others, Andrew has, over the last 20 years, 'given back' financially and 'in kind' with his position as Director or Chair on Not For Profit organisations. In 2018 Andrew was made an Officer of the Order of Australia for distinguished service to the mining industry through leadership roles in establishing trade and investment links, and in resource sector standards of practice on environmental and safety issues.
He is an outstanding individual.
His fellow 1974 World Champion crew member Colin Smith provides the following summary:
Andrew Michelmore was CEO and executive director of MMG Limited from 2009 to 2017 following his tenures as CEO of Zinifex Limited, and then OZ Minerals Limited.
Before this he spent two years working in London and Russia as CEO of EN+ Group, and became interim chairman of RUSAL, an EN+ portfolio company, in October 2006.
Andrew has more than 35 years' experience in the metals and mining industry. He spent 12 years at Western MC, where he was CEO, and before that held senior roles in the company's nickel, gold, alumina, copper, uranium and fertiliser businesses.
He holds a first-class Honours Bachelor of Engineering (chemical) from the University of Melbourne, and a Master of Arts in Politics, Philosophy and Economics from Oxford University. He's a Rhodes Scholar and a Fellow of the Institution of Chemical Engineers and the Australian Academy of Technological Sciences and Engineering.
Andrew is Chair of Century Aluminium, Chair of the Jean Hailes Foundation for Women's Health, Chair of the Council of Melbourne Grammar School and Chair of the Future Fund at Melbourne University Boat Club.
He's also a Director of Rowing Australia.
He has held several other chair roles: the International Zinc Association (IZA) from October 2011 to December 2015; the Minerals Council of Australia (MCA) from June 2013 to June 2016; the International Council on Mining and Metals (ICMM) from October 2015 until his resignation in 2017, for 19 years he was also the Chair of Ormond College University of Melbourne .
Andrew was made an Officer of the Order of Australia (AO) in 2018 for his services to the mining industry. He rowed for Australia in 1974, 1975 and 1979, winning a gold medal in 1974 and a Bronze in 1975. He also stroked the Oxford Blue boat to victory in the Oxford-Cambridge Boat Race in both 1977, 1978 and was President of Oxford University Boat Club in 1978 .
Andrew has had an excellent rowing career both in Australia and in the UK. As mentioned above, Andrew won a Rhodes scholarship in 1976 and raced successfully for Oxford in 1977 & 78 in The Boat Race. He was also President of the Oxford Rowing Club in 1978. On his return to Australia, he resumed his rowing career before work and family commitments prevailed. Andrew has maintained his commitment to the sport throughout his life.
Some rowing details.
1972 – National Championship Lightweight Eight six - First
1973 – Interstate Men's Lightweight Four Championship emergency
1974 – Interstate Men's Lightweight Four Championship three seat – First
1974 – World Championships – Men's Lightweight Four three seat – Gold
1975 – Interstate and National Championship Men's Lightweight Four Championship three seat – First
1975 – World Championships – Men's Lightweight Four three seat – Bronze
1977 - The Boat Race, Oxford University, stroke - First
1978 - The Boat Race, Oxford University, stroke - First
1978 - President - Oxford University Boat Club
1979 – Interstate Men's Lightweight Four Championship three seat – First
1979 – National Championship Men's Lightweight Eight six - First
1979 – World Championships – Men's Lightweight Eight six seat – Sixth
1980 – Interstate Men's Youth Eight Championship coach - First
Rowing blues for QUBC and MUBC
2019-present - Rowing Australia Ltd - Board Member
Chair of the Melbourne University Boat Club Foundation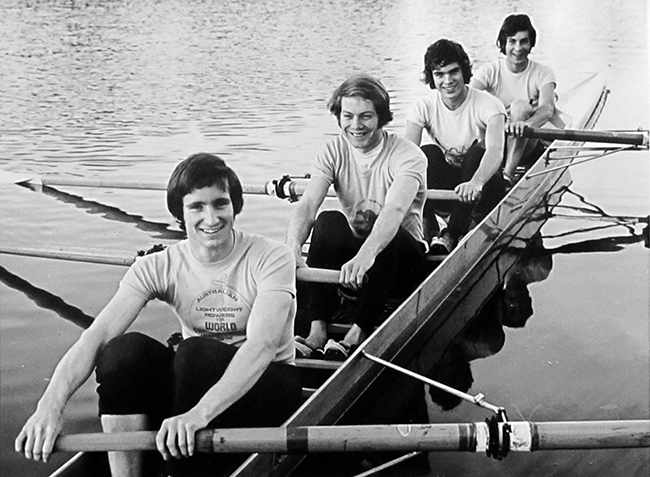 1974 FISA Champion Four training on Yarra - Andrew in the three seat
Andrew Guerin 2011 (updated July 2021)