Fred T C Meares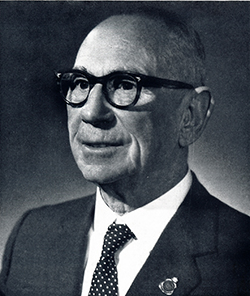 Sydney Rowing Club (NSW)
Fred Meares was best known as President of Sydney Rowing Club for 10 years between 1954 and 1964. His death was recorded in the 1971-72 annual report.
The following extract comes from 1962-63 annual report.
Your Committee has pleasure in announcing the election of our President, Mr. F. T. D. Meares, to receive the Order of Merit award - Honour Blazer - for this year.
Our President, after joining the Club in 1910, quickly took an executive interest in Club affairs, being the Honorary Secretary during 1912 when, with the first Australian crew on their way to the Stockholm Olympics, it became necessary for tender negotiation with the Henley Royal committee for this crew to appear in the Grand Challenge Cup as Sydney Rowing Club. It is history that the crew were successful.
The Henley Royal must have some attractions for Mr. Meares, as during his several business trips overseas, a fourth visit was paid in 1960.
After active service overseas with the A.I.F. for nearly four years, having attained the rank of Major in command of a battery of field artillery, he resumed his club activity as Club Captain in 1919. During his term as Captain, his business acumen was again used to replace the loss of Club boat-house and fleet at Wooll­oomooloo by fire in 1922. The new boat-house was in 1946 removed to Abbotsford and does grace to our fore-shore to-day.
The continued Club activity of Mr. Meares was recognised in 1924 by his election as a Vice-President, a position normally con­sidered for respectful retirement. Not so for Mr. Meares. His sagacious opinion and ever ready assistance was often sought by successive Committees to the advantage of the Club. It was natural, when the vacancy occurred in 1954, that Mr. Fred T. D. Meares (a Club trustee) was unanimously elected our sixth President.
In rowing. prior to World War I, our President appeared in maiden and junior classifications. To use his own words, whilst winning at the second start in fours it did take eight starts before winning a maiden eight. Such is tenacity for on return in 1919, he again engaged in competitive rowing.
The Committee feel, that the members in congratulating and making this honourable award to our President, the blazer will be worn with justifiable pride and decorum on all occasions.
The following is an extract from the Sydney Rowing Club annual report of 1963-64 season announcing his retirement from the Presidency.
It is with deep regret that we inform members of the decision by our President, Mr. F. T. D. Meares, to retire. Mr. Meares has been President of the Club since 1954 and his wise counsel and keen interest in Club affairs have been an invaluable help to the Club and all the Committees that have had the honour to be associated with him.
Mr. Meares joined the Club in 1910 and became Hon. Secretary in 1912, during which period he was so instrumental in the negotia­tions for the successful Australian crew to compete at Royal Henley in the Grand Challenge Cup as Sydney Rowing Club.
After active service with the A.I.F. for nearly four years Mr. Meares resumed his activities with the Club in various positions and in 1924 was elected Vice-President. In the ensuing years his sound advice and ,guidance was readily available and it was indeed a fortu­nate day for the Club when in 1954 Mr. Fred T. D. Meares was elected President.
On behalf of the Executive, Committee and all members of the Club, may we thank you Fred for your years of unselfish service and wish you and Mrs. Meares a very healthy and happy retirement.
Extracted by Andrew Guerin
December 2020