Cecil L McVilly MC
Derwent Rowing Club (TAS)
1910 - Interstate Men's Sculling Championship - First
1911 - Interstate Men's Sculling Championship - First
1912 - Olympic Games - Men's Single Scull - disqualified in heat
1912 - Henley Royal Regatta - Diamond Sculls - eliminated first round
1913 - Henley Royal Regatta - Diamond Sculls - First (def Pinks of London RC)
1914 - Interstate Men's Sculling Championship - First
1914 - Interstate Men's Eight Championship coach - First
1926 - Interstate Men's Eight Championship coach & manager - First
1928 - Olympic Games - sole Australian selector
1929 - Interstate Men's Eight Championship sole selector
Cecil Leventhorpe McVilly served in WWI. He enlisted in 1915 at the age of 26 leaving at home his wife Kathleen. Due to his local service in Tasmania, he was made an officer before departure. He was promoted in the field to Captain. He was wounded in October 1917 with a severe gun shot wound to the abdomen. He was back in the field two months later and was promoted to Captain.
He served with distinction being awarded the Military Cross and being mentioned in dispatches for distinguished and gallant services and devotion to duty. His citation for the Military Cross states:
For conspicuous gallantry and devotion to duty. He handled his company with great skill, leading them to their assembly position through an intense enemy bombardment, during which he maintained splendid control of his men, and also set a very fine example by his personal courage. He has on previous occasions commanded raiding parties, and displayed ability of a very high order.
McVilly was the first Australian to win the Diamond Sculls at Henley.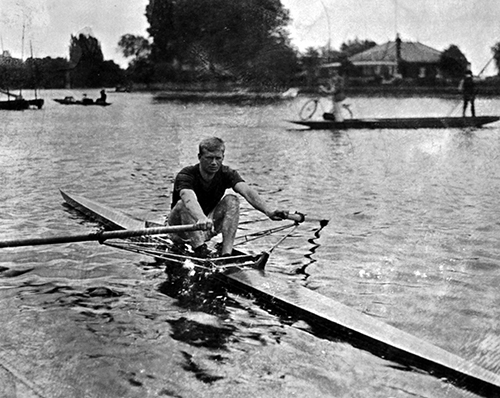 He also is the only person to win the President's Cup and also coach the winning King's Cup crew, at the same regatta - 1914.
The McVilly-Pearce pins for members of senior Australian teams are named in his honour. He is pin recipient number 1.
Andrew Guerin March 2018