Andrew McNeil
Mercantile Rowing Club (VIC)
Andrew McNeil commenced his rowing at the City of Warrnambool Rowing Club as a 14 year old in 1986. He was inspired by seeing the successful rowing eight at the Edinburgh Commonwealth Games, made up mostly of Mercantilians, and the trigger to get involved in rowing was a mate at school who was coxing a novice four with one rower short.
The crew was immediately successful winning the novice four at Essendon. What could be better – a trip to Melbourne with mates, racing and winning and you went home with a pot? He was hooked – and it beat standing in the field playing cricket in the summer.
Above: Andrew in the two seat of his winning novice four 1986/87 – photo from the City of Warrnambool Rowing Club history
Andrew also sculled, racing in novice, junior and intermediate sculls. In the 1988 and 1989 season, he competed at the Nationals in both under 19 for Warrnambool and schoolboy singles for St Joseph's CBC Warrnambool.
Above: Andrew sculling 1988 – photo from the City of Warrnambool Rowing Club history
By 1990, rowing was in his blood and he wanted further success. The move to Melbourne, and specifically Mercantile, was required. He successfully got employment with the National Bank and started his successful career in financial services.
The next five seasons were racing with the lightweights at Mercantile. Initially he raced with Richard Law in pairs, then others including Nick Sadler, Alan Peckham, Simon Morrison (Dimboola champs) and Simon Langenbacher.
The pair with Richard Law performed well but missed out on a podium finish at the 1991 Nationals due to a broken foot stretcher in the final. They did win senior C races during the 1990/91 season and open, senior C and lightweight senior races in 1991/92.
Andrew's first lightweight senior win came at Henley on Yarra in 1992 with a young lightweight eight. At the 1992 Nationals, McNeil and Law place 2nd in the under 23 lightweight pairs and fours. The four contained Andrew Glass and Nick Sadler and coached by fellow Mercs lightweight champion Richard Wraith.
Above: 1992 Henley on Yarra win in the lightweight senior eights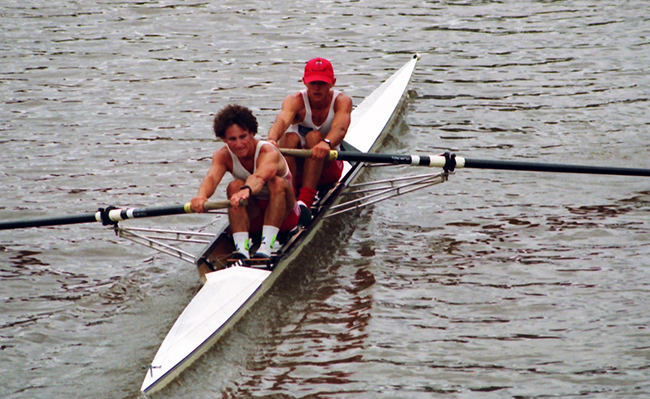 Above: Andrew Neil (stroke) and Alan Peckham (bow) winning open senior pairs, Henley on Yarra in 1993
In 1992 and 93, he raced in pairs and fours with crew members including Nick Sadler, Alan Peckham, Andrew Glass and Phil Roberts. At State Championships they finished second in under 23 pair and won the lightweight under 23 four. In 1993, he also won the under 23 four. Andrew won his first senior eight that year with other lightweights at the Ballarat Regatta in November 1992. The party that night was Andrew's 21st at the Warrnambool surf club which is still talked about in local circles.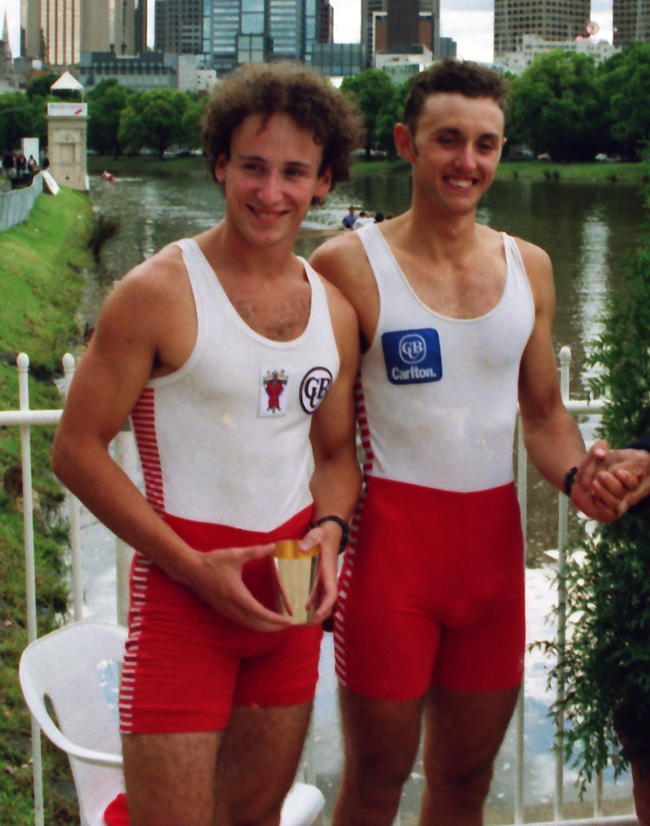 Above: McNeil and Peckham pot hunting at Henley on Yarra winning the senior pairs
The highlight of the 1993 season was winning the National Championship lightweight eight. Neither Andrew or his pair partner Alan Peckham gained selection in the VIS state eight so they rowed a composite crew with the fastest lightweight four in the land from Adelaide. The result was a resounding win for them. The crew was expertly steered by Mercs legend David 'Chipper' Colvin. The winning time was a new national record for the lightweight eight.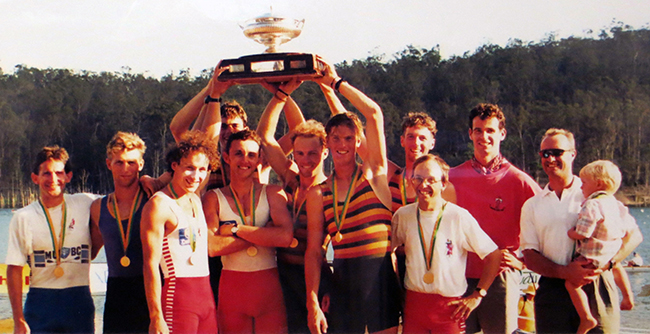 Above: Celebrating victory at the Nationals in 1993 – Andrew third from the left
Despite being a National Champion, perhaps Andrew's greatest claim to fame is being Drew Ginn's first pair partner and together winning the Victorian Champion under 23 pairs in 1993. They had joined together to win senior C eights at Henley on Yarra, Ballarat and Scotch Mercantile in 1993 so they were rowing with each other at the time. Andrew would like to make out that he taught Drew all he needed to know about rowing, but he certainly gave Drew some very good pointers on how to race a pair.
Again Andrew won plenty of races in the 1993-94 season with the lightweight group. Highlights included going back to back in 1993 and 1994 to win the senior open eight at Head of the Yarra.
Andrew also won the club award for most wins in seasons 1993 and 1994.
Andrew spent time in the single scull in 1995 and found time to pick up pots at Dimboola, Henley on Yarra and Scotch Mercantile with the lightweight group. Sadly he was injured in the winter of 1995 and did not row in 1996 or 97. After time overseas, Andrew returned to race his last race at 1999 Nationals in the open and lightweight single.
Andrew served on the Committee of the Club from 1992 to 1996 and was the organiser of several notable social events to raise funds for the club.
In 1996, his work took him to America and he continued rowing, racing for Mercs at Head of the Charles in Boston in 1997 and also winning the Masters A heavy double scull US championship with former French national rower Daniel Wolff for Atlanta Rowing Club. He also raced as a Mercs Brown University composite crew at the Providence RI regatta with other Mercs legend and Brown alum, George Patterson.
Andrew also began coaching in the US and coached at Atlanta Rowing Club. His first crew was an Atlanta based junior four which gained selection into the US national team for the World Junior Championships at Plovdiv Bulgaria in 1999. This was the first ever Atlanta crew to be picked for the US rowing team.
In the summer of 2000 he returned to Australia and assisted Matthew Roach at Sydney Grammar by coaching their second crew.
In March 2000 he then ventured overseas again and spent time coaching some Norwegian junior and Under 23 crews at the Nordic Rowing Championships representing the Norwegian national team. Toward the end of that season he also coached former Mercs rower Chris Braun in the lightweight pair for the Swiss national team at the rowing World Cup in Vienna.
In 2000-01 season he coached a Club junior four containing Marty Boland, Morgan Squires, Miles Savage and David Fraumano. Member of this crew combined to win a silver medal in the junior coxed four at the 2001 nationals. He also worked with club legend Anthony Bergelin with the youth eight of 2002 and was also a state selector in the same year.
His last coaching role was in 2006 in Brisbane where he coached Sommerville House who he took to the National Championships.
Andrew's move to Melbourne at a young age was a challenge. His engaging personality enabled him to settle in well and Mercantile became his home and family, and his rowing friends were friends for life. He recalls fondly the shared house at 50 Stawell Street Richmond with Drew Ginn, Celia and George Patterson to name some of those who lived there. His passion for the Club is strong.
He currently splits his time between Geelong and Sydney running his own corporate advisory business. His current sporting fix is surf life saving at Bancoora surf club and sponsoring the Greater Western Sydney Giants in the AFL.
Andrew Guerin
February 2019