Hon. Patrick J McNamara AM
Nagambie Rowing Club and Mercantile Rowing Club (Vic)
In some interviews for a rowing profile, you struggle to get the rower to open up with some stories to add colour. In Patrick's case, it was calling the interview off due to too many! As he continues to live a full life, much culling has occurred. There might have to be an 'off cuts' profile for his surplus stories, some of which involve your correspondent.
Interest in rowing was aroused by the feats of local Nagambie rowers Neil Lodding, Bruce Richardson and cox Wayne Gammon, who in 1964 were selected as the Australian Olympic coxed pair. They were the talk of his hometown of Nagambie.
Also intriguing to Patrick was why a small country rowing club, dating back 18911, should produce Olympian rowers, Victorian Champion eights and fours and King's Cup oarsmen including Alf Lodding, who coached the Olympic pair. (His strong interest in local history and pride in his district continues unabated.)
All this drew him to the lake to start rowing and his first regattas were at the 1964 Christmas regatta series of Nagambie, Yarrawonga and Ruthergen.
In 1965, Patrick was sent off to Xavier College where his rowing career continued, rowing in their fourth eight in 1966 and in first crews in 1967 and 1968.
In 1968, whilst still at school, Patrick raced with his mate from Xavier, Mike Fogarty for Mercantile in a successful maiden eight full of rowers who were some 8-9 years older than them. The crew was coached by Ken McConville and included some surf boat rowers turned river boat rowers such as future Captain John Gumley. It was a bit of an eye opener for young Patrick and Mike as they often ended up at the Botanical Hotel after training with an older and boisterous crowd consuming their fair share of beer. How good was this?
During his years of study in Melbourne, he raced with Mercantile as well as with Nagambie. For example, he raced for Nagambie with success at the Christmas Regatta series in 1969 in a pair with Jeff Lodding.
He returned to Mercantile for the 1971-72 season which resulted in a very successful junior season with an interesting group of people including some visiting Swiss rowers. Their winning State Championships junior eight was stroked by Swiss Rudi Hochstrasser and included Peter Benjamin, Englishman Brian Parmenter and Ray Dawson. He credits Mercantile with teaching him about knowing the numbers in his political life. At one general meeting, the young members upset the annual general meeting by electing Patrick as a scrutineer for the Committee elections against the usual old members allocated the task. The old scrutineers first asked Patrick to get a jug of beer and some glasses. Then another. Despite enjoying the beers and banter, Patrick's patience with them finally broke and he inquired when they would count the votes. In a 'Yes Minister' style response, they advised that you can get some unusual results if you do that.
Sadly, due to the long and expensive trip to race at the Queensland National Championships in 1972, only two Mercantile members competed, Dick Garrard and Patrick. Patrick competed in the National Championship junior scull finishing second. After the race, the great Stuart Mackenzie saw promise in the young Patrick and invited him to train and stay with him and Margaret in Sydney. He was advised by others not to go to Sydney and be led astray by the erratic but exceptional Stuart Mackenzie. Although not adverse at that stage of his life to being led astray, he declined the offer.
Patrick started a season of senior rowing at Mercantile. It was a truncated season for him, being called back to the farm after his father fell ill. However he learnt more about good and hard rowing being seated in front of Dick Garrard in the club senior eight than he had in all his previous years.
In the heat of the Dimboola Regatta that year, he was the only person to defeat Jeff Sykes the 1973 season in which Jeff won the President's Cup. He went on to also defeat David Ramage in the final. That night over dinner with some Brighton Grammar School parents, who were present to see their sons compete, the scullers decided to spin a yarn based on Patrick unexpected win over Sykes. They stated that every sculling race was staged with the winner agreed in advance. When asked who would win at the Horsham regatta the next day, they said Jeff Sykes. Jeff duly won and their BGS parents were convinced that all sculling was rigged.
Given that Patrick was now Nagambie based, and there were no other senior oarsmen available in the district, he took to sculling. He won many races including being the Victorian Sculling Association champion. His lack of serious training held back what was a very promising career. For 20 years he could row 500 metres faster than 1 min 30 sec. The fastest time he ever did was 1 min 24 sec which may still be competitive today. He was still wining races into the 1990s including winning the Moomba Sprints and at the inaugural Hamilton regatta, both with humorous stories attached.
The greatest contribution Patrick has made to the sport has been off the water, being an influential and respected person within the sport of rowing for about 50 years. He has held roles within his club, Rowing Australia and Rowing Victoria making a valuable contribution to all.
2006 World Championships with Patrick congratulates gold medallists Liz Kell and Brooke Pratley on the podium
Roles that Patrick has held include:
Captain Nagambie Rowing Club 1975-79 and 1980-82
President Rowing Australia – 2000-2009
2001-2005- President of the Commonwealth Rowing Association
2010-14 – Chairman of the Oceania Rowing Association
Rowing Australia Victorian Councillor – 2013- present
Rowing Victoria President – 2015-2017
Rowing Victoria Vice President 2014
Rowing Victoria Board Member 2013 – present
Rowing Victoria Awards and Remuneration Sub-Committee 2014 to present.
During his time as President of Rowing Victoria, the Association won the King's Cup in 2015 and 2016 and the Queen's Cup in 2015-17 inclusive.
During his presidency of Rowing Australia, he employed Andrew Dee as CEO from outside the sport. He was to become the longest serving CEO of Rowing Australia. The partnership produced and maintained a high level of government support for the sport. The results of the high-performance program were accordingly impressive.
Together with John Boultbee and Andrew Dee, he led the push for the creation of a European base for Australian sport at Varese in Italy. This has been the home of Australian rowing in Europe ever since and a great benefit to Australian elite sport. It was a game changer.
He was also the President of the Commonwealth Rowing Association which conducted a Commonwealth Regatta in 2004. Patrick was able to transform the group into a powerful lobby group within FISA to counter the powerful European interests. This achieved good results for Australia and the non-Europeans.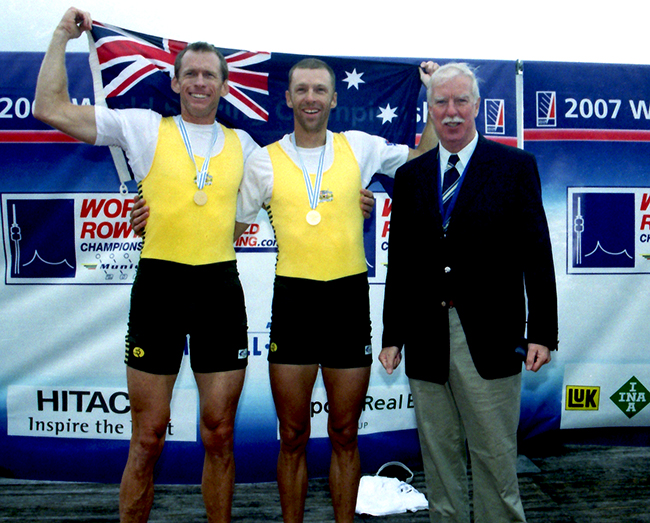 1999 World Championships - Patrick congratulates gold medallists Duncan Free and Drew Ginn on the podium
At his club, he was instrumental in transforming it from a marginal rowing club with poor facilities, to now one of the richest clubs in the country. It boasts 1200 social members and the long and process included:
rebuilding of the Nagambie boathouse in 1970s which included a commercial licenced premises;
then the introduction of 5 gaming machines into a licensed gaming premises growing to 32 machines;
creation of the Nagambie Lakes rowing course; and
the acquisition and development of a hotel for the Nagambie Rowing Club.
Such is his ability and confidence, he purchased the hotel himself and then sold the idea to the Club and its supporters. The Club now own nearly 90% of the venture and has recently spent $1.5mil on improvements.
With the Nagambie Lakes development, he did great work behind the scenes obtaining grants for the sport from a variety of sources.
He was influential in enabling the Nagambie course to be used as the semi-regular course for the National Championships - five times between 1998 and 2010, much to the benefit of the Victorian athletes whose costs of competition were significantly reduced.
His personality, and influencing and political skills, have been used for the benefit of the sport in many ways, whether it was the engagement of government, opening doors to the right people, provision of a supportive letter to solve an issue with government, a supportive speech, or in some cases, just his presence.
Sometimes, even his failures have produced great results for the sport. For example, the failure in the bidding for Nagambie to host a series of National Championships in 2010 forced the NSW government to pay much more for the rights to host them at Penrith over an extended period of time.
He has been an integral part of the organisation in a volunteer capacity over a period of many decades. He has worked tirelessly to promote and better the sport of rowing.
So why does he love the sport? The movement of the boat, listening to the water, the birds and the bush surrounds. He even has a 2000m course marked out on the Goulburn River off a block of land he owns on the river. He continues to enjoy his rowing.
Despite the beauty of the sport, "it is the fellowship and the people which inoculates you into the sport". Finally, "I have had a lot of fun over the years."
2009 Interstate Championships - Patrick presenting the Rowing Australia Cup to the author as President of Rowing Victoria
Outside rowing, Patrick was an auctioneer, politician and farmer.
His public service started as a Goulburn Valley shire councillor in 1974 and was President 1977-1978. He was Commissioner of Nagambie Waterworks Trust commencing in 1974 , member Nagambie Sewerage Authority from 1976 and delegate to Municipal Association from 1978.
He remains the Deputy Chairman of Goulburn Valley Water which recently undertook a massive upgrade of the irrigation system with both federal and Victorian government support.
Patrick was elected to the Victorian Parliament Legislative Assembly as the Member for Benalla on 3 April 1982 and held that seat until 12 April 2000 when he resigned.
During his tenure he was:
Leader of The Nationals 20 October 1988-16 December 1999
Shadow Minister for Corrections, Shadow Minister for Tourism and Shadow Minister for Police and Emergency Services 1990-92
Deputy Leader of the Opposition 1991-1992
Minister for Agriculture Oct-Nov 1992
Minister for Tourism, Minister for Police and Emergency Services and Minister for Corrections 1992-96
Deputy Premier 1992-99
Minister for Agriculture and Resources 1996-99
Shadow Minister for Agriculture Oct-Dec 1999
Printing and Economic and Budget Review committees 1982-1988
Workcare committee 1987-1988
Today Patrick is a farmer at Nagambie, being a vigneron, walnut grower and cropper, currently growing canola.
He is an amazing man with an amazing record of achievement - and great company as well.
Andrew Guerin
October 2021 (Updated with Australian Honour June 2023)
Footnote:
The lake at Nagambie was created by the Goulburn Weir which was built between 1887 and early 1891 across the Goulburn River near Nagambie. It was the first major diversion structure built for irrigation development in Australia. The Nagambie Rowing Club was formed on the new lake.
Sources:
Personal knowledge of author
Interview with Patrick McNamara 3 October 2021.
https://www.parliament.vic.gov.au/about/people-in-parliament/re-member/details/24/1435 extracted 8th October 2021
Photos from Hebfotos collection owned by author