Alice McNamara
Melbourne University Boat Club (VIC)
In summary, Alice is an outstanding athlete and individual. She reached the top of her sport of lightweight rowing and then reached the top of another sport, world staircase climbing. And whilst doing that, she trained a s a doctor. Alice is not your ordinary top athlete, she is outstanding. Her 2018 Victorian Rowing Hall of Fame commentary is as follows.
Alice is a two time World Champion in the Lightweight Women's Quad Scull in 2007 and 2008. She represented Australia on the Australian Rowing Team for 11 years between 2005 and 2015, beginning with a bronze medal in 2005 at the U23 World Championships. Alice is a six time representative in the Lightweight Women's Double Scull, returning three World Cup medals and 11 A final performances at World Championship and World Cup events. After narrowly missing selection for the LW2x boat, she was an alternate athlete for the 2008 Olympic games in Beijing, and 2012 games in London.
Alice has rowed for the Victorian Rowing Team in 13 LW4x (2006-2018) and one Queens Cup (2012), including filling the role of Captain Victoria [a team building Victorian Rowing Team role] for the last 3 years.
Alice has competed as a rower for the Melbourne University Boat Club and the University of Melbourne since 2004. She has won 10 University Blues for Rowing and one Half Blue in Distance Running in the 2008 Melbourne Marathon. She was the recipient of the Melbourne University Sport Female Athlete of the Year in 2005 and 2007, and the recipient of the Laser Law Medal in 2007. She has been a member of the winning Melbourne Women's Australian Boat Race crew for seven years.
Alice was profiled in the University of Melbourne's 125 years of Women in Medicine publication, for her efforts to combine rigorous study concurrently with a passion for rowing and international competition. She graduated from University of Melbourne with MD (2015), B. Comm, B. Sci (2010)
Alice is a Hospital Medical Officer at the Royal Melbourne Hospital, currently working in Orthopaedics. She is looking to pursue a career in Sports Medicine or in Emergency. Alice has a big interest in the outdoors and travel medicine, having completed courses in Expedition Medicine with the Australian Antarctic Division, and Wilderness First aid in Tasmania.
Alice is currently channelling her rowing base fitness and love of competition into training in the pursuit of stairclimbing; the perfect outlet to life on the wards. She has won the race up the 88 floors of the Eureka Tower in Melbourne seven times, New York's Empire State Building Run Up, races up the Willis Tower in Chicago, KL Tower Malaysia, and Taipei 101 in Taiwan and other races on the Vertical World Circuit. She is recently back from the Eiffel Tower race in Paris.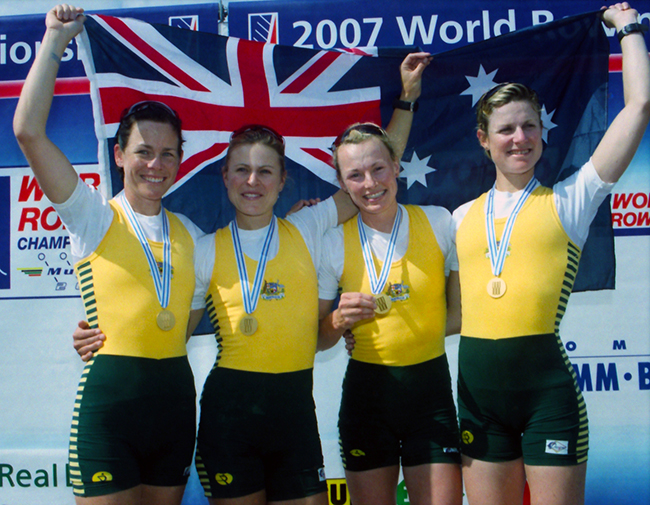 Alice in her first World Championships in 2007 - second from the right
Alice and Hannah Every Hall in 2010 taking out the lightweight double scull at Lucerne
Andrew Guerin, 2018
Sources:
2018 Victorian Rowing Hall of Fame
Andrew Guerin photography