Cameron McKenzie-McHarg
Melbourne University Boat Club (Vic)
1997 - Head of the River First Crew 6 seat - Second
1998 - Head of the River First Crew 7 seat - First
2001 - Men's Interstate Eight Championship 4 seat - Gold
2001 - World Championships - Men's Eight 6 seat - Seventh
2002 - Men's Interstate Eight Championship 4 seat - Gold
2002 - World Championships - Men's Eight 5 seat - Seventh
2003 - Men's Interstate Eight Championship 4 seat - Gold
2003 - World Championships - Men's Eight 5 seat - Fifth
2003 - Head of the Yarra - MUBC Men's Eight Stroke - Gold
2004 - Men's Interstate Eight Championship 4 seat - Silver
2004 - World Championships - Men's Coxed Four 3 seat - Sixth
2006 - Australian Nationals - Men's Pair Stroke - Gold
2006 - Men's interstate Eight Championship 5 seat - Gold
2006 - World Cup Poznan - Men's Eight 7 seat - Gold
2006 - World Championships - Men's Eight 7 seat - Fourth
2007 - Interstate Men's Eight Championships 5 seat - Gold
2007 - World Championships - Men's Eight 6 seat - Seventh
2008 - Interstate Men's Eight Championship 3 seat - Silver
2008 - World Cup Lucerne - Men's Four 3 seat - Gold
2008 - Olympic Games - Men's Four 3 seat - Silver
2009 -Australian Nationals - Men's Pair Stroke - Gold
2009 - Interstate Men's Eight Championship stroke - Silver
2009 - World Championships - Men's Four 3 seat - Silver
2009 - Interstate Men's Eight Championship stroke - Silver
2009 - World Championships - Men's Four 3 seat - Silver
2010 - Australian Nationals - Men's Pair Strok e - Gold
2010 - Interstate Men's Eight Championship 6 seat - Silver
2010 - World Championships - Men's Eight 4 seat - Bronze
2011 - Interstate Men's Eight Championship 4 seat - Silver
2011 - World Championships - Men's Pair stroke - Seventh
2012 - Interstate Men's Eight Championship 4 seat - Silver
2012 - Olympic Games - Men's Eight 3 seat - sixth
2012 -2016 Board member Rowing Australia Ltd and Chair of the Athletes Commission
Co-Founder and CEO of 776BC Sports Clothing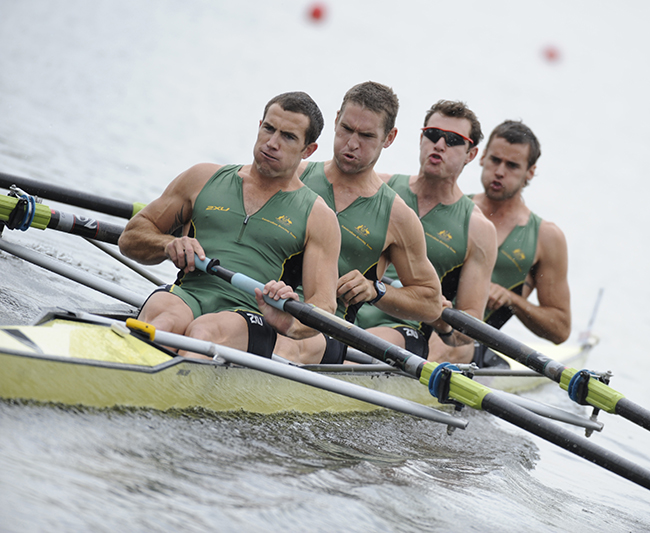 2008 Poznan Qualifying regatta before illness struck - Cam in three seat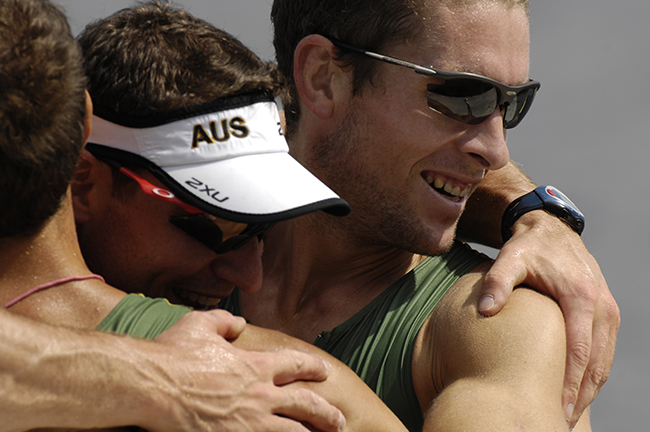 Relief after winning the qualifying event at Poznan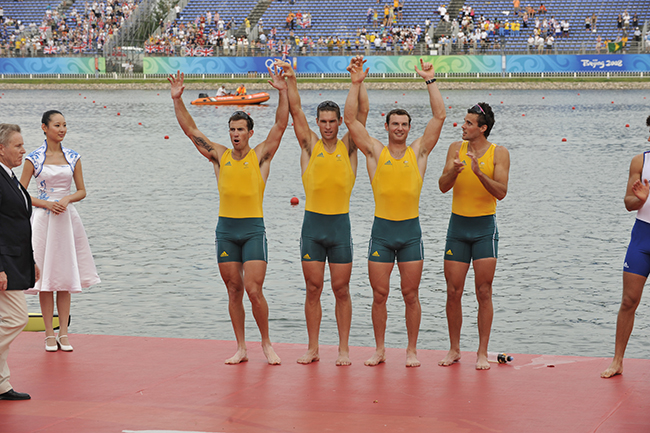 Olympic Silver the reward
Why rowing?
A couple of reasons , firstly I started boarding at Scotch in year 10 and rowing was a big deal there. It was also something completely different, and I loved a challenge, and then I started rowing in the period when the Oarsome Foursome were at the height of their powers, having just won back-to-back Olympic gold.
Greatest memories of the sport? Definitely our 2008 Olympic campaign. It had all the highs, hurdles and politics our sport delivers wrapped up in an intense six month period in an Olympic year. Out of a selection process which left us out, we actually ended up in the ideal crew - great athletes, all aligned with their approach and personalities that just seemed to click together. Our win in Lucerne was one of the greatest moments - we turned up wanting to make the final - to win, was well beyond our initial expectations. We then had to navigate through the Olympic qualifiers with a man down in the final. The Olympics was then just an awesome opportunity to turn up and see how fast we could go - it felt like we didn't have any pressure.
Best race?
Head of the Yarra 2003. MUBC v Mercs. Meres had the Oarsome Foursome minus Nick Green, Stewart brothers, Bo Hansen, Crawshay. We had a very inexperienced crew, with a few talented up and comers, I was stroke and my younger brother in the bow seat. We started 10 seconds behind (well really 7 seconds) and overtook the Meres crew on the Scotch straight, with Drew Ginn screaming and swearing at us the whole way down. Very sweet.
Why you would recommend the sport to others?
There is no other sport that allows you to learn more about yourself and others than rowing. And the rich rewards that rowing offers run deeper than any other sport, because everything is earned, there are no short-cuts.
Andrew Guerin, 2019