Albion (Alby) McGuire
Ballarat City Rowing Club (VIC)
Albion (Alby) McGuire - Life member, Vice-president, committee, coach.
Alby McGuire was probably fairly typical of young men who rowed in the late 1940's. The Second World War meant that instead of sporting pursuits all able-bodied young men were defending Australia, mainly overseas. During the early 1940's rowing activities in Ballarat were virtually closed down. Two Ballarat regattas were held in the early years for the Patriotic fund and in 1941-42 the three Ballarat clubs held a combined Annual Meeting.
Alby served two years in the transport unit in Bougainville returning home to Ballarat in May 1946. While in the Army, Alby was mates with Wally Long. Wally returned to Ballarat a few months before Alby and when they met up again Wally suggested that, if Alby wasn't doing anything he might like to go up to the Ballarat City boatshed and have a row.
Alby rode his bike up one Saturday and went in looking for Wally. Some members were sitting around upstairs and on enquiring Alby was told that Wally was in hospital. So he turned around and walked out to get back on his bike and ride home. Fortunately Alan Ehms, one of the members talking upstairs followed Alby down and whistled him back. He asked if he wanted a row and when Alby said he did so Alan took him out in a pair for a row. It must have made an impression on Alby because he was back up again on the Sunday morning for another go.
He rowed for a couple of months before his first regatta. His first race was in a pair at Ballarat with Jimmy Newcomb. As most rowers know some pairs are made in heaven - this was not one of them. Alby's comment was that he "pulled him all over the lake". So that was that. When the list of crews went up for the next regatta Alby saw he'd again been teamed with Mr. Newcomb making the comment 'Well if I have to row with him I won't race.' Someone on the selection committee must have overheard him because when he came up to train on the Sunday he was paired with Frank Beattie - and the rest, as they say is history. Frank had been in the scouts with Alby as young boys and they were about to remake their acquaintance with a pair of oars. They were coached by Les 'Hammy' Hamilton. Apparently everyone used to laugh at him as a coach but after the McGuire/Beattie combination had its first win (and incidentally "Hammy's" first winning crew) respect for him grew. The pair went on to win the double at Mildura/Wentworth with daylight second on both occasions!
Maiden pair Mildura/Wentworth. J. Morris (cox), Frank Beattie (str), Alby McGuire (bow)
The club was billeted out at private accommodation for the Wentworth regatta. Everyone travelled up by bus with the boats on top of the bus. Alby and Frank were staying with a lady in Wentworth. Frank was a little slow to get out of bed of a morning and as they had been called to breakfast Alby had suggested a couple of times to Frank that he might like to get up. But Frank wasn't moving so Alby grabbed his sheets and pulled. Unfortunately Frank was not giving up so he held on to his end. There was a tremendous rip and the two ends of the sheet parted company! Alby had to go and explain to the lady who kindly said she'd only used sheets that had just about had it anyway. The "boys" got their breakfast, won their race by a huge margin and returned to Ballarat triumphant.
The next season 1947-48 was a very busy and successful one for Alby and he would have been away nearly every weekend competing at all the country regattas.
Alby's rowing career went on for another for another 6 years with his final win was in a lightweight four at Barwon Regatta in 1952.While he said he was only interested in rowing Albie kept an interest in the progress and achievements of the club right up until he passed away in 2011 . His contribution to the competitive record of the club and to the ongoing survival of the club has been immeasurable. Alby was Ballarat City's first oarsman to win a Senior pair since the Commons brothers in 1912, winning at Ballarat regatta in 1949 with Frank Beattie. He also was part of the Maiden Four that won at Henley Regatta in 1947.The next time the club won a four at Henley Regatta was nearly forty years later in 1989.
Ballarat City Maiden four winning at Henley 1947
As for keeping the club running, Alby assisted at the famous Boatshed Dances that were revived in 1946 and for many years' volunteered time and expertise to repair equipment and buildings. He was a Vice-President of the club for many years and his son Rob McGuire was secretary of the club from 1972 -1976. His wife Joyce was also a tireless worker for the club assisting with catering on regatta days making endless sandwiches and cups of tea and helping out whenever it was needed.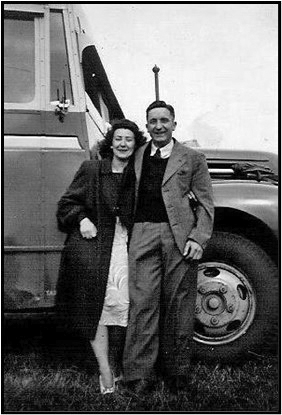 Joyce and Alby at Warrnambool Regatta, Boxing Day 1947
In 1980 Alby assisted by another club stalwart, Bob Angow pulled up the entire upstairs hardwood floor which was showing the wear and tear of the years it was a dance floor. The two of them then replaced it with a jarrah floor. There was not a nail gun in sight. Just two retired gentlemen in overalls with nail bags and hammers! Having polished the floor many times after that, I always marvel at what an amazing job they did and how many thousands of dollars they saved the club. Alby was like the jarrah floor-solid, sturdy and durable. In later years he would always phone me about Christmas time to ask how the club was going and how we were going. He passed away on the December 27th, 2011 aged 88.
Junior Four, Barwon Regatta 1948.
A. McGuire, K. Halsall, J. Morris, F. Beattie
1947 - Mildura/Wentworth double. Maiden pairs-Frank Beattie, Alby McGuire.
1948 - Henley Regatta, Maiden four. A. McGuire, D. McCallum, M. Harris, F. Beattie.
1948 - Warrnambool Regatta, Maiden eight. McGuire, Ehms, McCallum, Grenfell, Abson, Halsall, Harris, Beattie.
1948 - Sale Regatta, Junior pair. A. McGuire, F. Beattie. J. Morris (cox)
1949 - VRA Regatta, Junior pair. A. McGuire, F. Beattie, J. Morris (cox)
1949 - Ballarat Regatta, Senior pair. A. McGuire, F. Beattie, J. Morris(cox)
1951 - Victorian Champion Lightweight eight. Lenthall, Sedgewick, O'Brien, Murray, Healey, Maloney, McGuire, Beattie - Second
1952 - Barwon Regatta, lightweight four, E. Lenthall, R. Healey, A. McGuire, F. Beattie
Kate Elliott
October 2021