Sir John Madden GCMG LLD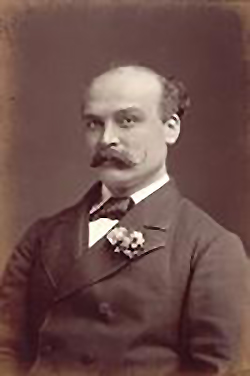 16 May 1844 (Cloyne, County Cork, Ireland) - 10 March 1918
Sir John was an ardent supporter of rowing being patron of the Victorian Rowing Association (now Rowing Victoria) from 1901 until just prior to his death in 1917.
An example of Sir John's support of rowing was his donation of a trophy for the Public Service Challenge Cup in 1894. This trophy was eventually won the Melbourne and Metropolitan Board of Works in 1902. The lag in time was largely due to the depression that prevailed in Melbourne as a result of the land boom and bust of 1890s when rowing membership fell.
But rowing was not his only sporting interest. He was also a fox hunter and boxer until illness prevented him from active competition in 1903. He also enjoyed being patron of the Victorian Lacrosse Association and president of the Victorian Amateur Athletic Association, the Olympic Sporting Federation and the Savage Club (1911-18).
Sir John is best known for his legal, public service and Parliamentary careers. He rose to become the Chief Justice of the Supreme Court of Victoria, Lieutenant Governor of the State of Victoria and was a Member of Parliament.
He was educated in London and France and after arrived Melbourne 1857 at St Patrick's College and Melbourne University; BA 1864, LL.B., first to gain LL.D. Melbourne 1869. He was also one of the first four law graduated at Melbourne University.
He was called to Bar in 1865 and began legal practice with Edward Holroyd as senior partner. He served as Chief justice in the period of 1893-1918; lieutenant-governor; vice-chancellor Melbourne University 1889-1897 and Chancellor 1897-1918.
Sir John served as MLA for West Bourke from 1874-75 and MLA for Sandridge from 1876-83.
Andrew Guerin
July 2021
Sources:
Ruth Campbell, 'Madden, Sir John (1844–1918)', Australian Dictionary of Biography, National Centre of Biography, Australian National University, https://adb.anu.edu.au/biography/madden-sir-john-7453/text12981, published first in hardcopy 1986, accessed online 20 July 2021.
Parliament of Victoria website accessed 21st July 2021 - https://www.parliament.vic.gov.au/about/people-in-parliament/re-member/details/24/696