Donald R T Macmillan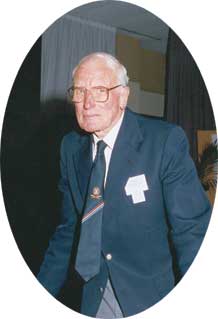 Geelong College, Corio Bay Rowing Club and Scotch College (VIC)
5 January 1928 – 19 November 2004
Donald Robertson Thomson Macmillan was a successful schoolboy rower and coach in Victoria. He was a school teacher by profession and a highly regarded member of staff and boarding master at Scotch College, Melbourne, where he spent many years of his working life.
Outside rowing Don was an renown Australian middle-distance runner and Olympian. His Wikipedia entry records that he competed in the 800 metres at the 1952 and 1956 Summer Olympics, but failed to reach the finals. In 1952, he placed ninth in the final of the 1500 m event. At the British Empire and Commonwealth Games, MacMillan finished seventh over 1 mile in 1950, and won a bronze medal in the 4×440 yard relay in 1954.
In an obituary "Champion had role in sub four minute mile bid' written by Len Johnson and published in The Age in 2004, Johnson describes Don's role in conquering the four minute mile.
Don Macmillan, who has died aged 76, was an Australian with links to two of the protagonists in the chase for the Holy Grail of running - the first sub-four minute mile. As Australian national champion in the mile in 1950, 1951, 1952 and 1955, Macmillan was a slightly older contemporary of John Landy. The pair were Australian team mates at the 1952 Olympic Games in Helsinki, where Macmillan finished ninth in the 1500 metres final.
Landy was run out of the heats, but he came back motivated by that failure and inspired by the experience of meeting and observing athletes such as triple gold medallist Emil Zatopek of Czechoslovakia. In December 1952, Landy ran four minutes 2.1 seconds at Olympic Park in Melbourne, smashing Macmillan's national record by almost seven seconds to come within seven-tenths of a second of Gunder Hagg's world record, and re-igniting the possibility of a sub-four minute mile.
Macmillan was in England the following year, where he was recruited to help Roger Bannister in one of the Englishman's early attempts to run a sub-four minute mile. Norris and Ross McWhirter, the twins of Guiness Book of Records fame, arranged for a special mile race to be added to the program for the Surrey schools athletics meeting. Macmillan paced Bannister through the first two laps, whereupon Chris Barasher, another friend of Bannister's, who had jogged off the starting line and waited for the others to lap him, took up the pace through the third lap.
Bannister set an English record that was later disallowed because of the blatant nature of the pacing arrangement. On May 6, 1954, at Oxford, with Brasher and another training partner in Chris Chataway providing pacing assistance more akin to the orchestrated record attempts that are now commonplace, Bannister succeeded in his quest.
Don joined the Scotch College in 1959 and quickly made his presence felt as a coach, with five consecutive 2nd VIII victories in the Head of the River, and many athletics successes. Starting as coach of the 1st VIII in 1965, he coached four Head of the River winning crews, and his crews were rarely out of the finals. He retired from Scotch College in 1987.
The following extracts from an interview with David Ashton for the Scotch College Great Scot magazine in 1998 are insightful as to his approach to schoolboy rowing and sport:
GS: At Scotch, you emphasised an "organised" approach to study and school sport. What did this mean, and how did you help boys achieve these goals?
DM: I always emphasised that sport must come second to school work, although it was possible to do both well if one organised one's time. The discipline needed to do this effectively was a very valuable lesson for later in life.
GS: Turning to sports coaching, the famous athletics coach Percy Cerutty was one of your early mentors. As an athletics coach yourself, did you employ any of Percy's methods?
DM: Percy was a great motivator with a simple message - "go out and run hard!" My father, a champion middle distance runner, was also an inspiration to me. He believed in allowing athletes to run naturally, using their own style, rhythm and technique - as long as the style wasn't energy-wasting or the stride too long. As the school athletics season was only six weeks long, we adopted interval training methods, using a stopwatch to teach pace judgment - and we worked very hard.
GS: You had great success as coach of the 1st VIII, including four Head of the River wins. What were some of the secrets of your success as a rowing coach at Scotch?
DM: The great Geelong Grammar rowing coach, W H Pincott, once said: "The most important thing in rowing is the cattle in the boat", so I always made sure I had good cattle! I'd experiment unmercifully, with the prime object of making the boat go as fast as possible. The 1st and 2nd VIIIs would row together, to put maximum pressure on the 1st crew.
David Boykett and Vic Nash helped me to pick the most effective oarsmen. Like the crews, we were also a team working to win.
In coaching, I used the "four Ts": Timing, Technique, Training and Teamwork. In all my years of coaching, I never had a Scotch crew which did not dedicate itself 100 per cent plus. The "cattle" were wonderful - but we also had to contend with "other cattle" in other boats, and to have luck on our side.
GS: You retired as a Scotch master in 1987 after 29 years. What came next?
DM: Retirement was a strange thing in a way. I came back to the boarding house after a visit to the country one day, and I suddenly had the feeling that it was time for a change.
After I retired from Scotch, I spent two years at the Peninsula School, filling in for staff going on long service leave. As we lived nearby at Red Hill, this was ideal.
In 1990, at the invitation of my old friend Michael Aikman, Principal of Haileybury College, I became that school's first rowing master. Haileybury had joined the APS rowing competition, and trained on the course at Carrum. I did this for three years, with a light teaching load and a term off each year. (I had a term off at both Peninsula and Haileybury.)
Your author was a student of Don Macmillan and recalls being far better trained than our competitors and always being confident that our fitness was never in doubt. His continuous changes to crews to find the best combination was also a hallmark of his coaching. His belief in the discipline of sport transferring to academic studies, he took his winning 1973 crew to the World Junior Championships with the crew taking 6 weeks off school to do so. There were few in any regrets in this decision and it was Australia's first representation in that event.
He was a generous man with both his time and energy, always looking at ways of developing the individual both in education and sport.
Don Macmillan with his 1967 winning crew at the centenary regatta
Rowing Summary
1944 - APS Head of the River, Geelong College first crew, 4 seat - First
1945 - APS Head of the River, Geelong College first crew, 6 seat - Second
1946 - APS Head of the River, Geelong College first crew, 4 seat - Second
1947 - APS Head of the River, Geelong College second crew, coach - Fifth
1958 - Victorian Championships, Men's Scull - Third
1959 - APS Head of the River, Scotch College second crew, coach - First
1960 - APS Head of the River, Scotch College second crew, coach - First
1961 - APS Head of the River, Scotch College second crew, coach - First
1962 - APS Head of the River, Scotch College second crew, coach - First
1963 - APS Head of the River, Scotch College second crew, coach - First
1964 - APS Head of the River, Scotch College second crew, coach - Second
1965 - APS Head of the River, Scotch College first crew, coach - Seventh
1966 - APS Head of the River, Scotch College first crew, coach - First
1967 - APS Head of the River, Scotch College first crew, coach - First
1968 - APS Head of the River, Scotch College first crew, coach - Fifth
1969 - APS Head of the River, Scotch College first crew, coach - First
1970 - APS Head of the River, Scotch College first crew, coach - Fourth
1971 - APS Head of the River, Scotch College first crew, coach - Fourth
1973 - APS Head of the River, Scotch College first crew, coach - First
1973 - World Junior Championships, Men's Eight, coach - Eighth
1974 - APS Head of the River, Scotch College first crew, coach - Third
1975 - APS Head of the River, Scotch College first crew, coach - Third
1976 - APS Head of the River, Scotch College first crew, coach - Fourth
1977 - APS Head of the River, Scotch College first crew, coach - Third
1983 - APS Head of the River, Scotch College first crew, coach - Sixth
1984 - APS Head of the River, Scotch College first crew, coach - Fourth
1985 - APS Head of the River, Scotch College first crew, coach - Second
1986 - APS Head of the River, Scotch College first crew, coach - Fifth
1990-93 - Inaugural rowing Master of Haileybury College (VIC)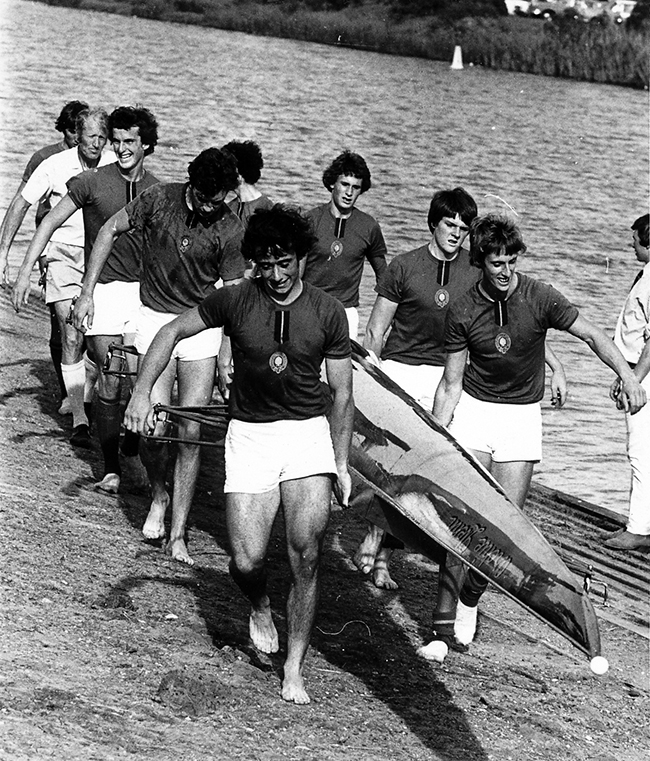 Don Macmillan assists his winning 1973 with the boat after their final
Andrew Guerin
December 2021
Sources: