Duncan MacKinnon
Drummoyne Rowing Club (NSW), Black Mountain Rowing Club (ACT) then Mercantile Rowing Club (VIC)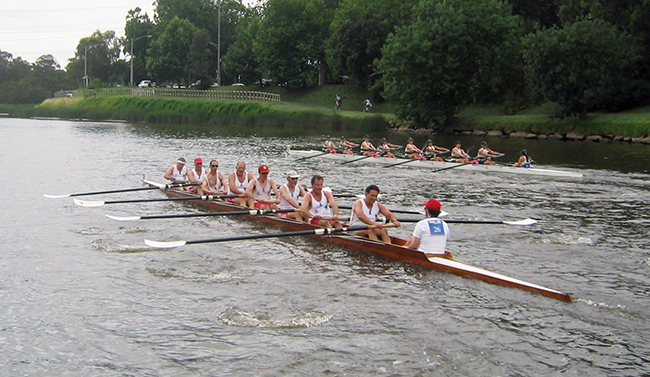 Above: Duncan stroking his crew in 2009 Head of the Yarra
Duncan commenced his rowing at St Peter's College in Adelaide in 1977. He recalls starting in heavy clinker-built tub IVs which took eight people to lift. A highlight was the under 16B fours. As he readily admits, he hasn't troubled the judges too often in his rowing exploits.
He then moved to Drummoyne Rowing Club in NSW (where he was Captain), then Black Mountain Rowing Club in Canberra (where he was Treasurer) and finally to Mercantile as work took him around the countryside. His rowing has been in both club events and masters events.
Without doubt, his rowing highlight was winning the Herald Shield, which is a great achievement.
However his greatest contribution to rowing and the Club has been his administrative work. At Mercs, the Club's finances have never been run so well and efficiently. His wise counsel to the Executive team is keenly sought.
Why rowing? A water sport – being on the water is superb, particularly early mornings as the sun rises. And of course the people.
Why Mercs? Friendships and the least amount of politics of any Club he has seen. "I feel like I can make a contribution to the Club."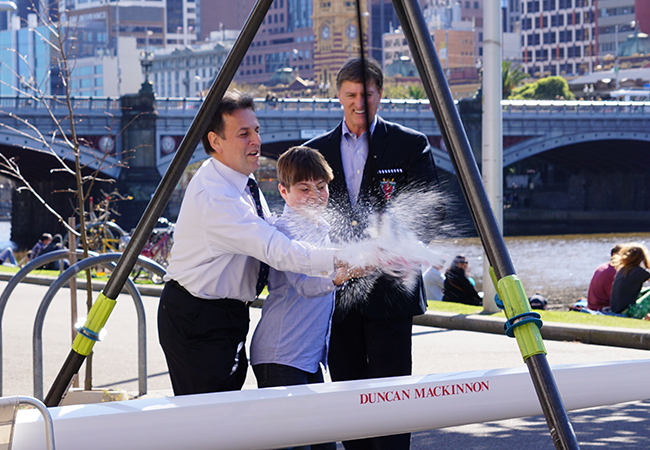 Above: 2014 naming – Duncan and his son doing the honours
Andrew Guerin 2015